...someone please save me. I think I am going to go insane with this wedding planning! I really don't know whether I am coming or going anymore. Just when I think I got things under control; they get worse. I just recently moved my wedding back home--Stress #1
Stress #2 I buy/order my dress about a month ago without seeing it. BAD mistake #1! Something in my mind today was like, "Kim call around to see if anyone has your dress so you can finally try it on." Ok, Bingo-I found it at a local boutique. Ladies when I say this dress is a trainwreck. Whoa! It looked a hot mess on me. Pics below. To make matters worse, the sample is a 12--the lady convinced me that I needed a size 16 (keep in mind I am holding the dress in the picture) OMG. Now I have ordered a baggy HOT mess. I'm pissed!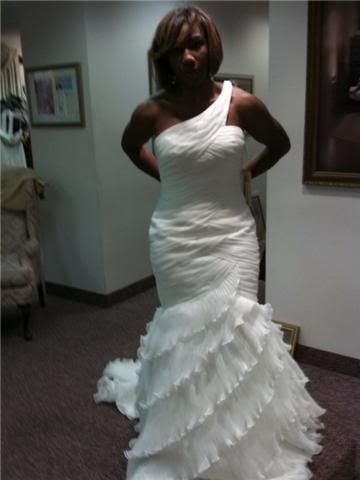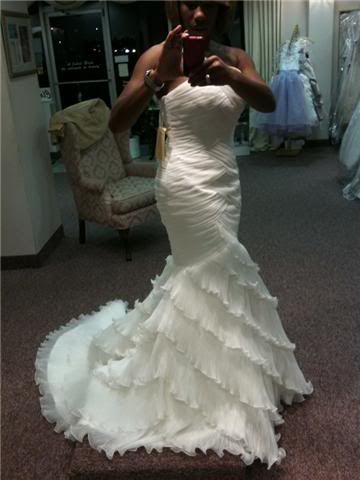 Oh let me also not forget to mention that this is like DRESS #3 for me = STRESS #3
STRESS #4 Im running out of time and the kind sales lady today offered a Maggie dress to me. Side note: Ever since I moved the wedding back home I have been playing around with the option of getting a more traditional gown. I was even pondering a trip to Kleinfelds and getting one of those obnoxiously huge dresses (only because that's my ideal dress stye)--"thanks" to you ladies. Until this forum I never knew what a "Kleinfelds" was. Anyway, so I try the dress on and I kind of like it. But I need your thoughts because one of the reasons why I am in this predicament is because I keep going to bridal shops by myself and making crazy last minute decisions. So what do you ladies think? Its actually pretty affordable and I can purchase the sample for 15% off.