I just wanted to share my save-the-date packages. I finally got them mailed out this past Saturday. My fianc©e and I have already started getting calls from people who received them in the mail today telling us how much they love them. I didn't do a complete DIY project like some of you all have done. I just didn't have the time. But, it still took a lot of time preparing the packages for mailing. My fianc©e even helped me stuff and stamp envelopes into the wee hours of the morning. I thought that was so sweet. Here is everything we included in the mailing...
Our save-the-date magnet and attachment card that we ordered from "A Giftful Heart"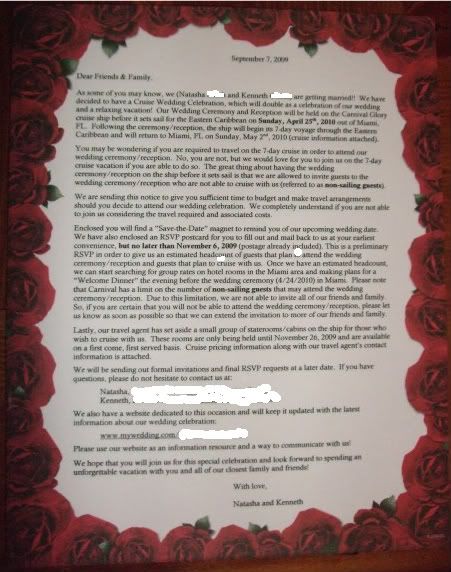 Our save-the-date letter. I bought the paper from Office Depot and printed the letters at home on my printer.
Cruise Information for the guests. Printed out the information on my home printer.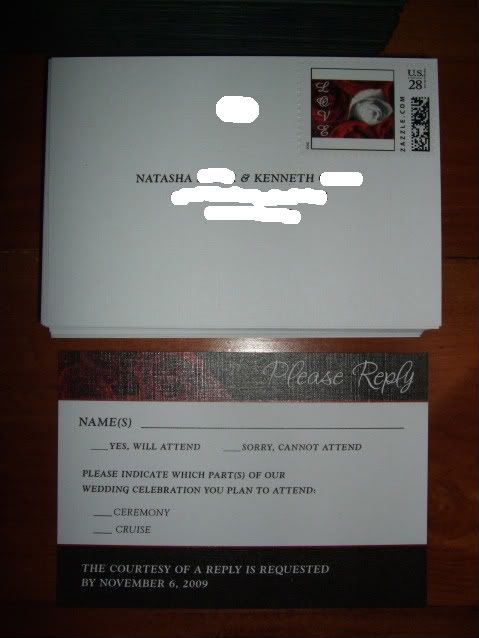 We included an RSVP postcard to get an estimated headcount (a preliminary RSVP). We ordered the postcards from MagnetStreet.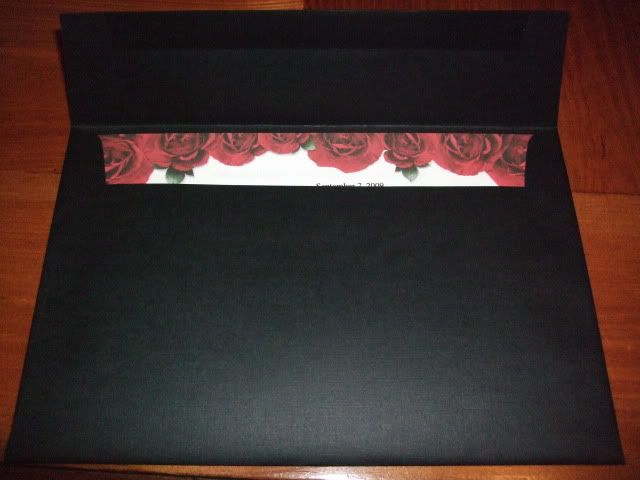 Back of mailing envelope. We ordered rose stickers from MagnetStreet to seal the envelopes (I didn't take a picture of that). I can't remember where I ordered the black envelopes from, but my Mom hates the black envelopes. She tried to convince me not to use them.
Front of mailing envelope. We ordered the return address labels from MagnetStreet. I printed the white mailing labels at home on my printer.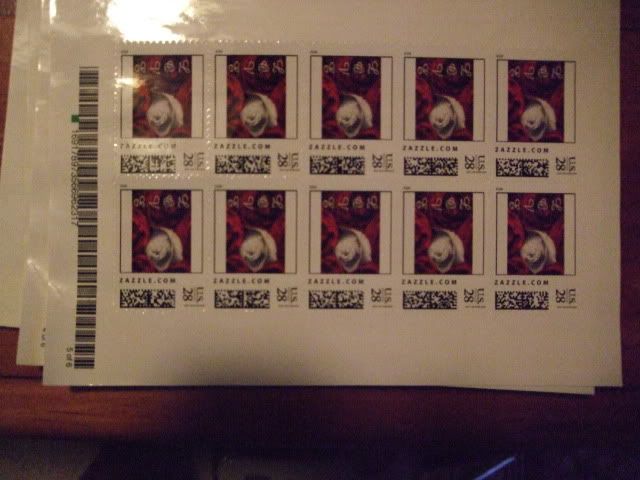 We ordered Rose postage stamps (for the postcards and mailing envelopes) from Zazzle.com.
That's it! I don't see how some of you find time to do such lovely DIY projects with the Passport STDs and Boarding Pass STDs. It was so difficult for me to make time to put together my STD packages. We are planning to send out formal invites and final RSVPs in January 2010.