My sister -- aka maid of honor and fashionasta -- has been fabulous and has run around NYC trying on bridesmaid dresses this week. After reporting that almost everything looked "horrendous" and deciding that the wedding world was just flat out evil to BMs, she found two fabulous but decidely different options for BM dresses. I have 6 bridesmaids altogether but one is my 13 year old neice (who I just can't call a "junior" bridesmaid for fear of offending her for life). The rest of the girls are being amazing and while they've given me their opinions they've all said they are totally happy with whatever I choice...of course, their opinions all vary so it comes down to me and i just don't know!!!
I'm letting them choice their style either way, so the choices are between the Coren Moore or the Melissa Sweet dresses (so either one of the two Coren Moore dresses or one of the three Melissa Sweet dresses all in matching color/fabrics).
The things is that Coren Moore dresses are classic - very cute, sweet - would totally work and be gorgeous. But they are a little more formal. The Melissa Sweet dresses, according to my sister, look totally different on, and the chiffon is very pretty and flowy -- perfect for the beach. It's harder to envision it because the photos show them in all different colors (and one dress is even shown in two-tone when she tried it one as all one color).
Option #1 is Coren Moore dresses (all in the yellow color shown first). The girls would be able to pick which of these two cuts they wanted, and all the dresses would come in Lemon tissue taffeta. I've added the link to the website cause the photos aren't very good.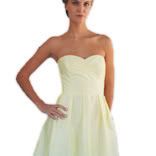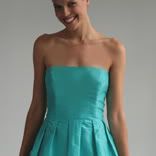 This dress would be worn w/o the sash (and the back of it is fabulous)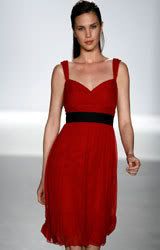 And this is the two-toned one I referred to -- my sister tried it on as all one color and said it looked fabulous.
So what are the thoughts and opinions because I'm really torn and would love to hear pros/cons either way? My wedding party rocks but they are being very p.c. about sharing their feelings!