I wanted to post and share my awesome items I will be receiving from Chelsea at OhMyDeer! She just sent me the proof pictures last night so I don't actually have them yet, but I will update this thread with pics when I receive them. Chelsea was amaaazing to work with, and I thought her prices were pretty reasonable. I gave her a general idea of what I wanted, and she just ran with it! I can't wait to see these babies in person!
OK so here goes.
These are my bouts and hair flower (bouts are the 2 on the left, hair flower is on the right)
This is the flower belt I had made for the reception. For the ceremony I'm wearing a white belt with white flowers and then I'll change into this once the reception starts.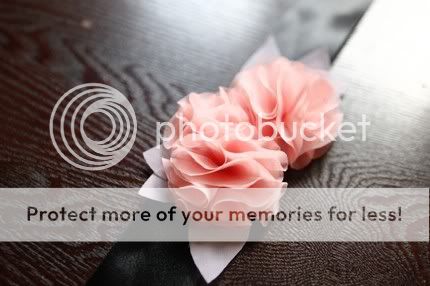 If anyone is looking for any of the above items, I highly recommend OhMyDeer!