Okay first I want to thank all of you for sharing your templates, I honestly would have ripped my hair out either trying to make my own or paying $600 for STDs at a print store. Thank you Thank you Thank you... I have been waiting for the day to post mine. Here they are. I will give some details at the bottom. Oh and FYI I am totally open to doing anyones STDs if they need it done, I loved doing it.
Here they are before I mounted them all together. I did 3 passes STD, Detail info and Accommodations (I was going to do 4, but with 3 passes it was only 1 piece of 81/2 x 11 for each invite)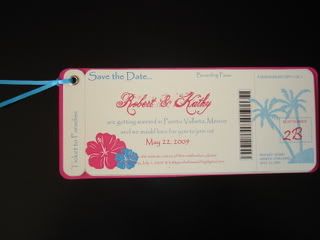 This is what they looked like when I mounted them all together. I attached all passes to 1 piece of Hot Pink 80lbs card stock (this is the first one I did, the others the pink card stock is a little larger)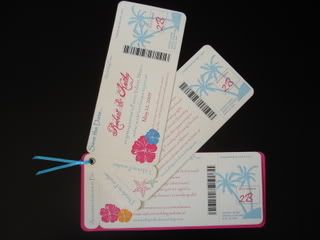 Here is the finished product. I used dutch felt cream 80lbs card stock on the boarding passes (i perferred this over plain card stock, it just felt good when you touched it, like an invite) I used a grommet to attach all 4 pieces of card stock and ribbon for decor. Oh I used a laser printer (thanks work:)
I had additional supplies left and by friend wanted to throw a little engagement party so I used the rest to make invitations to the party.
I am going to keep the same theme for the wedding invites and welcome packet letter, but make the invites more formal.
Again thanks to all of you and this amazing site.
You all ROCK!!!