Quote:
Originally Posted by Lisa DSO

Are you ladies staying in same room as FI the night before wedding? Part of me wants to sleep in a different room to add to the whole suspense of seeing each other, but then part of me doesnt because I will not sleep as well (and who wants added bags to eyes lol)?

I also dont want to pay extra ...guess i have time to figure it out.

Jess, regarding the seating for reception, I will most likely either have one of my brothers act as an usher, or put one of these on the front chairs: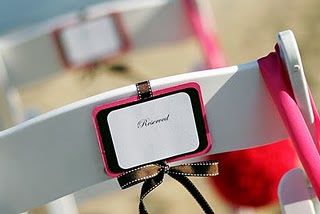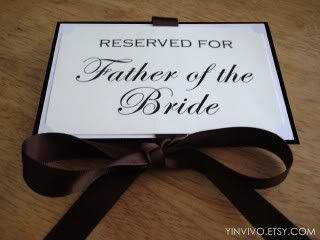 I have also considered maybe having mom and dad seats IN the gazebo for me and FI on each side so that they will be comfortable and have special status. Also because 3 of our 4 parents have had open heart surgeries and may not withstand the sun very well....still pondering this.
Haha, i dont think we are sleeping separately. I can't sleep without him! Regarding day passes, I am just going to get ready Gran Porto because the majority of wedding party and our parents are staying there so I dont want to pay for them to come over to the Royal or make them to pay $$.
I think that seating will be good considering their health.