Everyone loves their monogram and wants to put it on everything! And you should – they are gorgeous, personal and fun!!
One of the things that many of my clients ask me is how to use an iron-on transfer so that they can put their monogram on their OOT bags, t-shirts or other items. I figured that I would share with you the things I tell them
Here are my hints for using transfers:
buy the right transfer paper,
pick the right bag (or t-shirt, etc.)
know how to flip your monogram
printing on the highest print quality you can
trim your image
iron some more
Buy the right transfer paper
So, which transfer paper is the right transfer paper? It depends on the color of the fabric you're putting the image on – dark images need transfer paper for dark fabrics to prevent the color of the fabric showing through the monogram. You don't want your perfect pale yellow to look like a murky green when you iron it onto that blue bag! If you're putting the image onto white or cream colored fabrics, you can use transfer paper for lighter fabric. One more note, if you're putting transfers onto stretchy t-shirt fabric, they also make a stretchy transfer paper.
Pick the right bag
I mention purchasing the right bag (or t-shirt, or whatever). Buy cotton. Don't buy synthetics. It takes a lot of heat to get the transfer to work and synthetics will melt and you'll be stuck with no bag and you'll need to buy a new iron.
How to flip your monogram
In order to put your monogram onto your bag, it has to be backwards when you print it. Then when you iron it onto the bag, it's right side up again. So how do you do it? It will depend on what you have.
If you had your monogram professionally done, go back to your designer and let them know what you're trying to do. Chances are that they will be more than happy to flip your image for you for free or for a nominal charge.
If you designed your own in Photoshop or another graphics application, there should be a button that will do this for you.
If you designed your monogram in a Microsoft format (Word, PowerPoint, etc.), I find that the easiest way to flip your image is in PowerPoint.
Here are some screenshots of how to flip an image:
1. First, open your monogram in Powerpoint.
2. If it's not already a picture, you'll need to convert your image into a picture format (I like .png best because it won't have a background). Here's how to do that (all the images are from Office 2007, so if you have a different version, I'll try to tell you where to find the tools):
a. Select all of the components of your monogram by clicking and dragging your mouse to create a box around the entire image.


b. Create a copy (other versions: from the edit menu, select copy, or hit Ctrl+C)


c. Now select paste, then paste special (other versions: from the edit menu select paste special, or hit Ctrl+Alt+V)


d. The paste special menu will open, select png.


e. You'll now have a copy of your monogram that is a picture.


f. Save a copy of this file with a new name so you don't damage the original.


g. Delete the original monogram – select it like you did in step 2a, then hit the delete key or select cut. (other versions: from the edit menu, select cut)

3. Now flip your image – click on the image, and then go to the Picture Tools menu, select the flip or rotate button and select Flip Horizontal, and you're set! (other versions, the picture toolbar will be on the bottom of the screen, find the flip/rotate button and select Flip Horizontal)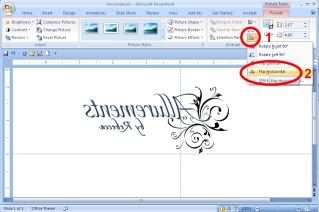 Note that sometimes when you flip a monogram using Powerpoint (or Word) the image can blur a bit. If this happens with yours, you may be able to group the pieces and flip, or you can use the steps above to flip each piece of your monogram one at a time. You may have to adjust the location or level of the pieces as well.
Printing
Set up your print file – get the image to the size and shape you want and do a test print on regular paper at regular resolution to make sure everything is right. Also, if your monogram is being printed small enough, print more than 1 copy on each – transfer paper is pricey, so the more copies you can comfortably fit on a page, the better.
Once you are satisfied that the file prints the way you want, print one copy onto transfer paper at the highest quality you can. The process for this will vary from printer brand to printer brand, but generally, select print, when the print dialog box opens, select properties. In the properties dialog box, there will be a Quality tab. Set the print quality as high as you can. It will use more ink, but your monogram will look so much better on your bags.
If your test print on the transfer paper worked, you're set to print them all.
Trimming your monogram
Once you have your monogram printed onto transfer paper, you'll need to trim down as much of the blank space around the image as you can. I try to keep my edges to 1/8 of an inch or less.
The transfer paper has a shiny look to it when you iron it on, and it will look better if you can eliminate as much of the blank space as you can, so that your bag doesn't show so much of the shiny edges. If you have a big white area in the middle of your monogram, this applies to that space as well – use an exacto knife or the tip of your scissors to gently start an area that you can cut out from the middle.
Ironing
Unfortunately, ironing on a transfer isn't like taking wrinkles out of your favorite light cotton blouse. Actually, it's sort of like trying to squash a big bug. Press hard, and press for a really long time to make sure it's good and dead. Or in this case, stuck.
When I do transfers, I actually use a wooden cutting board (get a new one or wrap it in a couple of cotton pillowcases to keep your bags clean) rather than an ironing board, and I set it on the garage floor – concrete which won't burn or dent if I drop the iron on it. And yes, the floor – the lower it is, the more of your bodyweight you can lean on the iron.
Set your iron at the highest setting, and turn the steam off. Position your transfer on the bag where you want it, and jump in. Spend a LOT of time on the edges – if anything is going to go wrong, the first thing will be the edges peeling. Move your iron in little circles, but keep it moving, and press down. Transfers are sticky when heated, so the more pressure you put on them, the better they will stick. And really iron – figure that for a 4x4 monogram you'll want to spend at least 2-3 minutes ironing each one. If yours is bigger, it will take longer.
One last note – be prepared, you're going to ruin at least one bag. Probably two. It's just the way it is. But order a couple more than you have to have. You can keep the ones you ruin as a reminder of how much loving effort you've put into your planning. Plus, they make good reusable grocery bags. (As one of my favorite clients once said… saving the world one ugly bag at a time)
Good luck! Be sure to post pictures!