What a relief! I finally finished my Wedding Favor Bags and OOT Bags.
We are having a cruise wedding on 4/25/10. We will be getting married on the ship on the day of departure, before it sails out of the port of Miami. We chose this option because we can invite guests that will not be able to cruise with us. We have 13 people cruising with us and 40 people that will be attending the wedding ceremony/reception only. So, all of our wedding guests will be getting the Wedding Favor Bags (1 bag for single and 1 bag per couple). Only the cruising (sailing) guests will be getting the OOT Bags (1 bag for single and 1 bag per couple). We are driving to Miami, so we don't have to worry about transporting all of this stuff on an airplane. We are having a Welcome Dinner in Miami the evening before the wedding, so we will hand out all of the bags then.
Pics of the Wedding Favor Bag and Contents.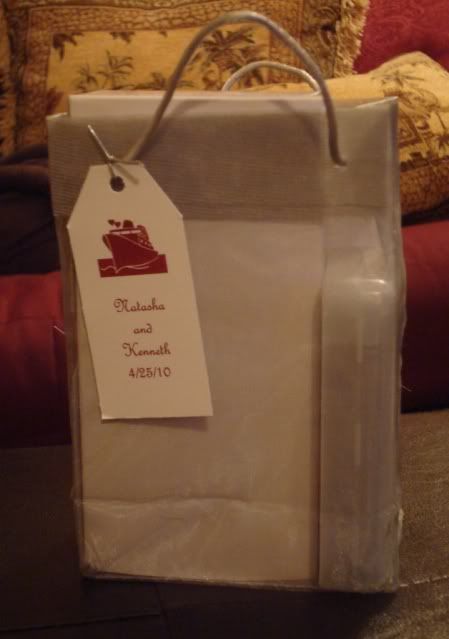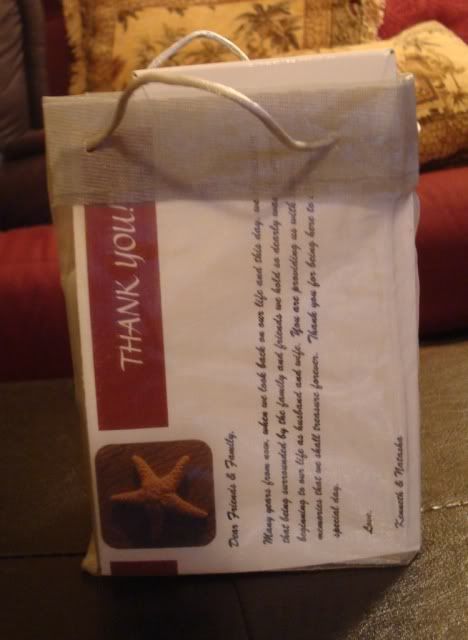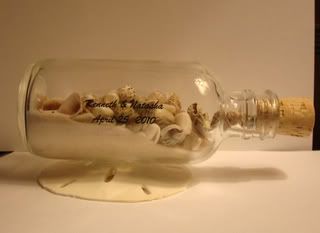 I bought the silver bags before I bought the white favor boxes, so the fit was a little tight, but I decided to use the bags anyway. The sand and shell bottle is inside the white favor box. Everything I bought for the bags: silver mini organza tote bags (beau-coup.com), personalized deck of cards (wrapwithus.com), sand and shell bottles (Americanbridal.com), sand dollars on sand/shell bottles (qualityshells.com), favor box (papermart.com), bag tag (invitations by dawn), thank you note card (vistaprint)
Note: I had to break this up into two posts since I have so many pictures... See my next post for OOT bag pics.