Here's my post-wedding blowout!

Buyer pays shipping.
(2) Starfish Jewels - You can use them for either in your hair or bouquet.
$15 each
Porcelain Seashells - I used these for my sand ceremony, they were perfect.
$10 for the pair
Barefoot Sandals - Never ended up using these for my BMs.
$15 each
Sizes 6, 6, 9, 7, 7.5
(2 sets) Candy Scoops
$5 each set
Martha Stewart Seaside Favors w/ Place Cards - These were a hit, I put Hershey's kisses in the favors.
35 total
$15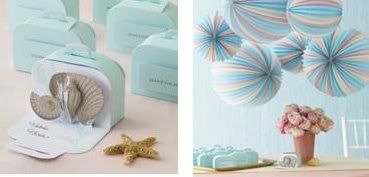 Yankee Candle Beach Scent Ornament
30 total
(14) Beach Walk
(9) Island Spa
(7) Sun & Sund
$3 each

Hot Pink Organza Pouches - I put my engagement ring on it so you can see the size.
$.50 each
(qty 7)
(qty 17)