I have been avoiding this for a few days but I think that I am ready to take the plunge!
- We booked our trip through Orbitz and didn't have any problems. However, I would NOT advise using the shuttle service that they offer on the site. Hire a cab at the airport! The shuttle people also work do the excursions and tours so they kept calling our room (in the early morning) and trying to sell us stuff. Then they totally screwed up our shuttle going back to the airport, lied to us about our flight times changing and just causing us a lot of frustration and wasted time. So, stay away from Grey Line shuttle service. They suck!
- The resort itself was AWESOME! The food was great and the drinks were plentiful. My family is BIG drinkers so I do regret not doing the insulated mugs because it was super hot and ice melted quick. Oh well. The service staff is the best that I've ever been seen. A bunch remembered our names and our drinks and were just great. A few dollars in tips does go a long way.
- We had the jr. jacuzzi suite and it was SWEET!! We even had a bidet (I was afraid to use it!). The room was cleaned twice a day I think! The fridge was always refilled and if you leave a note saying what drinks you want, they listen! Mas Cerveza! Oh, and to be honest... we never once got in the jacuzzi!! Wish that we would have but just never made it!!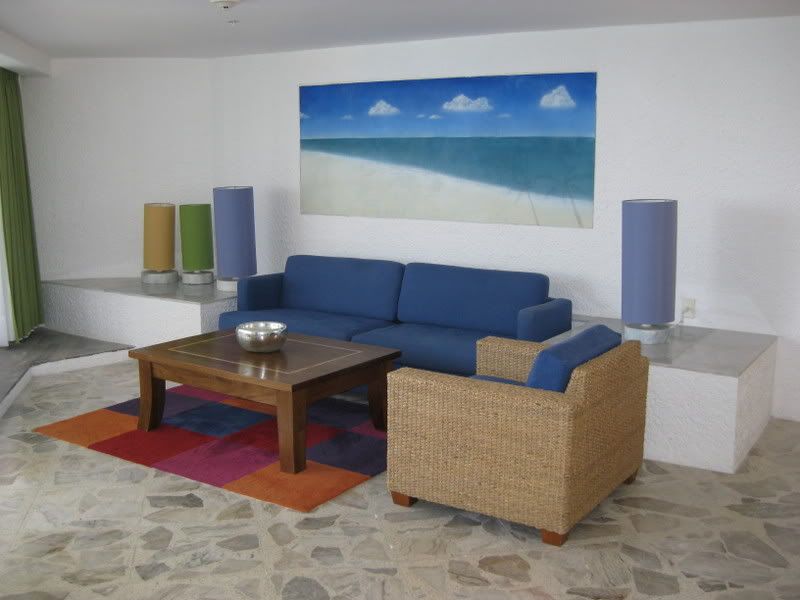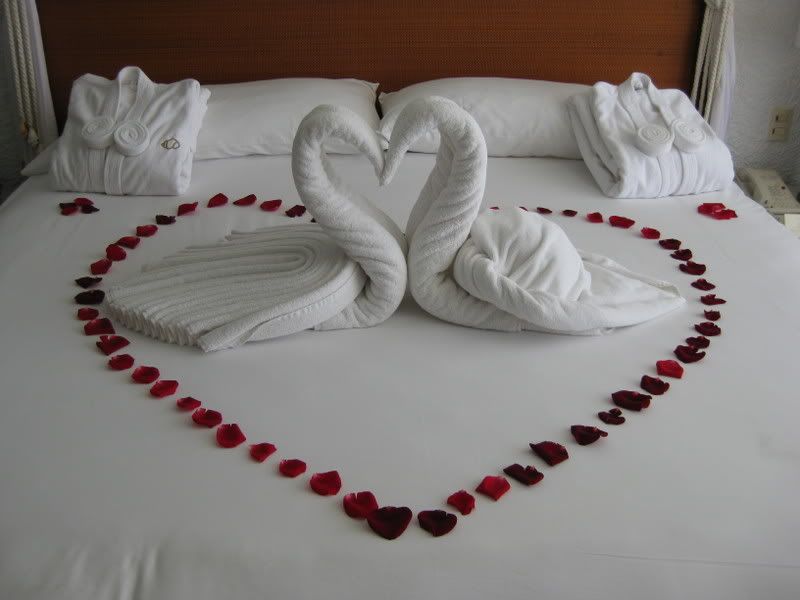 - I met with Gaby on Thursday (my wedding was on Sunday) and we pretty much went through the contract and added stuff and subtracted stuff. They are pretty flexible on what you can do. The plan was to have the cocktail hour in the garden and the dinner/reception on the terrace. We were a bit concerned because there is construction going on in the terrace right now but they weren't going to be working on Sunday.... Anyone getting married soon - Check on this. We saw a wedding while were there and there were jackhammers going while this couple was saying their vows. It was disturbing!
- Night before the wedding we had everyone meet in the lobby bar for cocktails. We had 41 guests from all over the country and everyone got along great!
- Day of the wedding would have been perfect if not for the stupid hurricane Gustav. My wedding was set for 4:30pm and all morning the skies were clear and sunny. Then at 3:30, it just got black and started pouring! Gaby called and said that we would have to move everything into the ballroom. I basically told her that we could move the cocktails and reception but I was getting married outside even if I had to wait out the storm. Hell, I could get married in a ballroom in Chicago dammit! So at about 5:00, the storm cleared and it got sunny again!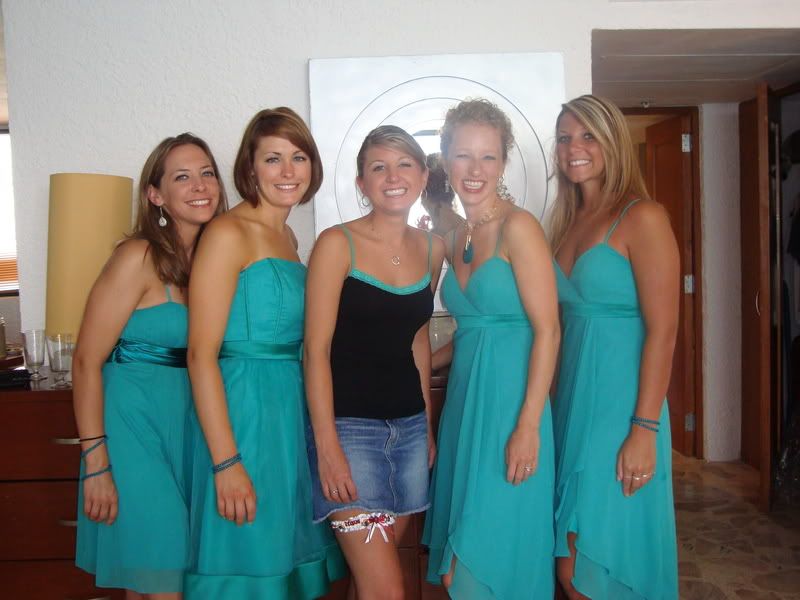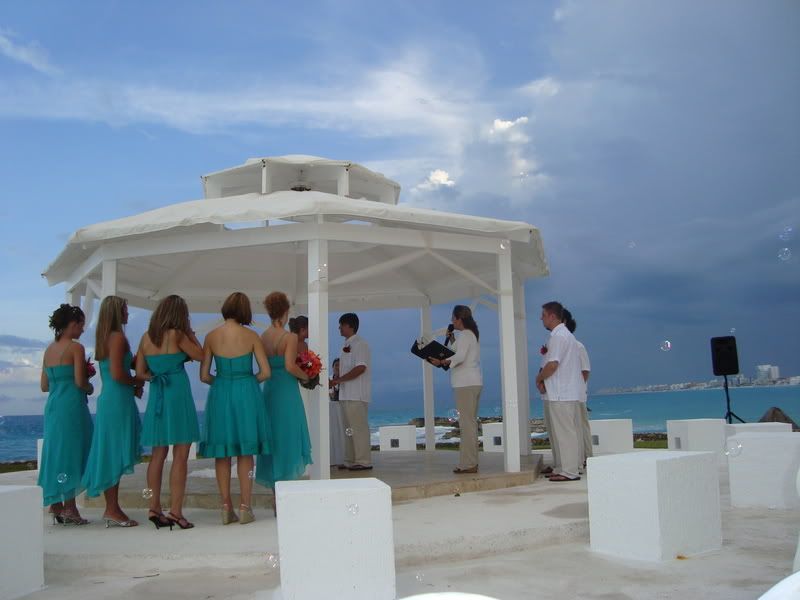 - The ceremony was beautiful! Everyone loved it! We could understand the officiant which I thought would be an issue but wasn't.
- Hair and Makeup -I didn't do a trial because I'm cheap! A lady named Mariya (Cristian is gone) did both and did an amazing job! I was really impressed and I'm picky. They do well with pictures so bring some!
- Photographer - I used Claudia Rodriguez. She was super nice! I haven't seen pics yet but i'll post when I do.
- I missed cocktail hour because of pictures but I heard that the mariachi band was great and the food was supposedly delicious too! I did get one shrimp and it was yummy!!
- Being in the ballroom for the dinner was a huge blessing. I didn't realize how HOT Cancun was until I was in a 10 lb dress! The ballroom had a/c and I needed it! I was sweating like a pig the entire time and didn't even want to step outside into the air.
- I used Mannia for a DJ and I really wouldn't recommend him. We sent him a list of songs and I don't know if he was confused or something because he kept repeating them. I think that he played one song like 3 times. It was really bizarre.
- The food at the reception was AWESOME! We did a combo gold/silver menu. Everyone's fav was the chicken with the spinach and cheese. It was superb. And the lobster bisque soup was great too.
- We had the tres leche cake and while it was a bit mushy, it was pretty damn delicious!
- 3 hours goes by super super fast. So when it was over, we just took over the lobby bar and partied there until they kicked us out. I honestly have never seen as many shots done in one place at one time!! I don't think I'll ever be able to drink Cuervo again!!
- OOT bags were a huge hit! The bellhop charges $4 per room for delivery but everyone was so excited to get them that it was well worth it.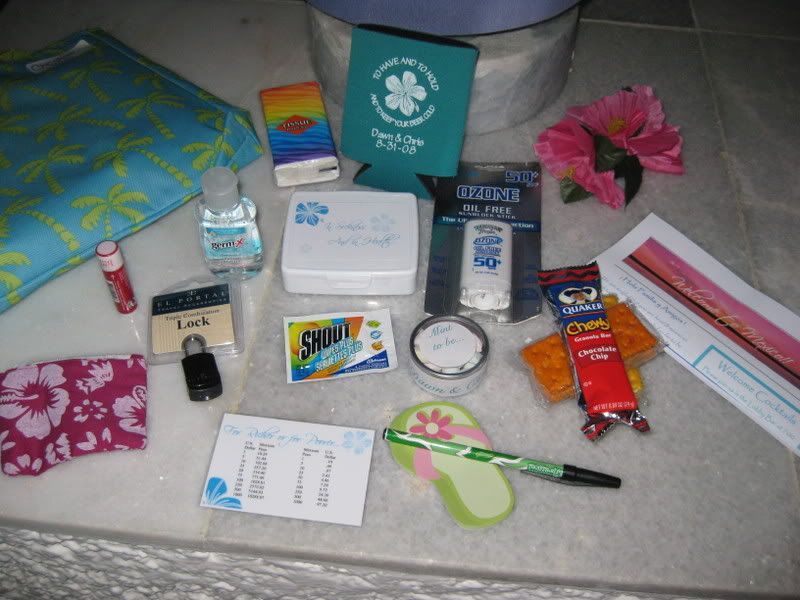 to be continued...