Here is a list of all of our items we bought:
5.50- Old Navy clearance
1.00 aloe gel- Dollar tree
1.00 first aid kit- Dollar Tree
1.00 eye drops- Dollar Tree
1.00 Banana Boat 30 spf sun screen- Dollar Tree
2.00 photo ambum welcome book- Ollies for the album $1.00 and $1.00 worth of photo paper each from Staples)
.50 spf 30 stick- DollarTree
.50 spf 30 chapstick- Dollar Tree (2 in a pack for 1.00)
.50 anti-bacteria hand gel- Deals
.50 beach ball- Ebay
.50 travel spanish dictionary- Ebay
.25 mints- Dollar Tree (4 in pack for 1.00)
.10 travel kleenex- Dollar Tree (10 in pack for a $1.00)
.35 Gum- BJs ( bought it is 10 packs with coupon)
.50 note pad and pen- Michaels clearance
.50 bath salts- Michaels clearance ("M" since it was the first letter of our last name)
.50 star bath fizz- Michaels clearance ("M" since it was the first letter of our last name)
.33 Motrin- Target (3 pack for .97)
.50 Rolaids- Wal-Mart (3 pack for 1.50)
.15 Wet Ones Wipes -Wal-Mart (box for 4.00)
.25 Crystal Light water packets- Bjs (box for $5.00)
.25 Shout Wipes- Wal-Mart (4 pack in travel section for 1.00)
.20 Dramamine- Wal-Mart ( bottle for 4.00 and small individual craft bags for 1.00)
.60 Off insect wipes- Wal-Mart (3 boxes came to 12.00)
.20 popcorn- Wal-Mart (15 pack box)
.50 snacks (pb crackers from Wal-mart & 100 calorie packs from 36 pack @ Bjs)
.10 lables for first aid kit and drammine)- Dollar tree 1.00 per pack
Post cards- free (thanks Jessica M)
Imodium- free (doctor's office donation)
--------------------------------------------------
TOTAL = $19.28 per bag
Overall Total: $19.28 x 20 bags = $385.60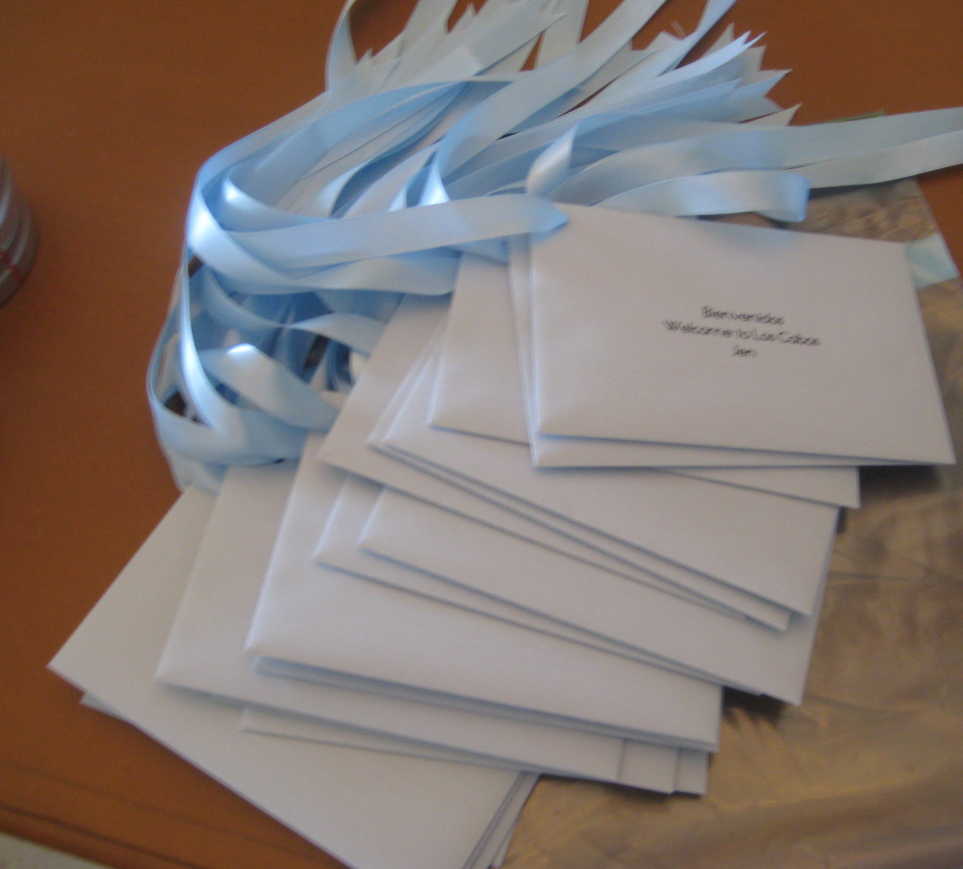 Overall the OOT Bags were a huge hit with our guests. The sunscreen came in really handy for many guests since they didnt check luggage, they could not bring a large tube. We brought about 50 lbs worth of stuff and boxes during our site visit and left it with Mariana at Dreams. This was a tremendous help, we highly recommend this. You will always find last minute items you need to bring and you dont want to have to pay for an extra bag if you dont have to. Our site visit was short and we had plenty of room to bring the bigger stuff. We brought it inside a smaller luggage container and then stuffed the empty one inside the large one to bring the bag home.
The Dreams employees thought we were running some sort of store out of our room with all this stuff! The one guy actually wanted to buy one of our spanish/english dictionaries. Too bad we didnt have any extras, we would have given him one
Recommendations:
-------------------
- Crossword Puzzle/ Word Find / Sudoku books would be a nice addition
- Photo books took a lot of time to find photos of guests and print but it helped our guests get to know one another quicker. Since our guests arrived on different days, this came in handy.
Sorry for the delay, we know its important to Give Back!