So... went to Laura Mercier yesterday for my make up. It was fantastic. The girl that did it was so sweet, so fun and so patient (you have NO idea). She redid my eyes three times because I'm so pick and have no idea what I want or what I'm doing.
FI was there for the last 45 minutes of this 2.5 hour process (he's SO good) and at the end he (1) paid for everything and (2) tells me that while I was off in the ladies' room he asked the makeup artist to come with us to Mexico!!!! She has to check her schedule but she thought it would work.
OMG. So excited! My makeup looked so good - FI was shocked. Actually made the comment that he had never seen me look so good.
Oh yay! I hope she's coming with us!
And because I know the rules about such things, here are a couple of (very bad) pictures of my make up: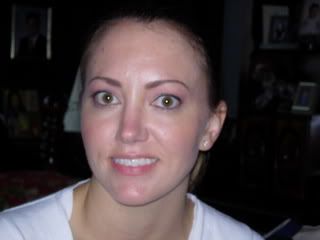 (and outside squinting into the bright sunlight):