There are good ideas and there are some not so good ideas...
So, these are a couple of my inspiration pics: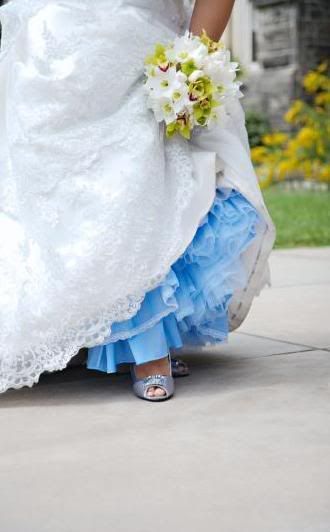 It was much easier said than done. Of course, now that it is all said in done, I find this article on how to do it.
eBay Guides - How To Dye Your Wedding Slip, Petticoat or Crinoline
In my defense, I did follow the directions on the Rit Dye website. The Hobby Lobby didn't have any aqua dye, but the website did have a recipe for aqua. In my head my slip would turn a lovely shade of pale aqua. Not so much! Whoever developed it so called recipe was smoking some BAD crack! It wasn't aqua, it wasn't blue, it was dirty teal!
So after the first dyeing round, I hated the color. I found "vivid turquoise" from another company and re-dyed it. It was better but still not what I wanted. I finally put a color kicker/remover on it with a little better result.
I have learned from my mistakes and if anyone wishes to dye her slip I can definitely help you out.
My first tip would be to only dye in an available color, don't attempt this mixing your own crap.
I'd also start with a smaller quantity of dye and if it is not dark/bold enough, re-dye and add more.
The gory details and pics are in my blog.
At this point I'm sticking with what I've got and just going with it! Thank goodness not many people will see it!