Hi ladies,
With all the talk lately about this company, I thought I better post my experience with them - which I must say, was fantastic!
I really wanted to avoid duty and shipping costs to Canada, so I was originally going to ship my mugs to someone I know in PA and have his girlfriend (whom I work with) bring them back for me. That would've been all fine and good, however the timeline just wasn't going to work out, so I decided to just have them shipped to me.
So, when I did the form online, I originally put in the person's name in the States where they were first going to go. Before submitting the order, I changed it to mine, which is an Ontario, Canada address.
I noticed that I submitted something (not the final order) and an email poppede up in my mailbox saying Thank you for your order! and went through all the details. I thought that was weird, since I hadn't put in my credit card info yet.
Anyway, I ended up calling and talking to someone and she just charged my Mastercard over the phone.
My mugs arrived just the other day. It took about a month, but I am satisfied with them for sure. They seem like great quality and while I was concerned about the logo I had made, it actually turned out ok!
Not only that, but they sent me 36 mugs instead of the 28 that I ordered AND I didn't have to pay any duty of shipping!!!!
Here is the final product that will go in our OOT bags!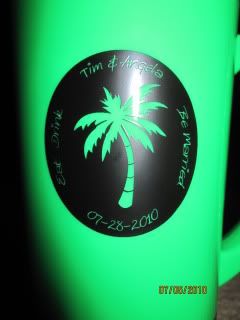 So, if you asked me, I would say, "Yes, go ahead and order with this company!" I had a great experience!