This post is long overdue. I finished my mostly DIY pocket fold invitations a few weeks ago. I just haven't had the time to sit down and put this post together until now. It's pretty long, but I hope it helps some of you!
I ordered most of the supplies from Cards and Pockets: Easy Order Invite Kit (Perfetto Pocketfold - Candy Apple, Invite Mat - Onyx (Metallic), White Precut 5-1/2" x 5-1/2" Invitation, White Precut 5" x 5.75" Enclosures, White Precut 3.5" x 5" Response Card, Inkjet Vellum 8.5" x 11" Sheets, 2" x 2" Customizable Monograms , 2.25" Squares Non-adhesive Onyx (metallic), Metallic Silver Invitation and RSVP envelopes, and Glue Dots.
I bought everything else from Michaels, Sam's Club, and Wal-Mart: ribbon (Christmas ribbon on sale at Sam's club), Peel-n-stick Fabric Fuse Permanent Adhesive (for securing ribbon and monograms), clear stamps, acrylic clear stamp block, stamp ink pad (black), Elmer's Glue All glue stick (to secure ribbon to vellum), Scotch tape roller - permanent adhesive. I already had a paper cutter at home. I printed everything on my HP inkjet printer at home and didn't even go through one full color or black ink cartridge.
Picture of supplies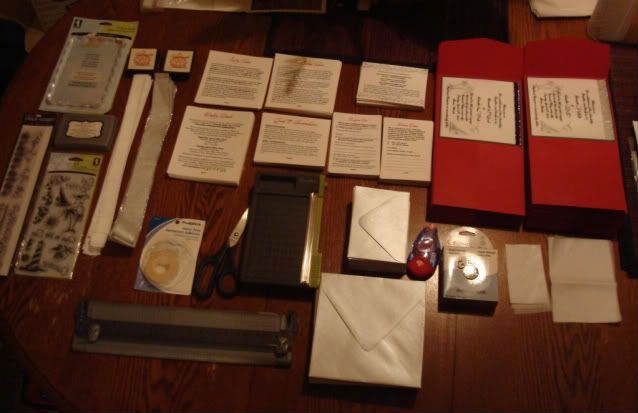 Pictures of closed invitation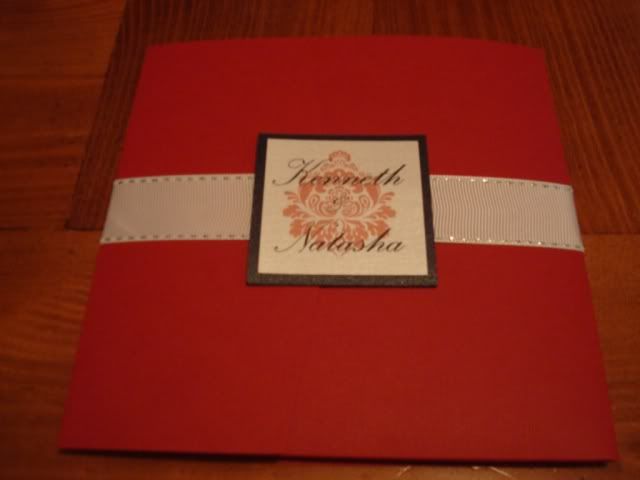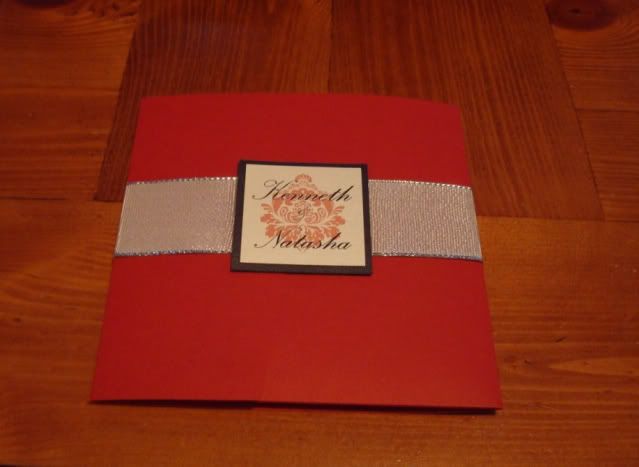 I had to use two different types of ribbon on the outside (and inside) of the invitations. I didn't have enough of one roll to do all of the invitations (since I bought a multipack of ribbon on sale). I used glue dots to secure the monogram to the black 2.25" squares. I secured the ends of the ribbon together with the Fabric Fuse and also used the Fabric Fuse to secure the Monogram/2.25" Black Square to the ribbon. I have to say, the Fabric Fuse worked really well.
Picture of finished invitation contents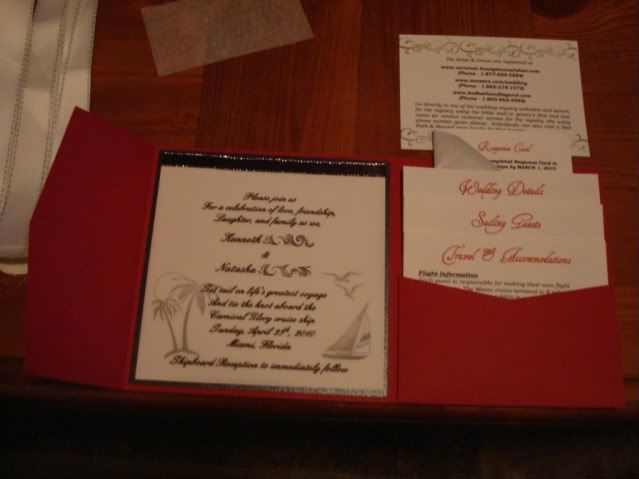 It took me a couple of weeks to come up with the design/wording for my invitation and enclosures. I used ideas from this forum and from sites I found on the web doing Google searches on "pocketfold invitations". I had bookmarked those web pages on my computer, but unfortunately I do not have them to share because my computer crashed recently and I had to have my computer hard drive replaced; so, I lost all of those bookmarks. Luckily, I had my important wedding files saved on a portable hard drive.
Once I had an idea of how many enclosures I needed and the wording I wanted on the invitation, I placed my order with Cards and Pockets. One thing I did not consider before ordering was the postage I would need. The pocketfolds I ordered used a 6.5" x 6.5" envelope, which is considered a "large envelope" to the postal service and requires extra postage. Each invitation would have cost $1.22 to mail, but I ended up paying $1.32 each because I used three $0.44 Forever stamps on each. I just wanted to get them mailed out and didn't want to wait another week to wait for custom wedding postage to arrive (the post office only had ugly $1 and $0.28 stamps).
I used the following fonts from dafont.com: English (for the invitation) and Tagettes (for the enclosure headings). I ordered pre-cut enclosures (5" x 5.75") from Cards and Pockets, but still had to cut them down for the "tiered" effect. I left the first enclosure at 5.75" long, but cut the second and third enclosures at 4-7/8" and 4" long. This was a multi-step process, which I completed over a week's time (a little every day). This is the approach I took:
Printed Invitation on vellum & cut down to size. This was the most frustrating part of the project. I had to load each sheet of vellum one by one because my printer would try to feed in multiple pages at once. I had about 50 sheets to print. I ruined several sheets of vellum until I was able to get the hang of it.


Printed all enclosures and cut down to size. It took a little trial and error to figure out where I needed to make the cuts for the tiered effect. So, it is a good idea to order extra supplies.

Stamped white invitation card-stock with clear stamps (sail boat, palm tree, and birds) and let dry. I also stamped the wedding registry inserts with a decorative clear stamp. This was my first time using the clear stamps and acrylic block. I liked them a lot; very easy to use.


Measured and cut all ribbon to size needed for invitations

Attached 2" square monograms to 2.25" onyx squares (using glue dots)

Attached vellum to invitation card stock with scotch tape roller (top edge only), then attached decorative ribbon to top edge of vellum (to hide tape) and cut off excess ribbon. I first tried using the glue stick to attach the ribbon to the vellum, but this caused the vellum to curl when the glue dried. The fabric fuse (for textured ribbon) or tape roller (for smooth ribbon) works better.

Attached completed assembly from above step to onyx invitation mat (using tape roller). Then, attached this (using glue dots) to the inside of the pocketfold as shown in this pic:


Placed all enclosures into pocketfold and closed.

Wrapped ribbon around outside of closed invitation and secured ends of ribbon with Fabric Fuse.

Attached monogram to ribbon using Fabric Fuse and then stuffed envelopes for mailing

I would say I spent around $5.00 per invite (not including postage), but I could have spent a whole lot more if I paid someone else do them, with all of the customization I would have needed. I hope this post helps someone with their pocketfold project. Templates are attached (I'll attach more templates in an additional post to this thread). Note: You will need to download the fonts I mentioned from dafont.com in order to view the templates properly.