These are not the best photos as I had no clue when they were going to be taken because no one knows how to use my camera. That and no flash was used--enough of the excuses.
I am fair skinned (read-pale) and have lots of freckles. Reddish hair as well. Now here is my question--My sisters are encouraging me to get a cream colored dress over white. What do you think? I really don't have a huge preference so I thought I would throw it out there for you to see. Plus I know you all love photos. Nothing like seeing yourself in a wedding dress to encourage you to tone up and loose more weight ( already 15 down
)
I am not sure if you can really make out the difference.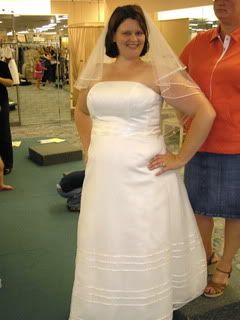 This one is very simple and more my style than some of the ones with lots of beading. This one is very white.
Ignore the silly face! This one is off-white or cream. It has a flower on that I hate so would take it off and cover it with a pin.
Arrgh I am so tired so I hope this makes sense. Oh and stay tuned for engagement photos--we got them done last night and I should have them by the end of the week!!