The Beginning

We met and fell in love while attending college at the University of IL in Urbana-Champaign. We ran into each other while hanging out in one of the dorms on campus. After several phone calls and trips from dorm to dorm we realized that we were meant to be together. Seven years later we are still madly in love.
Rules to Engagement

The Rules were as follows. To commemorate our seven year anniversary and the love we share together, my FI explained his plan to me that in seven months, from September 7th, I would be engaged. There would be 7 events (once a month) to celebrate the relationship. Each event would be an opportunity for him to propose. Each month there would be a clue. The clues would reveal a phrase that, if guessed, would reveal the month, but not the day of the engagement. I accepted the pre-engagement conditions and the events began.
The Proposal

He proposed on Saturday January 31, 2009 at El Nandu (an Argentinean restaurant in Chicago). He surprised me while I was having dinner with my good friends. Though I was quite perplexed when he showed up with his best friend I didn't think anything was about to happen. There was small talk for a couple of minutes and then she (the best friend) pulled out a small notebook that I recognized immediately. (When we began the Rules to Engagement game he started writing notes to me in this notebook before each event.) We were the only two people who knew about the notebook, so as soon as she gave it to me I knew what was about to happen. I read the note that he had written and started crying immediately. When I turned around to face him he was already down on one knee. It was absolutely surreal. I remember seeing his mouth move but neither one of us remember what he said; we were both so caught up in the moment.
When he asked me to marry him I said yes right away. After he put the ring on my finger I was in complete shock, it took me a while to wrap my head around everything that had just happened. A minute after he proposed he told me he had to leave (apparently he had things to do). So after the "drive-by" proposal (that's what I'm calling it), he left with his best friend and I stayed at dinner with my friends.
When I got home I opened the door and found him waiting for me. He had lit the entire apartment with candlelight and the sweetest love songs filled the air. Seven roses had been meticulously placed on the bed (one rose for each year that we have been together) and he had written I Love You in chocolates kisses.
It was the sweetest and most romantic moment that I have ever experienced. I am so lucky to have a man like him in my life.
[IMG]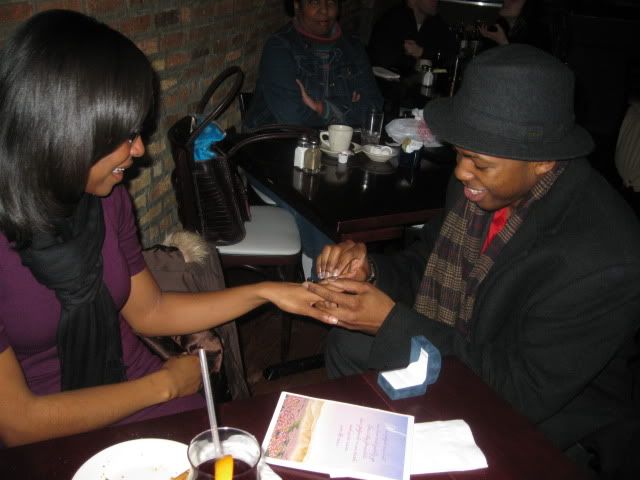 [/IMG]