Got our OOT cups today! I am so excited for them!!!
Little background, the bar Joe and I met at has color changing cups, so we decided to order them for our wedding in honor of the place we met at! We're going to put them in OOT bags and maybe at everyone's place setting at the wedding.
Here they are, I am in love with them! I think they're soo cool! All cups start the "frosted" color, then change colors with cold liquid.
we got them from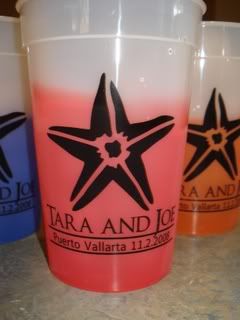 Monogram is from BDW's very own Sarah.