This is a great resort for those who want a stunning beach and enjoy a laid back fun atmosphere! When you first arrive your provided a cool scented towel and a glass of champagne while the check in formalities are being taken care of. A couple of note worthy points- if you have butler service you are whisked off to a private check- in, in your room! This is great especially if you've had a long flight and just want to relax and start your vacation! The second noteworthy option is if you are using a Certified Sandals Specialist they will have your paperwork already filled out with a pre check in, again this makes your arrival a little less stressful and relaxing!
The lobby (and all of the public areas) are open air- a feature that I love! The lobby itself is fairly small but with Sandals policy of getting everyone checked in quickly it shouldn't ever be much of an inconvienance. The furnishings are all comfortable and very "Caribbean". I enjoyed people watching while I gentle swung on the padded swing chairs in the lobby.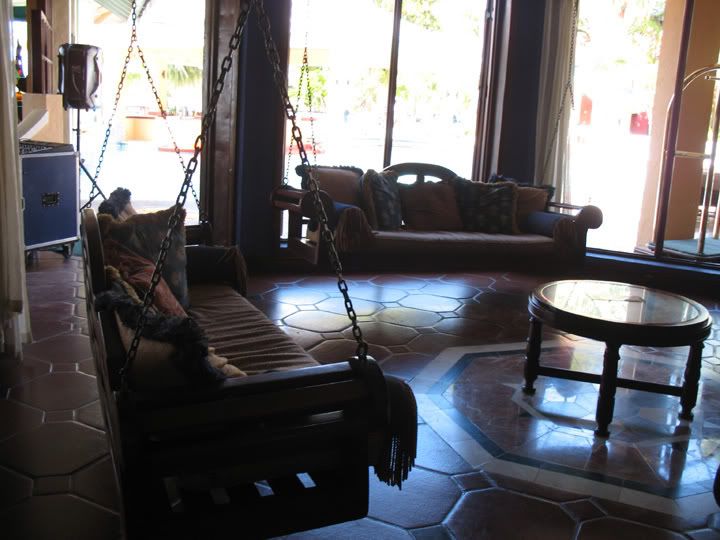 I was able to see four room categories on my visit- the resort was booked solid! These rooms were actually waiting for guests to arrive so they shuttled us in & out pretty quick as they certainly weren't going to have guests waitng on us! I saw a deluxe, premium, 1 bedroom loft honeymoon oceanfront suite and a Swim up Suite.
The general feel of the resort is relaxed fun. Everyone looked like they were doing exactly as they wanted- laughing and talking with staff or other guests, floating in the ocean, reading a book in the shade, playing pool, hanging out at the swim up bar, eating lunch at the buffet while a reggae group played or hanging out with a snack at the beach grill. There are a lot of organized activities at the resort also. If anyone is interested i took a photo of the days activities!
As you stroll along the beach path one of the first things you'll notice is that the buildings in each section have their own flair and look. Add that to the rule that no building in Negril is to be built higher than the tallest palm tree and the resort just looks tucked in and unique- no mega resort, sterile feeling here!
IMG]http://i83.photobucket.com/albums/j286/caboweddingforum/WBviewofthebeach.jpg[/IMG]
Farthest along towards the dive shop and water sports area you'll see the tropical hued buildings that house the deluxe & premium rooms (these rooms are on the two lowest floors facing the garden, premiums add vanity areas and thus are a little larger.) At this time they still have the regular large televisions but will soon be upgraded to flat screen tv's which will really open the rooms up! The rooms have the trademark king sized mahogany bed, island wood d©cor and the soft goods and walls are still decorated in bright Caribbean colors. Once the rooms have been fully renovated the colors will be muted and brought more to a modern luxury look. These rooms do not have a balcony nor patio.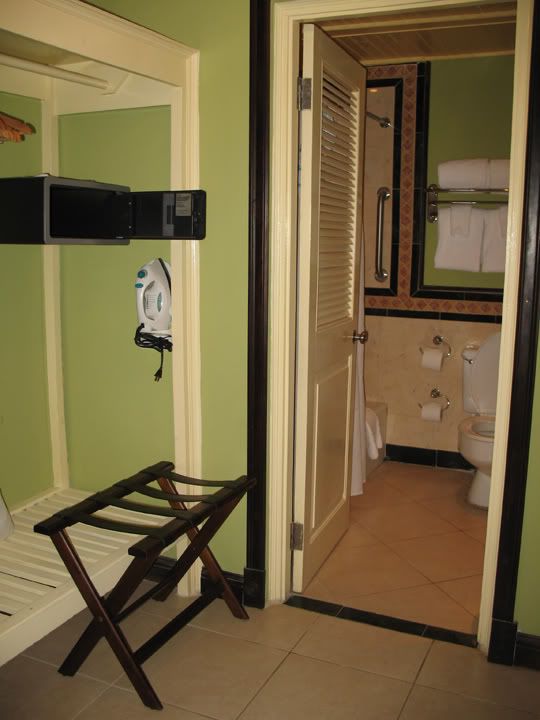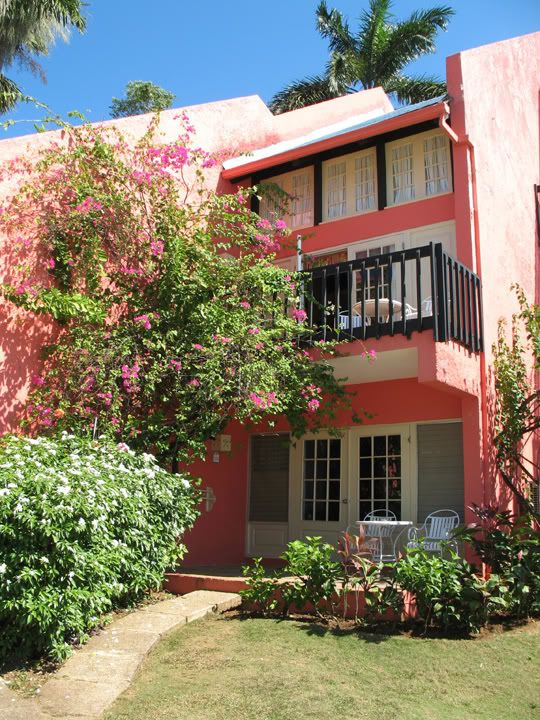 The coral pink buildings house the adorable 1 bedroom Loft Oceanfront Honeymoon Suites ( Sandals always gives their rooms such looong names). These suites have an upscale Caribbean cottage-y feel to them. You enter a large living area complete with wet bar, flat screen television, stocked fridge, a couple of comfy couches and an
amazing
view of the Caribbean through French doors! The balcony has a table and two chairs. Perfect for some alone time in the evenings to gaze at the stars or to sit and sip cocktails while watching the sunset! For you morning birds you can order room service and your butler will set it up on the balcony for your enjoyment and pampering.
To reach the second floor and bedroom you ascend a spiral staircase. The second floor is quite large and has another television, a four poster mahogany king size bed, a full bath and for additional light a set of square windows along the far wall. I fell in love with these rooms because they were so unique and just oozed romance! we'll talk a bit more about the butler service later!
TA Jennifer