Am I impressed? Sort of....
It is very good printing quality I must say. But for some strange reason my pages are mixed up. I published them to be in chronological order (from our first 5 years to present) but they're all over the place. I don't know what happenned. Also near the end there is this white border which shows up and it upsets my perfectionist side.
I did them all the same size, so how come some of the pages have this ugly white border and some don't?! AHH! Last bad thing to note; I had this mother theresa quote which was very long and supposed to be the last page BUT since they messed up the pages it's right in the middle of the book.
Now for some good; I love the pearl finish. It gives it a metalic feel with the black and whites. I'm glad I took a chance on that. I was more than impressed with their speedy shipping. I ordered on Wed morning and it got here this afternoon (Fri). I just ordered the regular shipping so that's awesome timing.
Not too sure if I am going to re-order. Looking at my file on their website THEY messed up not me. I think I will just use this book for my guests to sign.
Last but not least, pictures! My cat was being a brat and was trying to play as you will see. And the pearl finish is hard to photograph, it reflects alot. sorry.
The cover (nicely done in gold etching)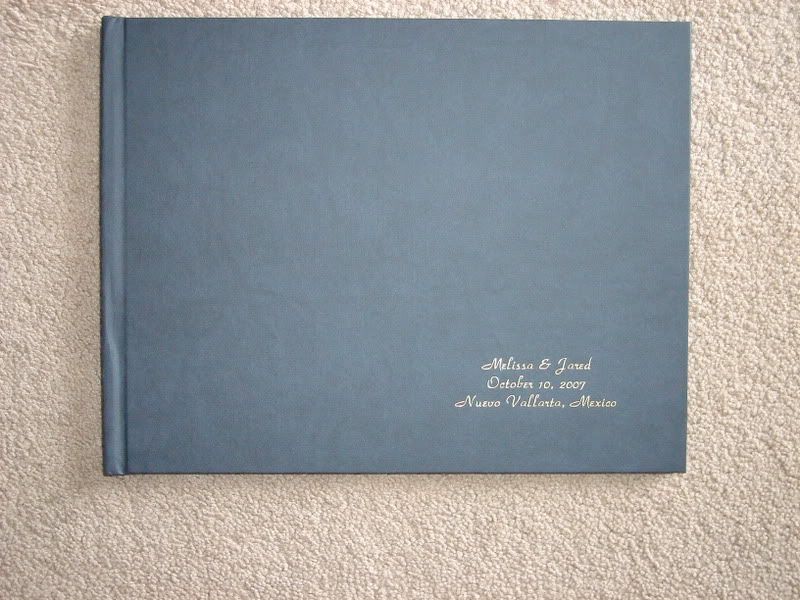 The white border I'm not impressed with
For $41(incl shipping and etched writing on the front) it was a good deal for a high quality product but I'm questioning their mess up with the order of my book and the white border. I guess next time I will know.