After looking at lots of STD's and invites, I knew what I didn't want but, couldn't figure out what I really wanted! We were running out of time (wanted to send them 1 year in advanced), so my fianc© and I being the hip-artsy types we are(but, I'm not an artist! I can't stress that enough!) I just couldn't see us doing anything embossed and wordy. I wanted something simple and a little more "us". We are both huge fans of comic art and wanted to try to achieve that in our STDs.
I checked out you tube for "cartoon tutorials" and basically taught myself how to use a photograph in Photoshop, and trace over it to create a cartoon. There are several ways of doing this, I did the not-so-perfect way because I liked the way it looked better. Then with the magic of layers, my fianc© made the original photo disappear and made the background striped with our wedding colors (I didn't really know how to do that). We downloaded "futuristic" fonts from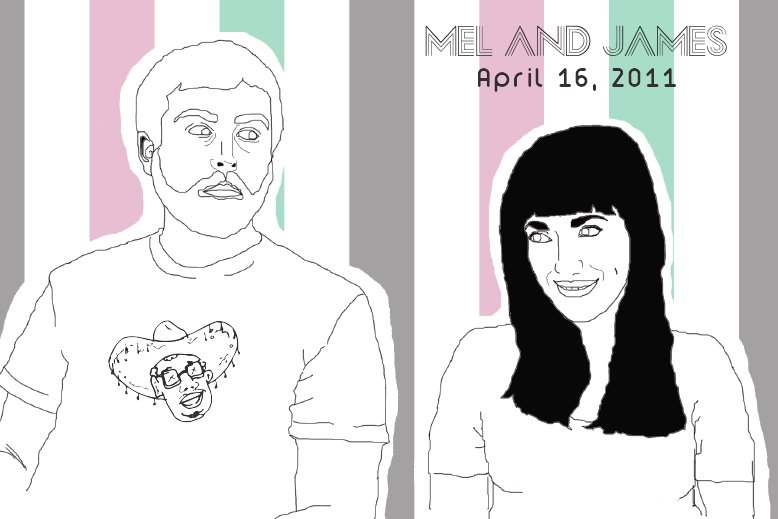 The only negative feedback I've gotten so far is that my fianc© "looks like Santa" (He's blond!) and that I "look like a zombie". HAHA! Whatever, can't please everyone! I think they look great! Although my nose looks a bit weird and we have no pupils…
I am going to do our invitations the same way, so we have a theme. I was thinking of having those be long and skinny with a tri-fold, the response card could actually be attached at the bottom with a perforation, so then people could tear it off then mail it. Does that seem cheesy to anyone? I would LOVE some feedback!
PS. Everyone is really great on this forum!