Ok, so I'm a huge slacker!! My STD's have been done since Novemeber and have been sent out alraedy!!
I bought all the supplies at Wal-Mart since I live in a small town with no Micheals or anything CLOSE to a craft store.
I bought brown card paper, brightly coloured scrapbook paper in a variety of colours (came in a pack, couldnt find any packs with just my colours). I also bought some plain white ribbon about 5mm wide, some scapboook flower stickers and some magnet tape. Glue, kids flip flops and envelopes were also included in my budget so all in all I spent just under $50 (before postage).
I took the brown paper and printed the stds on them at home. I then took a child's flip flop (also bought at walmart at the end of summer, around $2.00 a pair) and traced it on the brown paper. Cut it out and traced another flip flop (1-2 sizes bigger) on the coloured paper. I then glued two small pieces of ribbon to just the brown paper and covered where they met with one of the scrapbook flowers.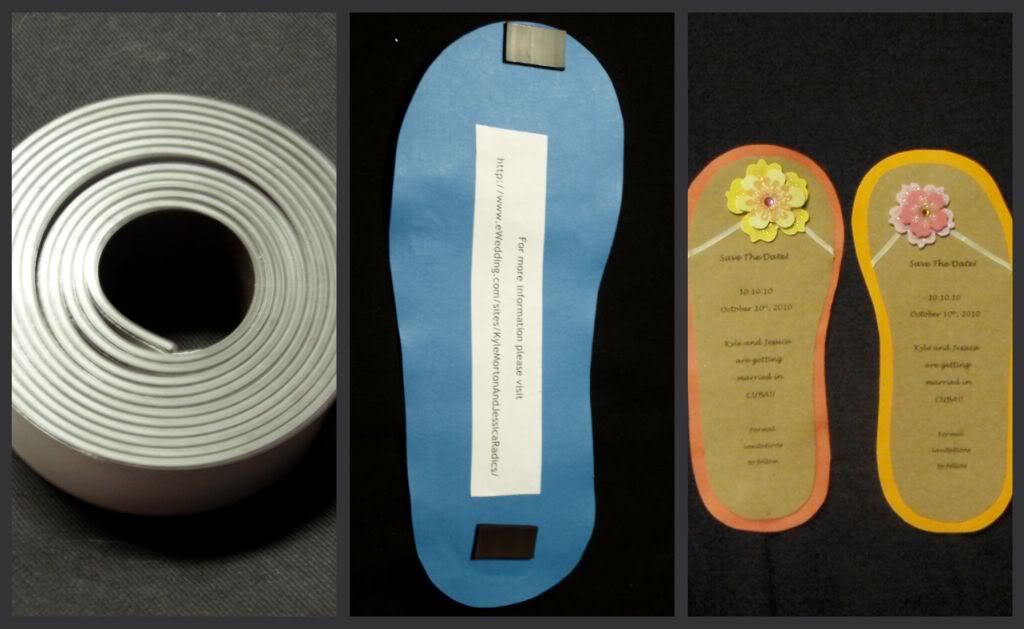 I then put two pieces of magnet tape on the back of the coloured piece, one on the top and one on the bottom. Then a piece of paper on the back with the wedding website on it. I then stuck the two flip flops together, making sure the centre the brown flip flop.
My FI helped me out with these..we were our own little assembly line! Now on to make the invitations....