Dreams
Food - A
The food was also very good and there were only a handful of dishes we didn't like. For our wedding meal we had the calamari (excellent), and the poblano cream soup (guests were raving about this soup – it was awesome), and the breaded chicken and the fish fillet. The breaded chicken was okay, but the guests love the fish fillet. If I had to do it over, I'd probably go with the fish and something else for the main course.
In trip advisor reviews we read that the buffet was not very good. We did not find this the case at all and always enjoyed the buffet food. I didn't get to try the Mexican restaurant but Portofino, Seaside, and Oceana were our favorite restaurants.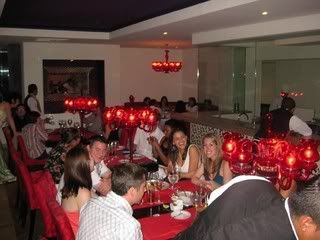 Some of our friends at Portofino one of the nights – they were very accommodating and gave us a table of 16 (4 tables of 4) right next to each other
Rooms – A+ Preferred Tower, B Regular Tower
The preferred tower was awesome, we did have some guests complaining about mold smell in the older tower. There is a huge difference in the two towers and I don't think we did a good job telling our guests this so make sure you do so there aren't any surprises for yours. Still, the deluxe rooms were fine for the most part, and most of our friends were just as happy with these rooms. Another thing to note is in the preferred tower you get free internet, where you have to pay for it in the older tower. Also, in the older tower they charge you an extra $20 per night for a balcony when you get there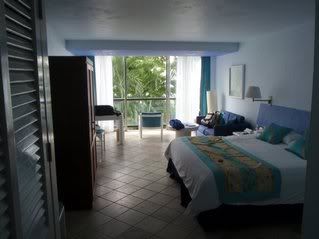 Deluxe Room regular tower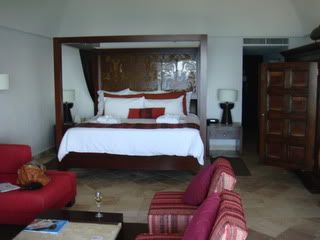 Regular Room in Preferred Tower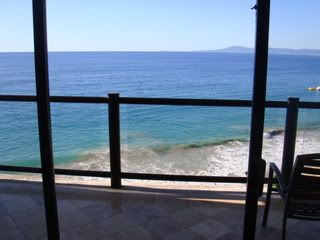 Balcony in Preferred Tower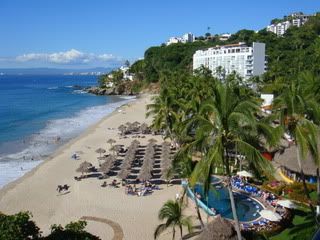 View from that balcony
The only downfall with Dreams I would say would have to do how they handled upgrades with our group. We reserved a block of 30 rooms, which you would assume would give the bride and groom or parents of the bride and the groom an upgrade of some sort (if available of course). We asked for it but they said it would be $700 a night to do so. The irritating thing is that this same day, two of our friends (two separate friends) – were upgraded to penthouse suites in the new tower for no reason and for no additional cost. If I had a group of 30 rooms, I would move the bride and groom or parents of the bride and groom to the upgraded suites and put the other guests in the room they had been staying in. I honestly just do not think they think to that level though – but they really should when they are getting that much business from a group. I know Dreams Cabo is really good at this but Dreams PV is definitely not.
Paul did get an upgrade to a penthouse suite in the old tower out of luck for 2 nights but the regular rooms in the new tower are a lot nicer than his was (we had separate rooms until the wedding night) – it was a really weird set up. We hear from our friends the newer tower penthouse suites are a lot better though.
A random, funny thing that happened was that on the wedding night they put a "Happy Honeymoon" sign on my sister and her boyfriend's door instead of ours – they were busting up laughing when they walked in – not a biggie and we didn't care, just funny.
Pool – B
The pool at Dreams is not that great. It is not horrible but I think they can do a better job with some remodeling. I guess I'm also comparing it to Dreams Cabo who has an amazing pool, so this may not help. The pool was just so so though. The beach though, made up for this as it was awesome and the water was so warm.
Spa - A
I got a stress cure massage which was great, not the best but very good. Some of our guests said the massage was the best they have ever had though – so I would recommend their spa.
I got my hair and makeup done by Blanca in the spa and she was great. I had a trial a few days before the wedding and I'm glad I did, because I totally changed my hairstyle after I saw pics. Blanca was happy to help me out till it was perfect.
Turtle Release – A+
They had no turtles hatching the week of our wedding, but then on our wedding night they did - we were so happy. It was amazing to be able to let two little turtles release into the ocean on our wedding night – we loved this. I absolutely recommend the turtle release if it is going on when you are there. I know it is seasonal so it does not go on all the time, but if it does when you are there – do it! If you are in your wedding attire, the staff makes sure you get turtles to release also.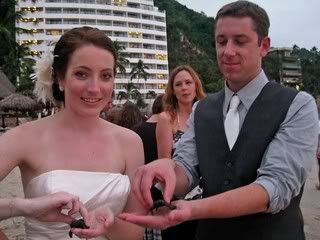 General
I don't know if it was because it was Thanksgiving week, but there were tons of kids at Dreams. We didn't mind this, but for a honeymoon I definitely wouldn't want to stay there just because of this. As I said though, this could be because it was Thanksgiving week – I'm not sure.