I know we all say this, and it's so true, I cannot believe its my turn! We have been engaged for over a year and a half and I am more ready than ever to marry my best friend. I stumbled onto this forum somehow last summer and really became more active this year (shout out to the SB ladies). It's been beyond fantastic getting to know you all and I want to thank you all from the bottom of my heart for helping me plan, for your advice and opinions, and most importantly for always being as excited about my day as I have been. Hearts.
THE ENGAGEMENT
J & I dated for 3 and a half years-almost to the day- when he proposed on April 18th, 2008. He had an elaborate plan to take me away to the Fairmont in Lake Louise for my birthday but a huge snow storm hit Calgary and the highways were closed. So instead of cancelling our getaway he booked us the presidential suite at the Fairmont Palliser in Calgary and we had a vacation within our own city. It was one of the best weekends ever and I truly thought it was just my birthday gift until he proposed after dinner on the Friday night. We came back to the suite to find champagne, strawberries, chocolates, rose petals, the works! I was not expecting it AT ALL and he completely blew me away. I of course said yes!
THE RINGS!
Both my rings were designed by a jeweler in town (Jewels by Design). We had never talked about engagement rings so my ring was a complete surprise-I heart it. My wedding band is not ready yet, hopefully by Friday, so I am attaching a pic of the computer rendering my jeweler did. The outside diamonds will be pave set though, not just set in the band like shown in the pic. And they will go ¾ of the way around, not the full way.
Mine: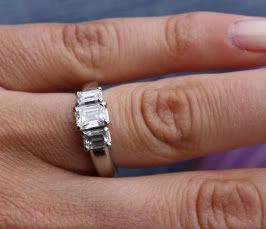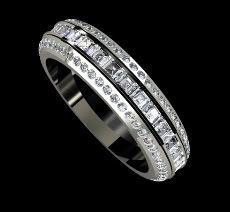 His:
We bought his ring at Maggies diamond boutique here in Calgary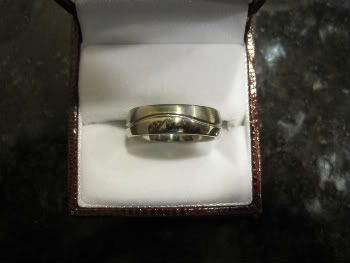 SAVE THE DATES
We sent these out about a year and a half before our wedding date, hence why the actual wedding date is not on the magnet.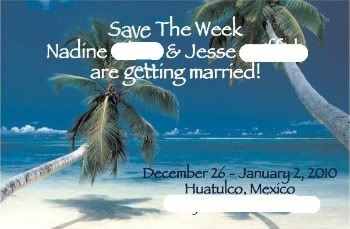 WILL YOU BE MY BRIDESMAID?
I have four bridesmaids in the USA and four in Canada. To ask my girls in the USA I sent them a little set from
Adorable Cookie Pot Bouquet when your cookie gift delivery has to be spectacular!
that included a dress shaped cookie, hot cocoa, and chocolates with a little card that said 'Will you be my bridesmaid'. Looks like the set has changed but this is the most recent one: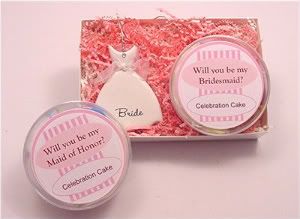 For my girls in Canada I couldn't find anything like this so I sent them each a bouquet of flowers to their work with a card.
BACHELORETTE PARTY
I ended up having two bachelorette parties. As I went to school in the USA I have a lot of friends who are American and I meet up with them once or twice a year in Vegas. So 17 of us met up in Vegas in July for 4 nights and stayed at the Hard Rock Hotel. I thought it would be overwhelming with so many girls (high school friends, college friends, family, and new friends) but it wasn't at all. Everyone just dove right in and all got along great, it was definitely the best weekend of my life. A few pics (they planned to all wear green bathing suits one day and gave me a white bikini with Bride on the a**)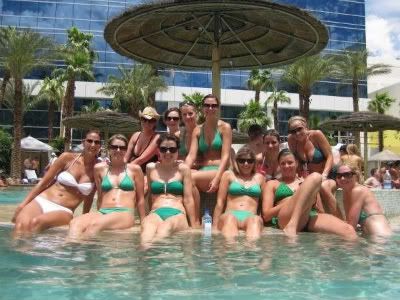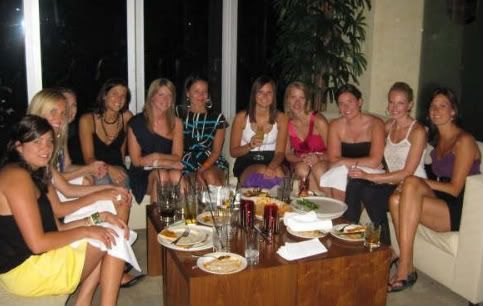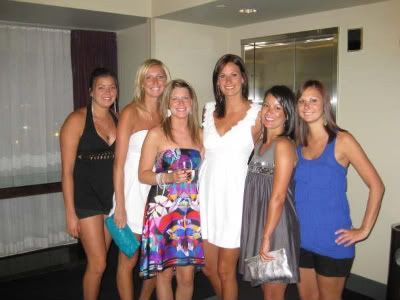 I also had a bach party in Calgary with 21 of my girlfriends (most of which could not make it to Vegas). Everyone wore a black dress except myself who wore color. Fun!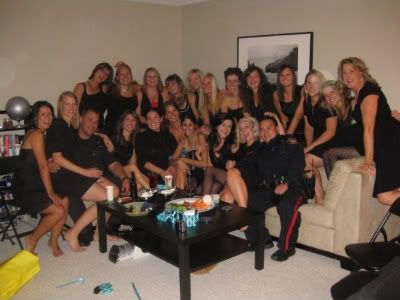 Only ones left at the end of the night..I love this picture