Something Old, New, Borrowed and Blue
241 replies to this topic
Posted 28 April 2008 - 08:56 PM
Here is mine...
---
Posted 28 April 2008 - 09:09 PM
Quote:
Originally Posted by Maura

did they give you a font list to choose from at all?
Yes....they are listed on the website...here's the direct link! But for me I loved one of the designs already listed on the website and just said that I wanted the same thing....just with our names...lol!
Order a Border Wedding Dress Label
---
Posted 06 June 2008 - 04:08 PM
There is a group of 8 of us who have been friends from grade school/high school. One of my girlfriends started a tradition when the first of us got married - a handkerchief with ours and our husbands names embroidered on it to carry with us on our wedding day. I think it's such a great idea and it really was my perfect something borrowed and blue. I was the 5th one of us to get married, so 3 girls to go. I'll have it til April when I get to pass it on to my BFF!
Here are some pics: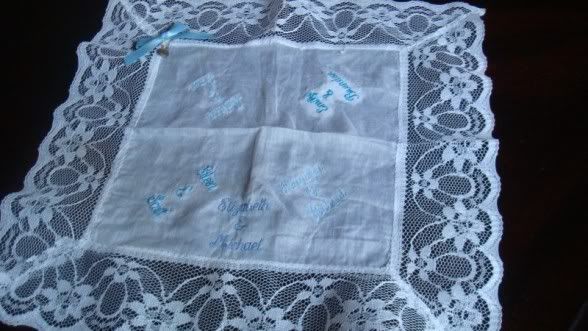 ---
Posted 07 June 2008 - 12:15 AM
That is a great idea, very sentimental!

---
Posted 07 June 2008 - 10:19 AM
That is a great idea!

Our Honeymoon In Ireland!!
---
Posted 07 June 2008 - 10:22 AM
That is an awesome tradition among your friends, I love how it combines the borrowed & blue!

Anthony & Angela
19 June 2008
---
Posted 08 June 2008 - 07:32 AM
That's a great idea! I'll have to share it with my friends!

---
Posted 08 June 2008 - 08:44 AM
That is so special!!! That is an incredible item to have with you on your very special day.

---
Posted 08 June 2008 - 09:15 AM
very cool lizz! thanks for sharing
---
Posted 08 June 2008 - 09:18 AM
That's so sweet, I love the idea! Thanks for sharing:)

---
---
0 user(s) are reading this topic
0 members, 0 guests, 0 anonymous users