HOW WE MET
We met April 29, 2005 at the birthday part for my best friend, who is also my Maid of Honour. Kevin was the roommate of my MOH's husbands cousins.
THE ENGAGEMENT
We were engaged May 30, 2008. We had a houswarming party/Birthday BBQ for my FH. All out friends and my parents were in attendance. We had talked about marriage, and things we wanted for our wedding. FH and my dad (who were both three sheets to the wind at that point, lol) were talking about Kevin and I getting married. I was sitting in the house chatting my girlfriends and my mum, when Kevin came in to tell my mum what my father and him had been talking about, I jokingly said to him "now that you asked for my parents blessing, when are you going to ask me?". At that moment he turned to me and asked me to marry him. In front of all my family and friends. I burst into tears and it was such a perfect proposal, even if he had been drinking, lol!
Here are some of our engagement pics. We actually had them taken in November of 2008. As we were getting married in Cuba, I wanted our engagement photos to be a contrast to our wedding photos.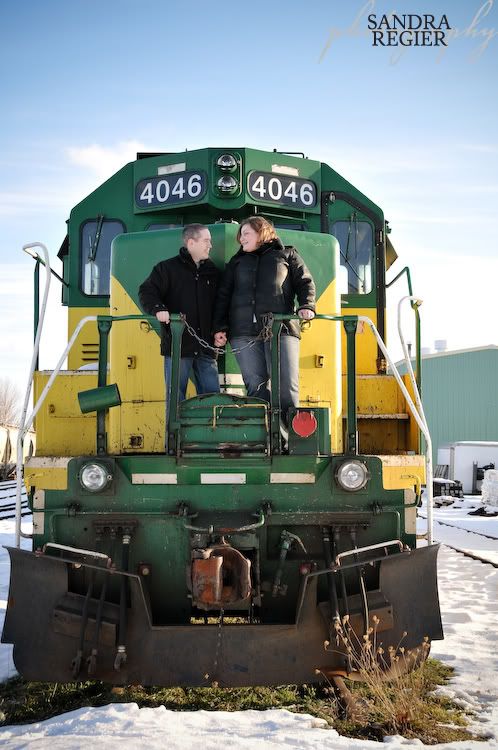 Our photos were taking by Sandra Regier. She was a pleasure to work with during the engagement session and we can't wait to work with her in Cuba.
T
HE ENGAGEMENT RING
I didn't really want one…at first, but people kept asking about it and saying we had to have one. I didn't want us to break our budget on it, so one Saturday we went out looking for a ring that fit our budget and we both loved and here's what we ended up with. When it finally arrived, Kevin took me to dinner at the pub where we first met and had out first "official date" and re-proposed.
More To Follow...