It has taken me some time to get this review out. I had many thoughts to sort out, much stress to recoup from, and a few personal issues to endure upon returning from Hawaii six weeks ago. The past 16 months have been informative, and although I will never get to put the lessons learned to practice in the future, I hope that by sharing my thoughts and experiences I can help at least one person on this forum with some insight and feedback.
First off, I feel that there are ups and downs along the road of planning a DW, and that this forum has been more than accommodating my rants and babbles. Also, I've taken quite a few weeks to reflect upon my experience (and I wanted to make sure I got my deposits, pictures, etc) before I opened my mouth again. As I write this, I have to ask myself again if the entire experience was worth it- the money, the trouble, the people who couldn't travel- to go all the way to Hawaii to marry the man I've already spent a third of my life with...
I am going to start off with grades, then go on to the detailed review, and add in some pictures, too!
AIR TRAVEL: US AIRWAYS,
F,F,F,F!!!!!
can I just say WORST EXPERIENCE EVER, and leave it at that? And btw, they don't have closets anymore, so you have to crush your gown into an overhead bin...
CAR RENTAL: Alamo,
A
I don't drive, so I don't really have an opinion, but if DH is happy, so am I.
ACCOMMODATIONS: Private vacation rental, Shangri-la, Moloa'a Bay (6 guests)
A
Gorgeous! Amazing! Private! Minutes from beach! They do rent out 3 sections of the house & the cottage separately, however, I couldn't imagine sharing the main propery with another party. The wing is gorgeous, it's a perfect master suite, but I didn't think it had enough of a kitchen, and there's no delivery down there! Also, in places this secluded your cell phone may not work (ours didn't, but moh's did). The six of us hung out all night on the wrap-around lanai, eating dinner we prepared in the giant kitchen in the main house.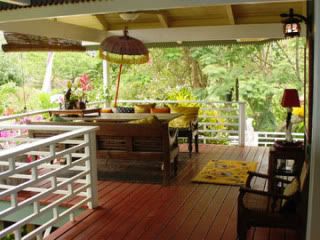 We took moonlit walks to the beach and saw sea turtles resting on shore. There was a pool, and a jacuzzi further behind the house, closer to the cottage. Other than that, the cottage is set a good way off from the house, and has it's own driveway, which goes behind the main house. There were issues with that part of the property being rented to someone else on our wedding day, which I found surprising because we also paid an additional fee for the event, so I thought we had the entire estate on our wedding day. All in all, it worked out, and was quite the awesome place to stay.
WEDDING COORDINATOR: Alohana Weddings,
A
Overall, great job! They went above and beyond all expectations...
CATERING: Contemporary Flavors,
A
Great food, exceptional service...
HAIR: Christie, Blue Sky Styling
A
She's awesome, and has great stories! Also told me I did a good job on my own make-up, very reassuring!
PHOTO: Kilohana Studios
A
Very easy to work with. Got our preview pics up in about 10 days. Also gave us the photos in their original format, in addition to hi-res JPEG, which made DH happy.
What else?? Oh yeah... THE SITE!! Again, Moloa'a Shangri-la...
B+
Beautiful place, full of flowering trees and buddhas, indonesian art, even a sculpted pool! Everyone was blown away by the beauty of this place. We were lucky to find it. The only negative was this thing with the cottage, and that I didn't know that they considered it to be separate from the property, therefore were free to rent it to someone else on the day of the event. To be fair, it is far enough away from where we were, but you never know who may come wandering out! Also the misunderstanding caused serious headaches. On top of that, I was very worried about my guests doing any kind of damage inside or outside of the house, because the place is someone's home. I was very glad we got to enjoy it, but if I had a rowdy bunch, there's no way I could've taken the chance!