Hello ladies,
Here are a few items left over from my wedding – mostly because of swine flu ! Side note - the OTC items are still being sold at OTC, so you can either get the ones below alone, or as a complement to an order from OTC.
If you are interested by an item please post it in this thread and I will contact you – if you PM me I'm afraid my mail box is going to be full too quickly (I am travelling a lot and cannot check on it regularly).
10 large hibiscus tote bags, assorted colors – 5$ + shipping (original price from OTC ; 9.99$ a dozen).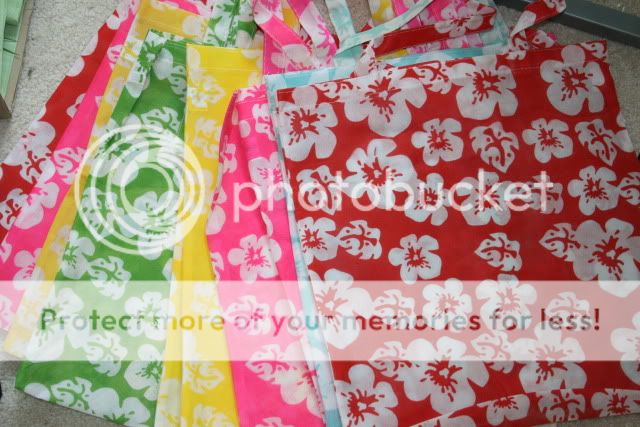 15 drawstring bags with bright trim – 8$ + shipping (original price from OTC : 9.99$ a dozen). These are small bags, ideal for a first aid or hangover kit. Mine could hold all the medication (in individual formats), an aloe vera gel bottle, and a scope bottle easily.
With that I have 14 hangover kit hang-tags, with ribbons of assorted colors (purple, green, orange) ; the little guys are : Alka-Seltzer, Tums, Immodium, Advil, Energy Patch, Scope, After-Sun,, and after-bite. Those are free (yes), I will either ship them with the drawstring bags, or to somebody else if the person that takes the drawstring bag is not interested by the labels (priority to the person who takes the bags).
4 pictures holders, can do for table numbers, or other signs you want to put (for camera basket, etc). 10$ + shipping.
2 calla lilies bouts, 1 orange, 1 white. 6$ each, + shipping (can sell separately but priority to someone taking them together). These are real touch flowers. Ribbon can be replaced.
1 BM calla lily white bouquet (can also be a toss bouquet, or a small bridal bouquet if you don't want a big one) : 20$ + shipping. Those are real touch flowers, so real that the hotel wanted to put them in the water ! The ribbon can be replaced easily. The picture is taken from above and makes it look a bit bigger that it really is.
In action on the unique BM who came to the wedding – it's not this one but the exact replica :
1 orchid hair pin, white, from Hair Comes the Bride, 10$ + shipping
1 dendrobium orchid, white, from Hibiscus Floral, 10$ + shipping