I want to thank all the ladies I have borrowed ideas from on this amazing site! There are a lot of you and I can't give credit by name to all…too many of you! But please know I have appreciate everything on this site and all of your help! The info about oots has been one of the most valuable piece for me and I could not have done it without you all. I started creating them when I joined the site back in Nov. And they are complete as tonight! Woo hoo! Now my turn to share. I have pics and links to help all future brides.
Thanks again! Enjoy!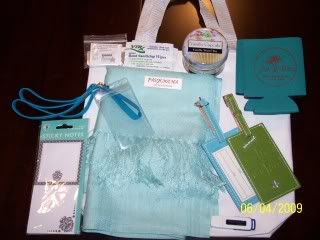 The Bag itself I got at Michaels. I bought paint and stencils and hand designed them all. 16 total. Total price around $100. Looking back I would have gone more generic.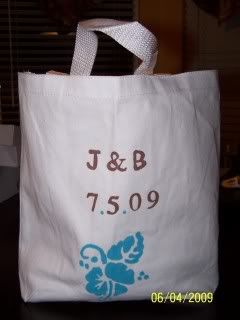 Koozies came from Barry Koozies, recommended here. See link. Thanks for your design, Megan!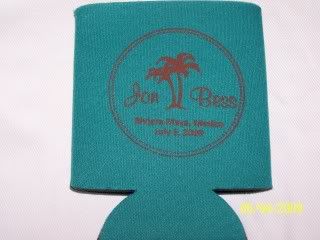 My Pashminas are the reason I joined. Thank you Simistar! Love this site. So cheap! $3.95 a piece. They are great quality for a knockoff. Very happy!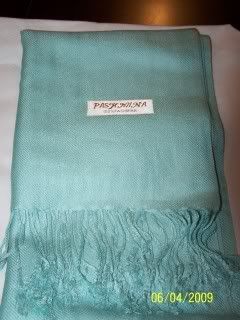 Flash Drives for Picture sharing:
$3.88 ea for 512 MB, for picture sharing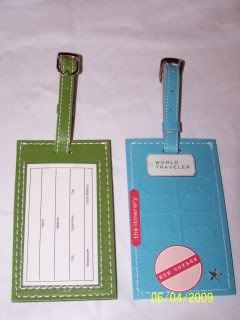 Lanyards and Key tag holder (still need to insert a graphic)
Stole from here: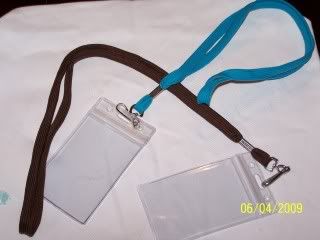 And my BM and MOH OOT bags:
Aveda Gift bag (Aveda Store)
Purchased at Marshalls=, Eye Mask and earplugs, Wet Bikini Bag,
Clinique Lip-gloss
Purchased at Dollar Tree= Hair Tie and Manicure Pack.