I just received my 50-Steins from Ebay seller Factory 21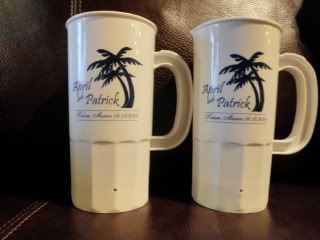 The color is deep blue - not black as it may appear from the photo.
This is the back. The saying is Viva la Vida, which means "Live The Life" The symbol represents the "Galactic Butterfly", which we are having a Mayan Cosmic Ceremony, and wanted to incorporate as much of the Mayan culture as possible.
The Galactic Butterfly is an ancient Mayan symbol said to
represent all of the consciousness that's ever existed in our galaxy.
The consciousness of living things. Including animals, plants and
humans etc. The consciousness that organized raw materials into
a whirling disk of stars, planets and solar systems. God.