Been working on these layouts all day and boy has it been tiresome.
I just can't decide. (I have about 3 faves) but I figured I would show my top 5 off and see what you all think.
Any comments or suggestions would be appreciated.
This will be on the invite cardstock. I think i'm going to do the tri fold option from cardandpockets.com in bronze (special thanks to Christa & Sarah for their inspiration and help).
Option 1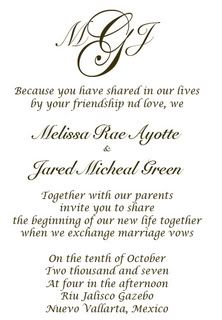 Option 2 (same wording different font)
Option 3
Option 4
Option 5