One of my girl friends set up this gift at my shower. It was a hit! So cute! So, next time you are a bridesmaid...think of this as an awesome shower gift!
She printed out several copies of the poem (see below) and then used clothes pins and twine to hang the paties and a corresponding verse on a panty line!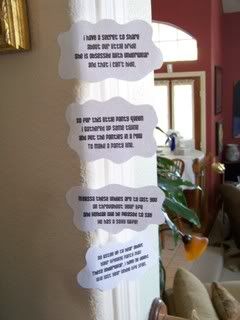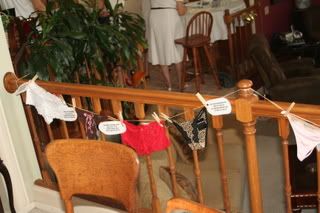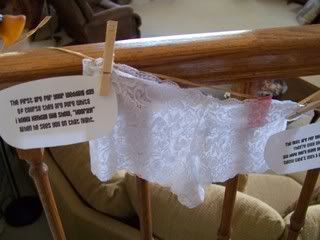 I have a secret to share
About our little bride
She is obsessed with underwear
And that I cannot hide
So for our little panty queen
I gathered up some twine
And put the panties in a row
To make a panty line.
Melissa these undies are to last you
All throughout your life
And Kendall will be pleased to say
He has a sexy wife!
So listen up to hear about
Your lifelong panty plan
These underwear, we have no doubt
Will last your whole life span
The first are for your wedding day
Of course they are pure white
We know Kendall will shout, "Hooray!"
When he sees you on that night
The next are for your honeymoon
They're sexy and all lace
We hope you'll leave your hotel room
'Cause Cabo is such a gorgeous place!
On Valentine's you'll wear this pair
Before you hit the bed
Cuz Cupid's arrow in the air
Shoots tushies that are red
After a year has passed you'll face
Anniversary number one
With these you'll surely have a blast
'Cuz leopard's so much fun!
Then when the time is right for you
And don't be saying, "Maybe"
You'll wear your little pink or blue
In honor of your baby
And when your years of wedding bliss
Become the big 2-5
Don't worry - you'll just slip this on
To keep the sparks alive
When finally you're old and gray
With these you can't go wrong
'Cuz sorry Melissa but at that age
You just can't wear a thong