They arrived last night. And well, there was a problem. The writing is in black... on a blue mug. I specifically told them white. The proof showed white. And the mugs are in black. You can't see the writing! And the proof was PERFECT! Frankly the mugs are perfect except for the black writing.
I'm sure they will fix the problem (they aren't even open yet for me to call), but I'm running out of time and I'm grumpy about it. WHY, WHY, WHY didn't they get them right the first time!?!?!?!
See - this was the proof: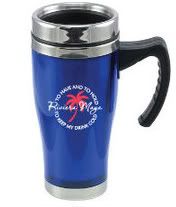 And this was what arrived:
Ugh. I'm leaving for Mexico in 4 weeks! I don't have time for this!