I'm sorry if this is too long but I hope this helps someone!
May 2 to May 9, 2008 travelling with Sunquest vacations Toronto to Puerto Vallarta.
Transporting the dress: I turned my daughters wedding dress inside out, folded it up, and put tissue between the front and back to prevent the beads from catching on one another. Then I rolled the dress up and put it in a carryon suitcase. There were other brides on the flight and there were no closets so all carryon luggage had to go in the overhead bins. I was glad I had the dress in a suitcase as I saw a couple of girls carrying the dresses around the airport in Toronto and then having to stuff them into the overhead bin. Once I got to the hotel I unpacked the dress and hung it in the closet in our room. I had it at one end and then the train spread out the full length of the closet. The night before the wedding I took it out of the closet and hung it on the valance over the patio door hoping for the last few creases to drop out. It looked fine the next day.
Arrival in Puerto Vallarta: I thought I was prepared for the timeshare sharks but I wasn't! We got pulled over by a guy who must have seen our Sunquest tags and shouted "Sunquest over here". Shortly after that I realised he wasn't a Sunquest rep so we left and went through the doors into the main terminal where you can see the buses, and there was one with "Sunquest" in the window. There were only our party (27 of us) on the bus so the Sunquest rep (Andres) gave us our orientation on the bus. Once at the hotel he sat us in the lobby and handed out keys to everyone. Some of us had to go back to the lobby for bracelets after the fact but it was no problem. Everyone in our party got a junior suite, some had paid for that option and the others were upgraded, except the bride and groom who had a full suite (spectacular).
Riu Vallarta: Grade A The hotel looks spectacular and is very clean. There are people cleaning the place from early in the morning until late at night. I was on the balcony a couple of times at 7am and I'd see teams of people washing the tiles in the courtyards, wiping down sun lounger pads and testing chemicals in the pools and fountains. In our room (junior suite) everything was in good working order with just a mild smell of damp, but I was prepared for that and it didn't bother us too much. Got room service everyday, usually by noon, but once it was around 4pm. Got towel art a few times. Not sure if the mini bar was done every day or every other day but ours was never empty.
The food: Grade B This is hard for us. At least one person in our party is vegetarian and for the most part we try to eat fairly healthy. The food wasn't bad and nobody really complained but it was a very different diet to what we (me, my husband, and two daughters) are used to. We ate at Flamingo Steakhouse once as an ala carte dinner, and also for the wedding dinner. The food was just ok but the atmosphere makes up for that. We tried Nirvana and we actually liked the food there but it is still buffet food. Most meals we had at the buffet Don Raphaels or Flamingo's (during the day) which most of us actually preferred.
Renova spa at the Riu Vallarta: Grade C Katie (the bride) had a hair trial and took pictures of what she wanted (Angela – Cheese_Diva was the inspiration). It wasn't really done the way she wanted but she just went with what they did. The day of the wedding Katie, myself, and my other daughter all got our hair done. None of us were really very happy and we ended up fixing the hair ourselves. It also took them over 2 hours to do the brides hair. They said we'd be done by 1:15 – 1:30 but Katie wasn't actually done until 2pm which didn't leave much time for makeup and getting dressed for the 3pm wedding.
Wedding: On the beach –When Katie gets back she has said that she will write something for me to put up for future brides. From my perspective it was beautiful, although it was extremely hot. I was so glad that I had got some paper parasols (Oriental Trading) ahead of time for the guests. They were very much appreciated. Katie will also have some photographs and video from the hotel supplied vendors when she returns.
Excursions: Rhythms of the Night – OMG – five of our party out of 20 got sea sick on the way over. That was after taking Gravol. I'm not sure if it was just extra rough that day but by the time we got to Las Caletas we were all just worried about being able to get these people back on the boat and home again without being even more sick! Whilst we were eating they sent a medic with oxygen up and more Dramamine for the ride home.
Tour of Puerto Vallarta – we arranged for a private tour and there ended up being 24 of us on this trip. Gave us some details on the agriculture, education system, and general living conditions. Dropped us off at the mermaid in Puerto Vallarta and gave us an hour to wander. Then the guide walked us up to Our Lady of Guadeloupe church, took us to a school and then to the market. He gave us a couple of hours to shop and eat. Dropped some people off at the mall on the way back. Excellent excursion.
Golf – 3 rounds were played – 2 at Flamingo's and 1 at Le Tigre? All enjoyed by all that attended but I don't have many details probably due to the amount of beer consumed whilst playing. If anyone needs more details I can get them I'm sure.
All in all this was a great spot for a wedding/family reunion. We had guests ranging in age from 19 to 80. They were something for everyone. Walking along the beach, tequila volleyball, boogie boards (80 year old grandma even tried it) to just sitting and reading a book. I didn't hear any complaints and everyone said that they had a great time.
If anyone has any questions, please ask. Between the group we have nearly 1000 pictures so far without the official photographers pictures. Just a few to illustrate some points or to show off my beautiful daughter(s).
Bridesmaids on my balcony before the ceremony. Dresses by Alfred Angelo bought from Bea Shawn (local store) priced from $190-230 CDN.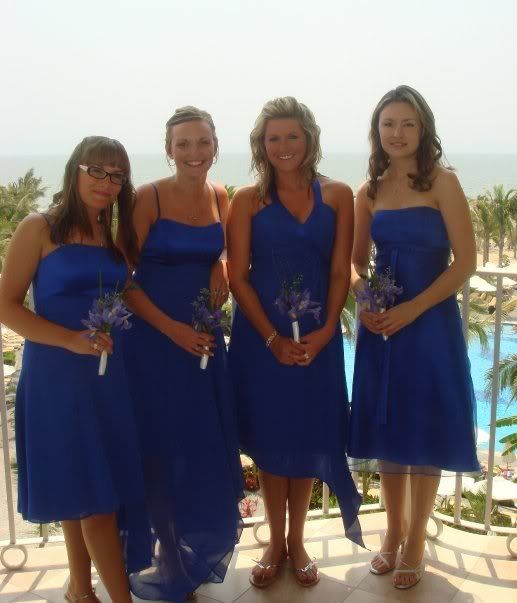 Me on the balcony: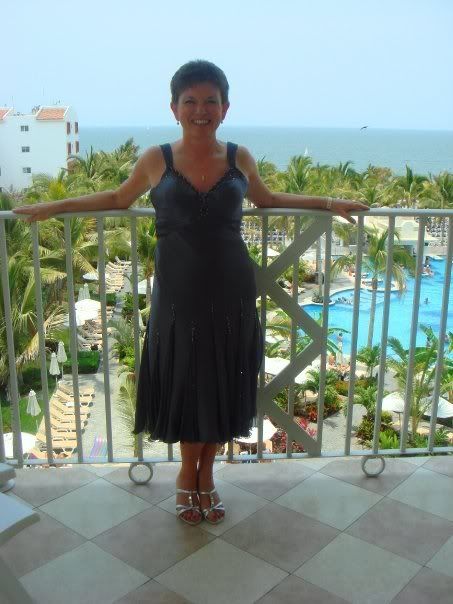 Ceremony on the beach: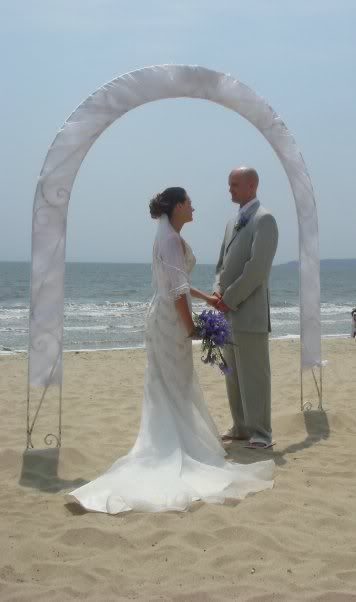 Wedding party on the beach:
Groom, Mother of the bride (me), bride, and father of the bride in hotel lobby.
Bride!