My Cancun Site Visit Review:
We had a great time in Cancun, and we learned so much! We went the last week in April and had absolutely perfect weather! Here is the site review (sorry it took so long to get the whole thing up): Let me know if you would like any additional pics or anything like that. I have a ton of pics of most of these places.
Activities:
Captain Hook: A
We went on a Captain Hook Pirate Dinner Boat Cruise one night. It was a ton of fun! There was an open bar, and you can choose either lobster or steak (or both) for your entree. There is also a buffet there. The food was mediocre, but the entertainment was really good! The pirate show was amusing and kept us watching. There were games and dancing and lots of fun. We definitely enjoyed ourselves! I would do it again! It cost about $80 per person.
Snorkeling Adventure: A
We booked the Snorkeling Adventure through Best Day Tours. It took you out to a secluded beach in the Riviera Maya, and it lasted about 5 hours (including travel time). Unlike other snorkeling tours (I've been on a few in Cancun), this one took you out to 3 different reefs! You start out on the beach, then a boat takes you to a deep reef, then a shallow reef. Then you return to the beach for open bar and buffet lunch time, relax on the beach for a little while, and then those who want to go to a 3rd reef get back on the boat and go snorkeling again. Those who don't care to can just chill on the beach and drink some more. This reef is much nicer than those in Cancun! We saw all sorts of crazy things, including a sting ray (scary)!! I would definitely recommend this tour to anyone who likes snorkeling! I think it cost about $80 per person. Well worth it.
Vendors:
Minister – Petra Maurus
I met with her and she was great! I was surprised to find that she actually has a British accent! But she was very 'chill', easy going, and easy to get along with. She has a very soothing voice that will sound great officiating our ceremony! If your hotel does not use her as a vendor, she charges $400 for her services. She works with you to write your own ceremony. As far as I could tell from our brief meeting, she will be great to work with!
Best Day Tours
I really like this company! We have used them before and I encourage anyone to use them!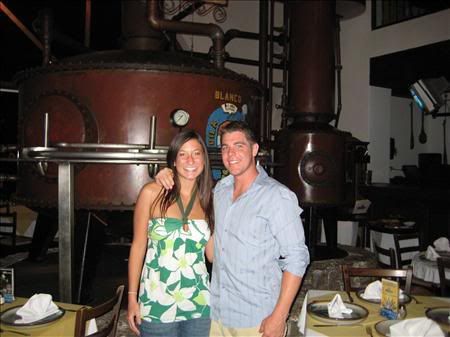 Captain's Cove: A
We went here for lunch, and it is very very nice! Mainly seafood for the menu, and it was great! The ambiance and decorations of this restaurant are very nice and fun. We sat outside on the patio on the lagoon and it was so great. It cost about $60 for the 2 of us (just for lunch!) There is a bar attached to it, Pancho and Willy's, which we did not go to since we were only eating lunch there. Looked like fun though!
Lorenzillo's: A++
So this place is my favorite, I mean I just love it!! Its seafood and they specialize in lobster, and this place has it all! Ambiance, great food, great, quick service, very cool d©cor and just a cool place. It is HUGE! The inside is very large, with an upstairs area, and the outside is very large too! They have an outdoor bar and kitchen and tons of outside seating on the lagoon. This place, in my opinion, is a MUST for either a rehearsal dinner, welcome dinner, or something! The only con to this place is that the spaces are not as private.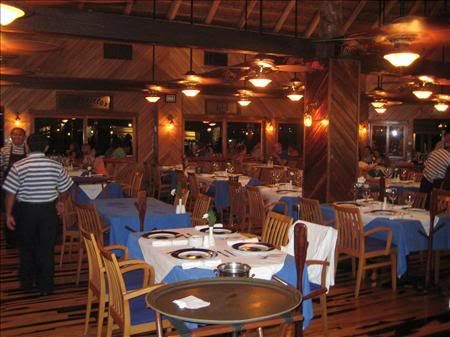 Laguna Grill: C-
At Laguna Grill, the ambiance, d©cor, etc is all very nice. The restaurant looks really cool and is fancy. I was extremely disappointed in the food, and to be honest the service we received wasn't that great either. The waiter told me he thought I was 17 years old….17! I could barely find anything on the menu I would even want to try, and then when I finally picked the one thing I thought looked good, it wasn't. Adam played it safe with shrimp, lobster, and beef kabobs, and they weren't bad, but they certainly weren't anything special. For its pricyness, it was certainly not worth the cost. The food there is mainly Asian and seafood inspired, and I guess I'm just not too into exotic foods like that. I love Seafood but theirs was not impressive. I would not go back.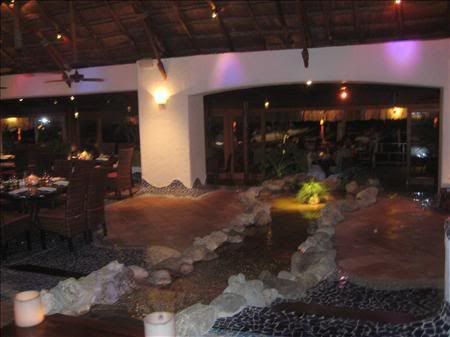 Hotels:
Fiesta Americana Condesa Cancun: A- or B+
We stayed at this hotel, but did not do a site visit. I want a beach ceremony and they cannot provide that, so we disqualified FAC from our search for a resort. However, the resort is just lovely and the service there is wonderful! I love the huge palapa at the entrance! It also has a very nice location in the hotel zone. Beach wasn't too big, but neither are most of the resorts beaches in Cancun. There were huge rocks in the water, but they were visible so it was easy to steer clear of them. Check in ran smoothly, after requesting a new room with a balcony, they finally managed to get one even though there were none available (I think they must have pulled some strings, which was so nice of them)! The pools are awesome!! Probably the best of all the site visits I saw. They are heated, and the top pool is an infinity pool. Downside is that they close at 8pm, and the hot tub was not hot enough to sit in. The rooms were ok, nothing too special. The bathrooms were very small and not very nice. But really, how much time do you spend in the bathroom! So I didn't let it bother me. We had room service on our last day: waffles, pancakes, sausage, bacon, and Mimosas…was delivered promptly and was very good (albeit pricey). We had drinks by the beach one day and they were expensive (as it is everywhere else) but they were STRONG, so def worth the price! J Checkout ran smoothly as well. Nothing to complain about at the FAC!
Pictures of FAC: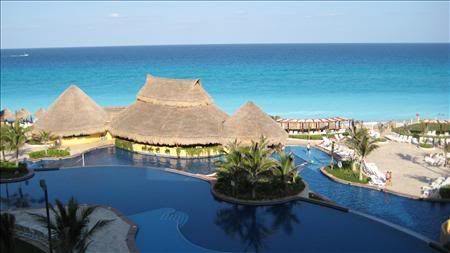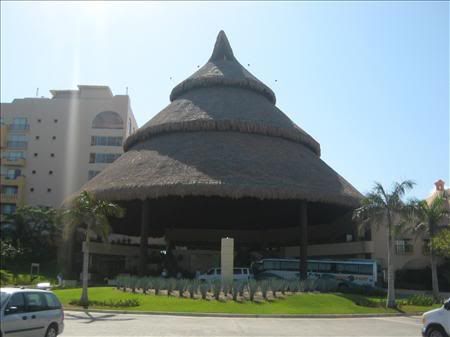 Westin: A
One of my top 2 favorites (the other one is Hilton). I was sooo impressed by this hotel. It was the 1st site visit we went on and I must say it far surpassed my expectations! I guess I went in with low expectations since there is practically no info out there about this resort, but I was very pleased with the Westin! Gabriela, the WC there, was nice and knowledgeable. Didn't really go out of her way, but she seems to know what she's doing. Only thing that frightens me is that no one on this forum has married there. Also, the reviews on Trip Advisor are not so good, and one past bride on there even said that Gabriela was awful and not-reliable (even though she seemed fine to me)!
Pros:
Soo many ceremony/reception location options…too many to choose from almost!
Private lagoon beach is PERFECT for our reception. Its secluded from the rest of the resort, has a huge palapa for dancing under, its own little bar out there, plenty of room for everything, plus the water! I love this location!!
Has a great area for morning after brunch that they can reserve just for us. It looked very nice!
Extremely affordable! The cheapest hotel of all the site visits we did!
They have an awesome spa with really unique rituals. Spa Director gave us a tour and was very nice and helpful.
Very family friendly.
Rooms were nice, spacious/large.
Their fine dining restaurant would be good for a rehearsal dinner.
Cool beach side outdoor restaurant to hold an event in.
They flaunt a HUGE beach and its VERY nice.
Tons of cocktail hour locations (terraces).
Cons:
At the very end of the hotel zone. The bus we were on wouldn't take us all the way down to it so we had to walk a little ways. I'm not sure if this is how it always is or if that bus driver was just done with his route!?
I don't feel as comfortable w/ Gabriela after hearing a bad review...kinda scary!
Will do more than 1 wedding a day
Pic of the lagoon beach: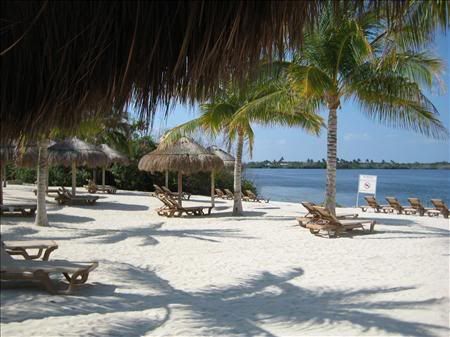 Hyatt Caribe Resort: B-
Since I work for Hyatt hotels, I was expecting a lot from this resort. And it did not deliver. It was not trashy by any means, but it just wasn't a luxury resort like I had hoped. It could have been nicer, basically. For us, this hotel was nice, but was a definite no.
Pros:
Very affordable – 2nd cheapest next to Westin
Helpful WC (Lissette Velez – very nice)! Very flexible and willing to work with our needs.
Very nice restaurant – Blue Bayou – that would be awesome for a rehearsal or welcome dinner!
The Regency Club rooms offers continental breakfast, nicer views, etc for an extra price per night
We could get really good room rates
Cons:
Beach not that nice/big
Rooms were just ok
Pools just ok
Lobby not very special or memorable/nice
Huge rock formations cause shade on the beach (possibly where ceremony would be taking place)
Does up to 2 weddings a day
Pic of the Hyatt Caribe resort taken from a guest room: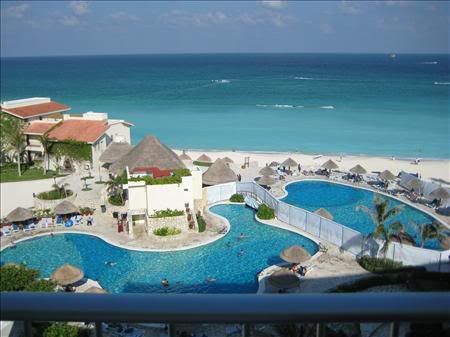 Hilton: A
The Hilton was my other favorite hotel (besides the Westin). This makes my decision very hard to make. We did a property tour, a food tasting, met with the florists and the DJ/Special Events company. We got a lot done on this site visit!
Pros:
Fernanda (WC) is awesome! On top of it, very organized, helpful, etc. even though she has not been a WC for very long!
7 Awesome cascading and infinity pools
HUGE and AWESOME beach!
The food (tasting) was SOOO good. I mean it was amazing! I like their menu for the reception better than Westin's.
They can do a morning after brunch in a private setting – Pizza and Pasta restaurant (that is usually closed for breakfast) – we could use this for our private brunch
Spices, their 3 meal restaurant, looks nice/warm/welcoming
They have a Happy Hour with a Mariachi trio a few days a week in the lobby; good idea to use for welcome drinks
Very nice back-up site for ceremony/reception: Miramar ballroom – it's the only ballroom in Cancun with ocean views! It was really nice!
Good cocktail hour location: Miramar Terrace or Caribe Terrace
Mitachi Grill – seaside restaurant open for lunch and dinner I think – awesome views, great d©cor and ambiance…a very nice place! If they will close this off for me to have my reception in I would sign w/ Hilton immediately! (Fernanda is checking on it…keeping my fingers crossed)!
Very family friendly
In a better part of the Hotel Zone than Westin
Hilton is the only hotel that does only 1 wedding a day – very important, in my opinion
All their vendors that I met with I was impressed with. The florists were great and impressed me by creating for me a table centerpiece that was beautiful! They seem like they would be great to work with.
Rated well on TripAdvisor, and there are brides on BWDF that have good things to say about Hilton
Cons:
Not as many reception location options as Westin
Spa is nice, but not as big as Westin's
More expensive than Westin
Fernanda is sometimes a little bit hard to get in touch with (via email)
**I have a ton of my pics from the Hilton site visit on the thread "Hilton Brides" if you want to see them.
Casa Magna (
and JW Marriott ©:
I was very disappointed b/c I didn't get to meet w/ Josefina, as she had a prior engagement to take care of on my site visit day. However, Yael Rodriguez did my site visit and she was very helpful. I liked the CasaMagna wayyy better than JW Marriott. The JW Marriott was just too uppity, it didn't seem like a beach resort. It mainly just didn't seem to fit in in Cancun. CasaMagna was very nice, I love the lobby and the insides. It had a really nice Hacienda-type vibe. There was a big enough beach for a beach ceremony, but I'm worried it could diminish, and it can't afford that. We were there to see a gazebo wedding, which was nice!
Pros:
They have a TON of experience with weddings
Good entrance to beach ceremony
Great interior or hotel
Decent beach
They have very nice and affordable wedding packages
You get your own Marriott Certified Wedding Planner
In the middle of the Hotel Zone/close to lots of different things
Cons:
They often do more than one wedding a day
No reception locations that I was too fond of
Not very private areas
Not a fan of the JW Marriott – not beachy enough for me
I don't know…I guess these hotels are just not for us.
Below: pic of a gazebo wedding at CasaMagna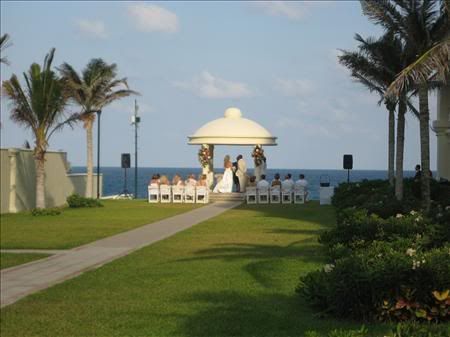 So that's pretty much it! I hope that helps people! And if anyone has any advice to help me make my decision, or pointers/advice, I would love to hear it. It's been over a week now and I still can't decide if I want to go Westin or Hilton! I was definitely hoping it would be an easier decision than this. I'm starting to stress out again already! Ahh!