Okay -
We have had a terrible time finding a cake and have resorted to using the hotel for a cake. (which I have heard is good). Well - they will only do a 2 tier cake and my greedy ass wants a 3 tiered cake!
The only thing is, I am too intimidated to try to do a stacked cake with the dowels, etc. and the only 3 tiered cake stand I could find looks like this:
With our topper looking like this: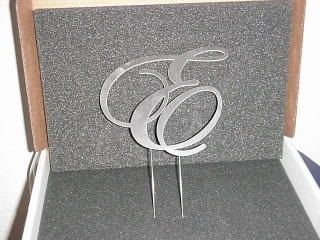 Our cake will be white or ivory with a blue ribbon as decoration on the bottom of the cake and some fresh flowers around the base of the topper.
My questions are - do you think the topper needs some bling/crystals? Should I add any more to the cake (flowers)?
I think the stand is very ornate and the cake should be toned down. I don't want the cake to be too overwhelming like the one on the picture. Whatddaya think?