Ok, so we got the proofs of the invitations from mygatsby and assembled them and we both agree they look really horrible, and we need to pick new invitations. It literally looked like a $400 bad DIY project gone wrong. I dont want to spend that much money on something we are so unhappy with.
I saw other invitations from white aisle that i loved and am thinking about ordering a sample. the one i like best is this one below (but we would order in navy and light blue or navy and green - i am showing you the navy and green combo below just to see the navy):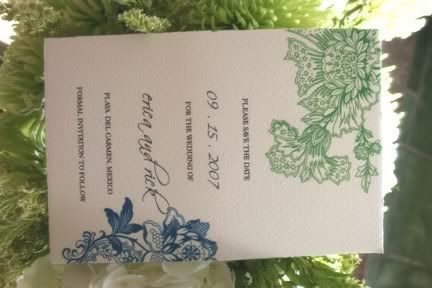 The invitation setup we need would include the 4x9 invitation and 3 enclosures: one for RSVP directions directing them to our website, one for accomodations info, and one for info about the reception. My FI doesn't really like them but at this point agreed to let me do whatever so that I'm not stressed about it anymore. But the setup we need is sorta pricey. $5.75 each which is a bit more than I wanted to spend.
I'm wondering if I could actually do these myself to cut the cost, but I have no idea where I would get the graphic. I am just worried because I would need to order the ones from White Aisle no later than April 5th in case it takes the full 4 weeks to receive them--we need to send out by May 10 in order to get all our RSVPs back in time for the Westin's deadline for the final headcount. Anybody have any suggestions where to get it? Maybe I should see if Anny can do them...