Bought my dress at David's Bridal a couple of months ago, and finally took it in for alterations today!
I didn't think I needed too much done, since the top half of my dress fits perfect due to the corset back. I knew the hemming would be the weird part, with all the whip-cream pick-ups.
The total cost of this alteration was just shy of what we paid for the dress (ouch!) but the total was $236, plus they actually charge you freaking tax! So $257.10.
The part that took the cost over the top was that apparently the only way to bustle a pick-up covered skirt is to create a million new pick-ups out of the train part. I ended up with a 16-loop underbustle, which is being color-coded, thank you very much! (Learned to ask that on BDW!)
Here are some pics!
Here is me just LOVING how tight the lady laced me up (NOT!)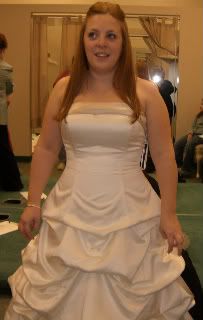 Here is a reminder of what the dress looked like when I bought it (sorry, blurry!) a mile too long, and you can't see the train, it's hiding.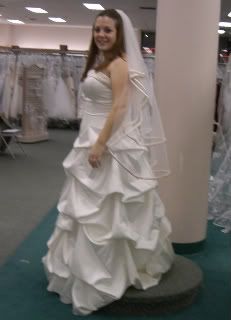 This is a pic of the lady pinning it up, no actual fabric will be cut at all! Wow!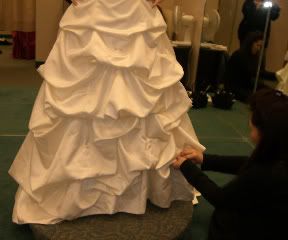 And I like this pic cause on the right side you can see the front of the dress reflected in the mirror. I'm standing barefoot, and it is just above the floor now. You can kind of see how many more pick-up-y the back is now, of course all the good pics are on my MOM's camera!