OK, as many of you know my FI and I have spent WEEKS having mini-fights about colors for invitations/bridesmaid dresses. We finally chose our invitations from mygatsby.com because we loved the sample we ordered and the prices are decent. We are also going to make matching STDs which I haven't tackled yet.
**As an aside, I called MyGatsby yesterday because our sample hadn't arrived yet, and they stuck another one in the mail. When I got home, there was my sample in my mailbox. D'oh. So now I'm going to have two samples which includes the actual invitation and enclosures and a large number of paper color swatches. If anyone is interested, PM me and I will send you my extra when it arrives if you are thinking about doing invites from MyGatsby.**
Here is the invitation style we chose:
We have finally agreed on a shade of navy blue to go with our otherwise sand themed invites. The below photos are what we have finally chosen, and we are really pleased with how they look. However, I do feel I need some constructive criticism about the wording for the RSVP card, reception card and accomodations card.
Here are some color swatches of what we picked: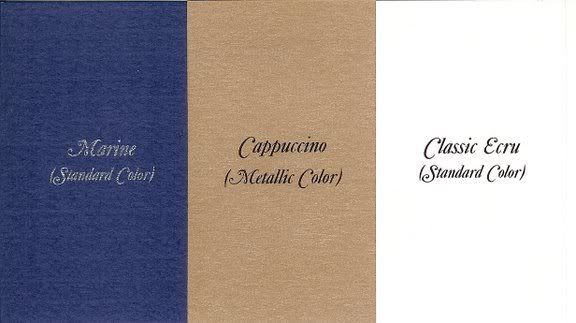 the navy color (actually called marine) is nicely textured which you can kind of tell from the first photo. The middle one, cappuccino, is a metallic light brown. The text will go on the classic ecru in navy thermographed ink.
and here is how they will look matted together: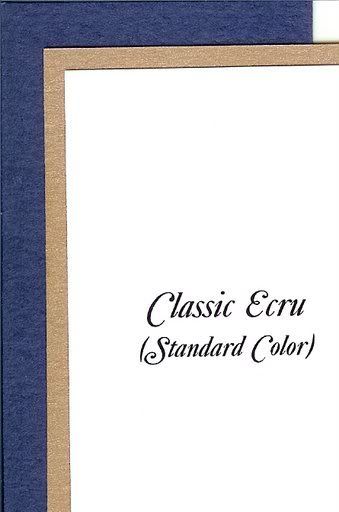 **First question**
We like the belly band with the monogram type square on the outside, or actually just perhaps use the square as a closure for the gatefold. I CANNOT for my life figure out how I can get those on mygatsby because it doesn't show as an option when we did the customized thing. I spent awhile last night clicking around the website but couldnt find anything. Does anybody know how to do that? And how do you attach the square to close them?
Ok, here is the part I need some help with wording. We are pretty set with the wording on the actual invite. Only thing that will change is we are hoping to put a proper address for the church, something about the fact that transportation will be provided from the Westin to the church and back, and because we are bringing our priest, possibly adding Fr. Jack's name to the invite.
In the lefthand pocket, the tallest enclosure is the accomodations card. This feels kinda blah to me, but I can't think of any wording to make it better.
Middle enclosure is the RSVP directions – I would like to add a "we have __ seats reserved for you" somewhere so we have no surprise guests… my FI is eco-conscious and wants to do our RSVPs online to save paper (but I like his idea because it saves $ on ordering self addressed envelopes for the reply card and postage) what would you suggest to make this better? FYI, my FI is totally against cutesy stuff like "must wave your invitation" – he likes traditional stuff.
Last enclosure is the reception card (ignore the fact that the proof came out in the wrong color) Again, do I put something on there about the fact that we are providing roundtrip transportation between the resort and the church? How do I word that? We also will be having a cocktail hour before the dinner because we want our photographer to take photos of just the two of us and with the wedding party on the beach at sunset. Need wording help/options with that!: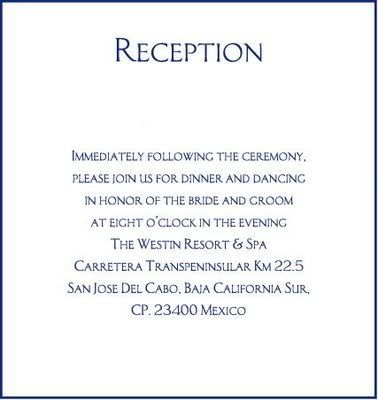 I'm at the point where I've looked at these so much, that I just can't look at them clearly anymore and need some fresh eyes. Thanks ladies!