So I was so wowed with how the hosts of our Couples Shower created the ambiance and decor of the event, I wanted to share for inspiration! It was an overall fiesta theme, serving Mexican food, margaritas, a guitar duo, etc.
But I was totally in love with the decor. It was beautiful and casual, very festive without being overpowering or loud. I truly loved it all and thought that the colors, flowers etc might be able to help. It would be especially lovely for an AHR.
And the favors were those animal shakers, placed at each place setting and were a total hit. I had been to a wedding in Mexico where they passed out these shakers at around 11pm and they were so much fun, definitely added some flare to the dance floor.
Enjoy!
Outside dinner seating:
Closer view: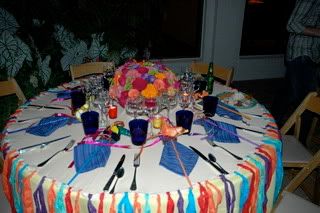 Dinner Buffet (those sunflowers were gorgeous!):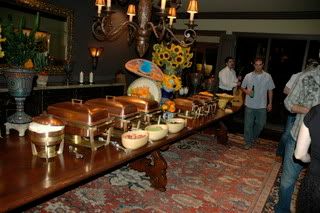 Up close of the shakers/favors:
My favorite part: custom bride & groom pinatas that match our eye & hair color...those were real flowers on the bouquet and the veil! We saved them, and took pictures of them which will go on our wedding favors (cookies) for our guests! These were placed on the gift table. They look a little creepy in the pictures though.