Any curly hair brides?
Started by
Jenn3878
,
Aug 18 2007 10:58 PM
Posted 19 August 2007 - 10:51 AM
How about something like this for the REALLY curly haired girls? This is pretty!!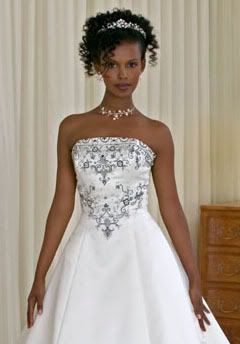 ---
Posted 19 August 2007 - 01:53 PM
I also have really curly hair but I straighten it most of the time but here are two options both of them are with the hairdresser first straightening my hair and then curling it with a curling iron and tons tons of hairspray...I didn't know that there was different kinds of hairspray, there is actually just hairspray that mostly everone uses in the big bottles and then there is hairspray that is for finishing the hair do...I've never used this stuff before and sorry don't know the name of it but it saved my hair from frizzing out and it looked the same all night without making it crusty...so I would just reccommend getting great products
these 2 are in Cabo
this one is at my reception in Toronto
---
Posted 19 August 2007 - 03:42 PM
Beautiful, Edyta! I love your wedding hair the way it is up (I even saved some of the pics you've posted prior. Not sure if my hair would cooperate as well, but damn it's HOT!!!!

---
Posted 25 August 2007 - 08:47 PM
Great ideas! Thanks so much! Just hope the salon at the resort can handle these do's
---
Posted 25 August 2007 - 08:59 PM
YAY for curly girlies!!!
Love all the pix of different styles too!
I, too, have a mass of ringlets. My hair is very fine but I've got TONS of it, and humidity also does a number on my mop. I use a fabulous products specifically for curly heads called Ouidad.
For Luxurious, Sexy Curls without the Frizz: Ouidad--Free That Curl!
They have an anti-humidity gel that is the BOMB!
FI would love my hair down, but I just don't want to worry about it looking crazy in pix, so I plan on wearing a low chignon and have a few tendrils and ringlets here and there. I hope there is a good hairdresser around who can manage my mop, since I'll prob. have crazy bridal nerves and won't be able to do my own.
Love is an irresistible desire to be irresistibly desired.
--Robert Frost
---
Posted 25 August 2007 - 09:05 PM
Thanks for the site. My fiance wants me to wear it down and rock the curls.....but would you wear a veil if it is down? Where are you getting married in the Riviera Maya??

---
Posted 25 August 2007 - 09:21 PM
Yes, I think you can still wear a veil if you wear it down, you could do half up, half down too.

I have wavy hair, which sucks, its not curly and its not straight. Its long and really thick and I can't wait to chop it off after the wedding, ha! My hair also HATES humidity.

Usually when I have my hair done for other weddings with all the hairspray and stuff it usually holds pretty well without frizzing, I'm hoping and praying this wil be the case the day of the wedding. I want to do half up, half down, but like Ann said, I'm always hot, I know I'll be hot dancing around and running around for pictures, so I'm going to have it all up, it'll just be easier!

---
Posted 26 August 2007 - 02:46 PM
i have a big rat's nest on top of my head, which i too cannot wait to cut off after the wedding. when i was little, my hair was so frizzy and curly that my mom would put a barrette in one side and by the time she was done putting the other in, the first one would pop out. now, it's frizzy and curly and thick and coarse and big and i ALWAYS wear it up during the summer. FI likes it up b/c i'm small and have too much hair. for the wedding, it'll be up - i don't want a single piece touching my sweaty neck. i'll probably wind up doing something like edyta, with both a veil and a tiara (hey - when will i ever be able to wear either one again!?).

---
Posted 26 August 2007 - 03:02 PM
We're trying to decide where to have our wedding right now and have it narrowed down to two places: 1) Xpu-Ha beach OR 2) Isla Mujeres. I'm really hoping for Isla. It's more our style.

That said - I haven't a clue about hairdressers there but I'm sure a DOC could help find one. I figure as long as I keep the style simple I'm good to go.

I think if hair is worn down, it looks best without the veil. Just put a flower in your hair, or some sparkly clips and go! The veil seems like it would be just too much to deal with!

Love is an irresistible desire to be irresistibly desired.
--Robert Frost
---
Posted 27 August 2007 - 11:46 AM
I'm a curly haired bride too and have no idea what I'm going to do with my hair. I'm getting married in August so having any part of it down touching me is not an option. Trying to minimize the sweatiness as much as possible! I was originially thinking I'd get it straightened and then put up but I'm really afraid that it will frizz. I LOVE how your hair came out Edyta!

---
---
0 user(s) are reading this topic
0 members, 0 guests, 0 anonymous users