WEDDING DETAILS
Wedding Date / Time – Friday, May 21, 2019 / 5:00 p.m.
Wedding Coordinator – Cristina Suarz
Wedding Package - Complimentary
Gazebo – Tucan
Reception - 6:30 p.m. – Arrecifies Terrace
Total number of guests including Husband and I - 20
Our stay – May 17 – May 24
Most of our guests stay – May 17 – May 22
Photographer – Kelly Hafley (from Kansas City Missouri)
Overall Experience - A++
I can't express enough how much the Moon Palace did to make my dream wedding come true. I was a tiny bit skeptical and even had a little bit of doubt when we arrived at the resort. More than anything, I was worried about it being worth the money and time for not only me and my husband, but our guests as well. We had never seen the resort prior to going down for the wedding. I will say, after we got settled in our room the first thing we did was go and find our gazebo. The first 2 ½ days we had rain….so we spent some quality time at the lobby bar, and the restaurants by the pool. By the second day I was in love with every aspect of the resort and was getting very use to the wonderful service. MP made my wedding more than we could have ever dreamed of. I couldn't have had my dream wedding without this forum, it truly saved me time and stress.
Travel Agency
We utilized a travel agency in Kansas City and she was great. She took care of everything and got everyone great deals. We didn't care to much about getting any events free, as we didn't have that many people coming with us.
Why we chose the Moon Palace
We spent a few weeks looking at SO many different resorts on-line it was all most overwhelming. We had initially ruled it out because of its size and because we were worried it might to be expensive for everyone. After comparing what seemed like every resort in Cancun and Riveria Maya, we revisited the Moon Palace and decided a resort that knows how to do weddings and had a plethora of options for our guests to stay entertained were strengths rather than weaknesses. We knew we wanted an all-inclusive resort so that the bar bill wouldn't be ridiculous and so that there wouldn't be an awkwardness about who was going to pick up the tab and finally, so that we would have flexibility about the restaurant options. We had also had a friend that had got married at the MP several years ago, and she had nothing but good things to say about it. We also had 3 children traveling with us, and the MP was great at accommodating them.
VISA / Customs
So I had heard differing stories about people's experiences with customs. My husband and I had 3 pieces of luggage in total. I hand-carried my wedding dress and had no problem hanging it up in the plane closet.
It took us 2 ½ hours to get off the plane and outside the airport to our transportation. I went through customs first, hit the light and got a green light. When my husband went though, he hit the light and got a red light!! I told them that one of the suitcases he was wheeling was mine, but they didn't really understand what we were talking about. They then asked me to step away. The search was very very brief. They opened up the one with the wedding contents, he asked my husband if we were getting married, and he said "yes." Once they heard "wedding" quickly closed up the suitcase and him pass, they never even checked his other bags. I was prepared in any case by keeping a copy of all major receipts in a binder, which I had in my carry-on. I never had to show any receipts.
Transfer - A
Olympus had a shuttle waiting for us at the airport. They got us loaded quickly and off we went.
The Resort – A+
I cannot stress how great it was that the MP was in such close proximity to the airport. A short 10 minute ride later, we were starting our vacation. They took us right to the Sunrise Lobby.
Upon arrival, you are greeted by staff who give each of the women a carnation and everyone a warm cloth to freshen up. When ushered to the front desk to check-in, refreshments are served along with big smiles. Our check-in went very smoothly and we were on our way to our rooms (which were ready) by 2pm. Once we checked in, we had someone take us to our room. We decided to walk and the bell boy gave us lots of information about the resort, it was a very nice walk. The buildings consist of 3 floors. We had requested all we all be put on the Sunrise Side, but asked that me and my husband be a little ways from our family.
The resort food was pretty good. We ate at all the ones on the Sunrise side of the resort, and don't have anything bad to say. We did do room service most mornings for breakfast and enjoyed that a lot.
The grounds of the resort were immaculate. We couldn't believe how much detail went into the maintenance of this vast place.
They tell you to check into the honeymooners desk upon check in. They gave us each a "honeymooners" tee shirt, planned our candlelight dinner. Our champagne, fruit and flowers were all ready in the room when we got there.
We did take the trip offered by the resort to Tulum the day after the wedding. It was very nice, and I'm glad we did it, but it make for a long day. Pick up was 8am and drop off was around 5pm. You can't climb the ruins. We would have loved to swin in the ocean while we were there, but we just didn't have enough time. After we left Tulum, we were dropped off at another Palace Resort (can't remember the name) for lunch and to hang out for a few hours. The food was ok then we went right for the pool. Being at that resort made me like Moon Palace even more!!! We also took a cab and went to the Beach Palace….it was amazing. We spent a whole day there! The ocean and beach were amazing!
Rooms - A+
Our rooms were very nice and clean. We had booked a regular room, but asked if we could get a room in our category that might have an ocean view. Everyone in our family ended up with a slight view of the ocean. We looked right out to the mini golf course. There's a Jacuzzi in every room and I was hesitant to use it until I heard from a couple of our guests that they saw the staff clean them out as part of the regular housekeeping rounds. We did get in it…but it didn't last long. It was so hot outside, we didn't last to long sitting in warm water! They do have a light up magnification mirror that was a very nice touch to the bathroom.
Room Service - A
This was such an amusing part of the hotel amenities. Why is it that when room service is offered, there's a tendency to take advantage of it (okay, take total advantage of it) even when you just had dinner 2 hours ago? We usually got an omelet and fruit for breakfast. We also loved the quesadillas and cheesecake for a late night snack. Fries were a staple too.
Getting around Moon Palace
Honestly, getting around the resort wasn't as bad as I'd imagined. Yes, it's a big resort but everything is walkable. Our parents often called for a golfcart to take them to the lobby or to the pool. Even when we were just out walking around, someone would all most always stop us and ask us for a ride.
We took a walk every morning down to the beach, and were even up a few morning to see the sunrise. It was amazing!
Nightly Shows
There is a show every night of the week. They were pretty good. We did see the Michael Jackson show, and it was pretty good. We also enjoyed the fire show, the kids also really liked it. The other ones were ok. A few we only stayed for about ½ and then decided to take a walk down the beach instead.
Wedding Coordinators – A+
All most exactly 90 days before the wedding, I heard from Cristina, our WC. I never spoke over the phone with any of my wedding coordinators. At first I was worried about not actually talking with anyone, but Cristina was great about getting back to me very quickly. After reading of some girls not hearing back from their WC for day, I was worried. I never waited more than 24 hours to hear back from her. If she didn't have the answer, she would see to it that she could find it. Right after our first email, I talked to her about what gazebo we would be in and where we wanted the wedding dinner. I can't say enough wonderful things about Cristina, epically once we got the MP and met with her. I felt SO much better after our meeting was quickly ready for our wedding day.
We had our meeting with Cristina the after we arrived.
Cristina is good…very good. We were impressed with her efficiency and how many specifics she remembered of our wedding details. We met with her for about an hour and I dropped off the following items:
1. 20 palm leaf fans to be set on the chairs at the wedding
2. Cake knife and server
3. Guest book and pen
4. 20 chair bows
5. Sand Ceremony Set with sand
Once we got to her office, we sat down with her as she went through a planning list and recorded the choices we picked out for flowers, food, cake, etc. Most of this she already had in an email that I sent her so we were mainly confirming our choices and explaining/clarifying things and asking her our remaining questions.
This is when she booked our honeymooners breakfast in bed. We did it for 2 days after the wedding just so we could enjoy it. The food was ok…we ended up going to the buffet to get just a little bit more.
We also went and had our blood drawn. I was so nervous about this. The lady doing it did a very good job. It was clean, I felt safe and didn't bruise.
Before we left, we dropped off a Thank You card with some money in it. She deserved it!
DAY OF CEREMONY
Salon Services – B+

Hair - A
My hair appointment was first and was scheduled at 11am-12:30pm and he used the whole amount of time. He did a very good job. It stayed nice all day. I did take him a picture of what I was wanting, and he got very close.
A few of us got our nails done….and well I should have saved my money and did them myself. My manicure wasn't that great!
Flowers – A++
I had a really hard time with flowers. It was such a hard decision. I only my one person standing with me, so that helped some. I wanted some color in the flowers, but also didn't want to many different shades of pink. I ended up picking one of the bouquets you can upgrade to and then used the complementary for my sister. I asked that they use 12 ivory roses for my sisters, and then put the rest in mine.
I told Valeria that I wanted both to be long stem, no green foliage and pink ribbon wrapped down the stems. I got EXACTLY what I wanted. I was so happy with the bouquets!! We used the complimentary boutonniere for the best man and then paid for my husband to a little bit nicer one.
We didn't have any alter flowers and didn't think we needed them.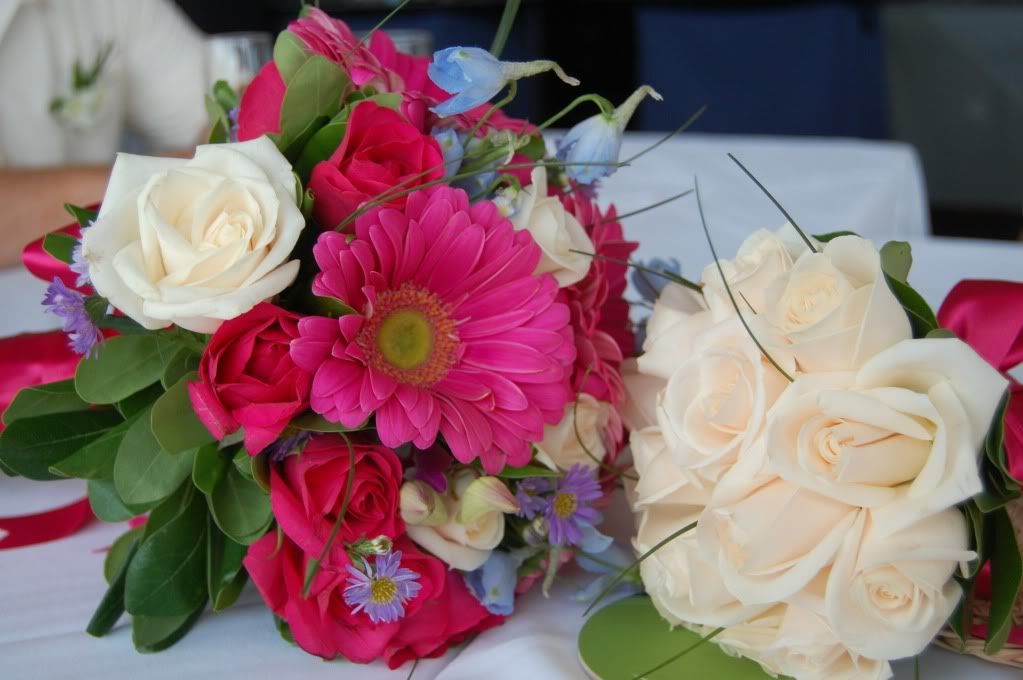 Carriage Ride – A++
I thought this was going to be a little cheesy and all most didn't do it. We saw several before the wedding, I couldn't wait for my ride. I was so excited on the wedding day, and when the carriage arrived I all most started crying. It was absolutely perfect. Even the sound of the horse's hooves clicking was awesome. Everyone loved this touch. It was far better than the golf cart alternative.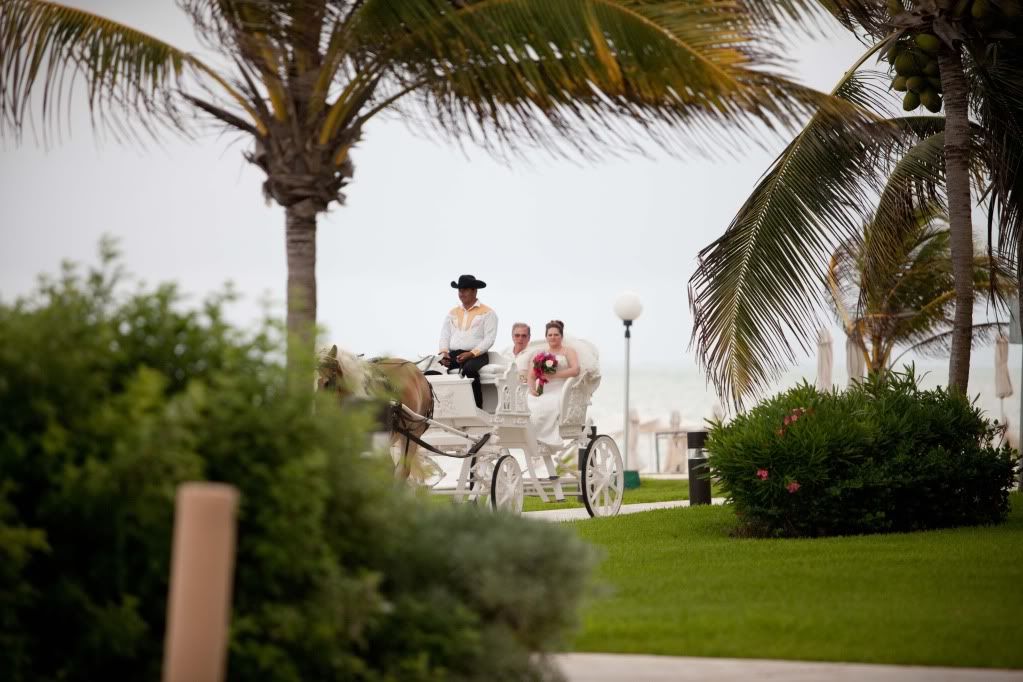 Photography - A++++
Potographer – Kally Haftly, - my best friend
I told Cristina we were brining our own photographer and it wasn't a problem at all.
Videography
We didn't have anyone to do the view for us…..but we really wanted one! So we went for, and paid for one. I'm so glad we did. Was it worth $360….probably not….but I'm really glad we did it. Once it arrived in the mail we put it right into the DVD player. MY husband had a great time watching it, and I cried all over again!
CEREMONY
Cristina's assistant met me and the bridal party at my room. She handed us our bouquets and made sure we were ready to go. Everyone else, except me and my dad, and taken a golf cart over to the gazebo. She assisted us the golf cart, and then took our photographer to the gazebo.
My dad and I rode the carriage ride and Val took off on another golf cart. She'd indicated that we would ride around until she gave the driver the go-ahead that it was showtime. About 15 minutes of riding around, our driver received the signal via walkie-talkie that they were ready for me.
We came around the front of the gazebo near the pathway by the beach. Everyone could see me riding around and I saw some tears. I waved to everyone and before I knew it, I was dropped off at the foot of the aisle. As soon as my music started, they gave us the signal and my dadassisted me down and Cristina was on the grass telling me to hold my bouquet lower and slow down…..She was awesome!
The officant's English was ok. He did read the vows that we wrote verbatim (we actually used the vows my parents used 35 years ago). The vows forum on this website was a God-send. I took a lot of material from there. In fact, I copied and pasted a lot because I'd put this off until two weeks before our departure. We did have a civil ceremony, so the Justice of the Peace wouldn't say anything with God in it. That was ok for us, the only thing that had God in it was our wedding prayer that my mother-in-law wrote. When we were ready for the prayer, he handed the microphone over to her, and she read the prayer. It was perfect.
The ceremony lasted about 25 minutes.
Palm Fans –
We used Flowers and Flowers to order 20 palm fans that were used as programs at the ceremony.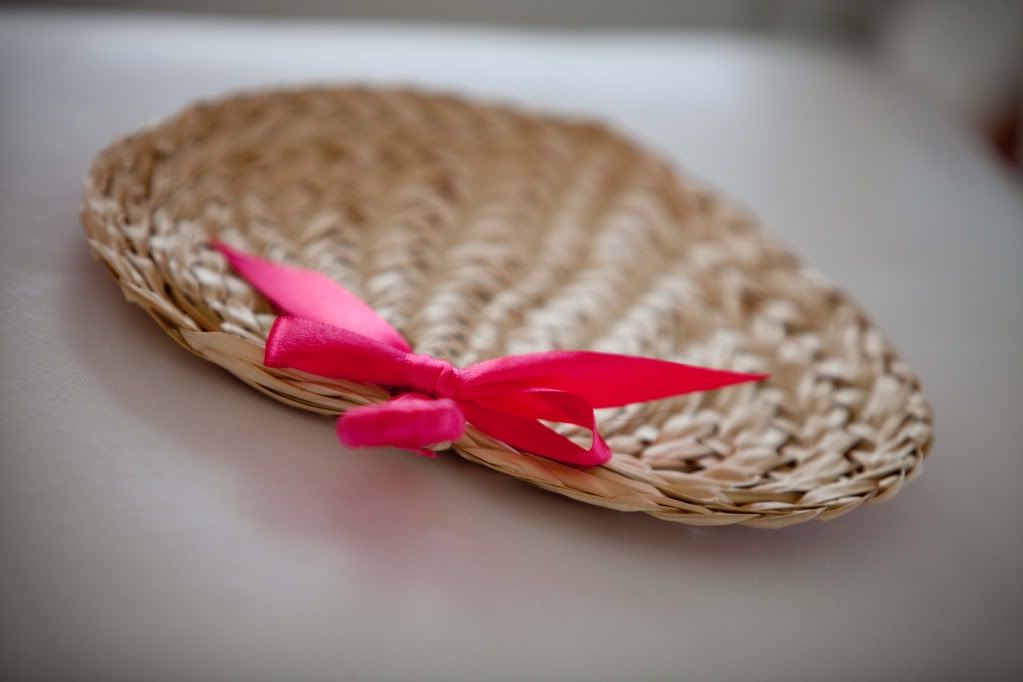 RECEPTION – A+
We had our reception on the Arrecifies Terrace. The food was ok, but the location was amazing! There wasn't anyone out there but us, and it was just perfect. We looked right out to the pool, and we could hear the ocean waves. I wouldn't have changed it for the world. Everyone talked about how wonderful it was, and how much they enjoyed it.
Cake -A
We had them bring our cake to dinner (and not to the gazebo) and it was sitting on a table when we arrived. The cake turned out exactly as in the picture. We had chocolate it was delicious!!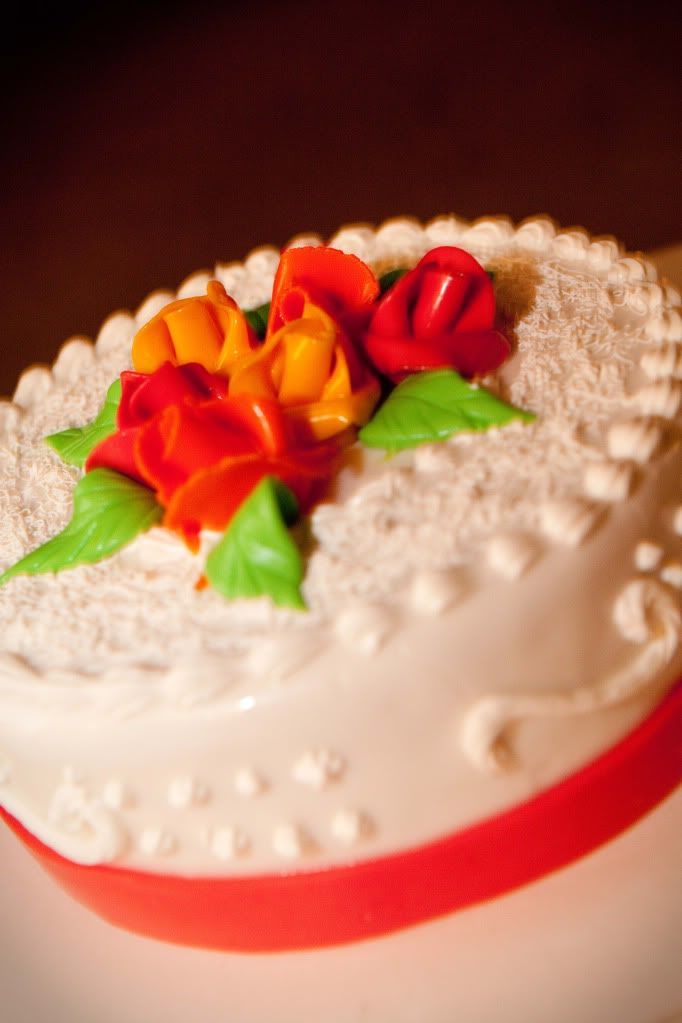 CONCLUSION
Just relax! The Moon Palace will make your dream wedding come true and have your guests talking about the best wedding they've ever been to. Keep in mind that they are on vacation, which already puts everyone in a great mood. You're not going to please everyone so go with your gut instinct and have confidence in your decisions. You can't go wrong with anything you choose at the MP. They had events and activities to keep all ages entertained. It's a wonderful bonding experience for everyone who's there. Don't lose sight of why you're there and why everyone else made the trek. Enjoy every moment because it goes by fast.
I hope I didn't leave anything out. If you have any questions don't hesitate to ask me!!
GOOD LUCK!!
Here are some of our wedding pictures for you to enjoy!