Just got back from the best week of my life..hands down! If anyone is considering this resort for their wedding, I can tell you now you will not be disappointed. We had 42 guests ranging from 19 years old to 60 years old and everyone had the vacation of a lifetime. People keep laughing and saying "now i have 40 more facebook friends". To be in one place surrounded by all the people you love is priceless and then to have the wedding of your dreams is beyond words. Thank you again to all the past brides who helped me make this wedding something out of the movies. I am speechless.
Airlines
We didn't use a travel agent, but 10 of our guests did (Wendy Hicks from BDW forum)and loved working with her. I booked the hotel through excellence website and the flights through orbitz since we were heading to Puerto Rico after the wedding for a few nights. American Airlines on the way there was great, 2 FREE checked bags each and were able to put my dress in a closet on board. We didnt get upgraded but ow well. We then used delta on the way home, unfortunately we had 2 bags to check and it costs us $40 total but that was fine. No unexpected delays or problems either way, it went very smooth.
[/B][/U]Resort[/B][/U]
We booked transportation through the resort which I liked because we had our own private taxi. Drive was about 50minutes and was fine. Alot of people on TripAdvisor complained about how bumpy and long the drive was but Hello we are in a 3rd world country, what do you expect? It wasn't bad and you get to see a little of the country on the way. When you arrive, you are treated like royalty and it doesnt end til you leave. You are greeted with champagne and a cold towel which is perfect. The grounds were beautiful, the rooms were amazing (a little musty) but fantastic. There is no need to leave the resort because there is so much to do. I love the pool and the beach and could be fine laying there all day with a drink in my hand but my hubby (so good to say) Austin gets antsy and was worried he would get bored...NOPE! There are shows every night, 10 bars, pool volleyball, whatever you like to do, they got it. The entertainment crew was great especially Juan Carlos (which my crew nicknamed JC) and Jolito. Every night all my guests met at the lobby bar and headed to the disco. Not sure if we brought the party or what, but every night we rocked it out til it closed at 2am. It was a blast. And if you do have a problem or complaint, just tell them and it is fixed in seconds. The people there live to make you happy and they did a great job with the 42 people we brought all from different backgrounds and lifestyles. No complaints!
Rehearsal Dinner
Since my wedding party was small, just a best man and MOH. We had a rehearsal dinner in the Toscanna restaurant for all our guests...no extra charge. I picked a menu with one app, one main dish, and one dessert and Isyuney (our WC) put tables together and even printed up menus for everyone. Such a nice touch.
WC-Ana and Isyuney
I was a little worried because for the year I was planning, my WC changed 3 times which made me nervous but now I know that whatever coordinator you get, your wedding will be amazing. Isyuney was assigned my wedding a month before and I couldnt have asked for a better WC. I brought 2 suitcases full of placecards, program fans, centerpieces ect and she put it all together as I imagined, maybe even better. She made my day magical! Since they only do one wedding a day, she was there for me from the beginning to the end.
Wedding day April 23, 2010
Austin was given a free room the night before so we could sleep apart. I woke up and had breakfast with my mom then headed to the spa at 1230pm. THey did my hair and makeup which i absolutely loved. They are experts, I had brought a picture and she did my hair even better than my picture. Hair and makeup only took 1 hour and I have a lot of hair.
My biggest regret was getting ready in the spa, although it is beautiful and made for gorgeous photos..it was So HOT. There is no AC and I almost passed out, literally! I couldnt even enjoy it because I was so hot. So future brides-I recommend getting dressed in your room. Fran, the photographer from Photosouvenirs, came at 430pm to take pictures and the wedding was suppose to start at 5pm but Pastor York was late and the wedding didnt start til almost 520pm. No biggie! My sister, my mom (who walked me down the aisle) and I were escorted in a horse and carriage. When we arrived at the beach, there were people watching from balconies and in bathingsuits but everyone was respectful.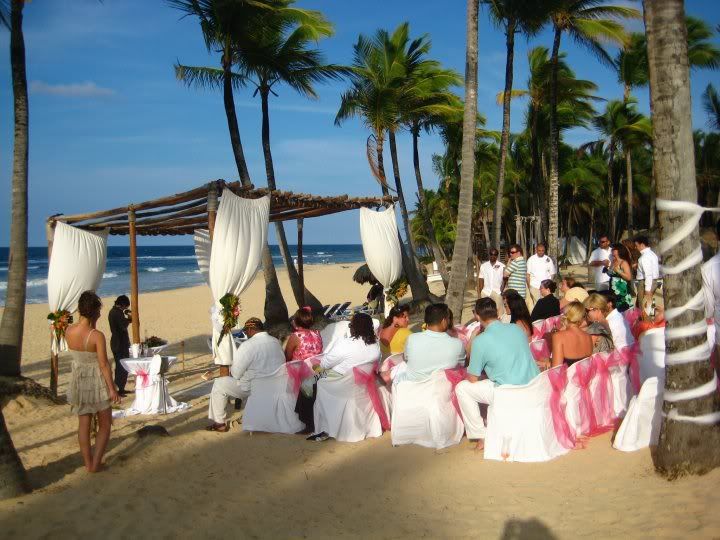 The wedding itself was magical, I had music playing as my sister walked down ("somewhere over the rainbow" by israel kamakawiwo'ole) and then my mom and me to "Feels like Home" by chantal kreviazuk .
It was amazing. Pastor York was great, I would def recommend him to anyone especially if you want the wedding in English. We did a sand ceremony (we played "one love" by Bob Marley while we poured the sand)
and the whole ceremony took about 20 minutes.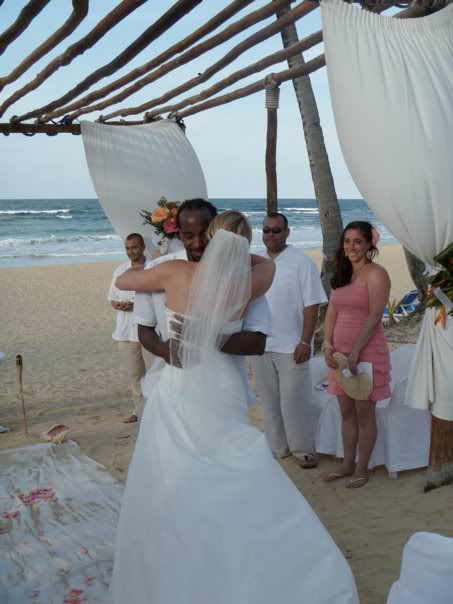 Our processional song was "no one" by Alicia Keys.
Cocktail Hour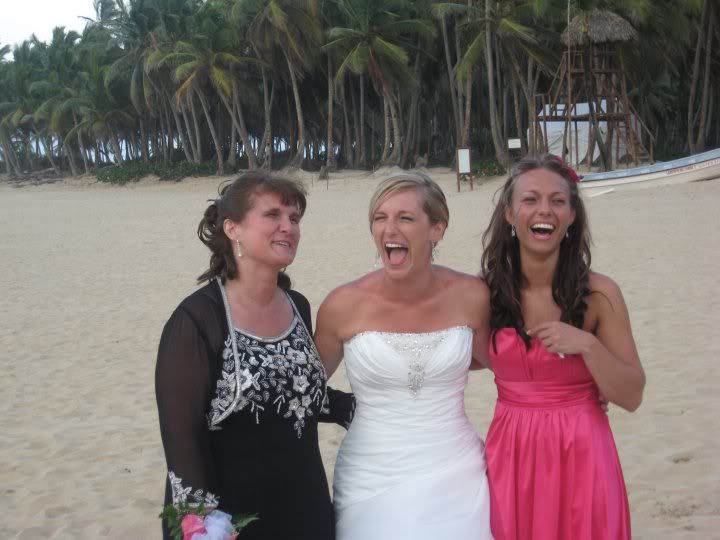 Austin and I missed most of cocktail hour because we were taking pictures
but everyone said it was good. We had it on the beach and paid extra for the Carribean Trio. Well worth it.
Reception
We chose the Silver Package and decided to do the buffet, I personally hate choosing what everyone is going to eat so the buffet was a great option for us. I decided last minute , 2pm the day of the wedding, to change the reception to indoors in the Toscana Restaurant. I really wanted it by the Cascade pool, but after much debate, decided on indoors and I am sooo happy I did. The Mosquitos were bad that night, there was no air by the cascade pool, and the reception would have had to be over by 10pm due to the proximity of guests rooms. We partied in the Toscana restaurant til 1045pm, DJ Mannia was amazing. We gave him a list of song but told him to "do his thing" lol and he did.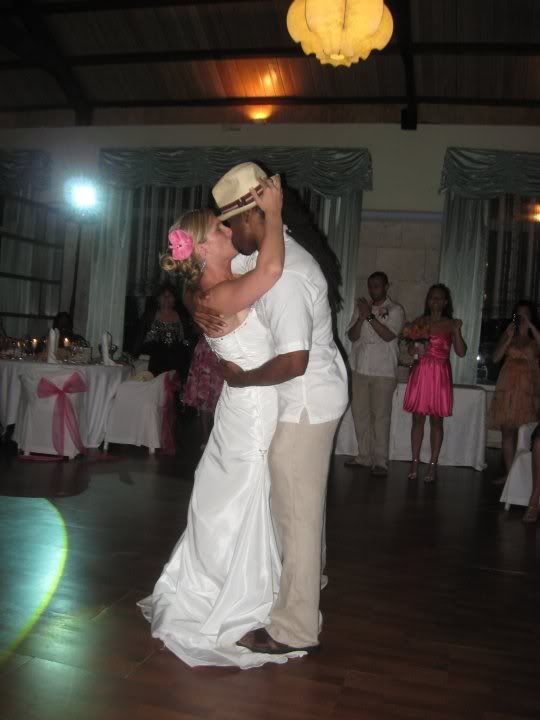 We didnt stop dancing all night.
I had bought cuban cigars from a vendor to the Right of the resort and everyone loved them. Every night at Excellence there is a show and that night just happened to be Circus night so as a clown in stilts and a boy on a unicycle where walking by, Austin asked them to come in the reception.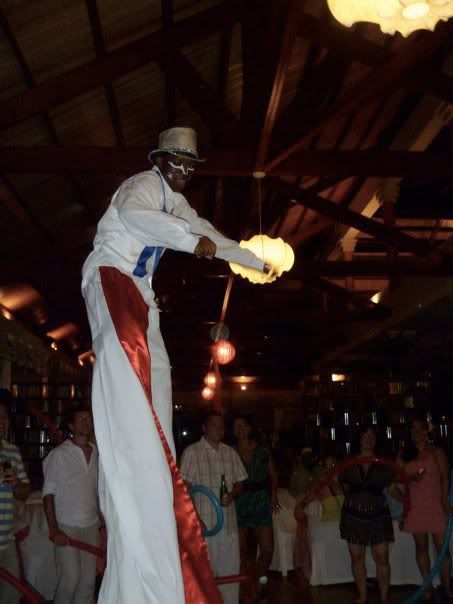 It was unbelievable, no other wedding I have or will ever go to will have that.
After Party
The reception ended at 1045ish and Austin and I went to change with the plan to meet everyone at the Disco later, but as we were heading to the lobby, we saw a huge party on the beach. Friday night is the beach party and it was like having 2 receptions but only paying for one. I would definitely recommend future brides to marry on Friday, it was amazing. We danced til 2am nonstop even our parents stayed up.
Well I guess that is pretty much it. It was by far the best day/week of my life. All 42 people want to know when we are going back for round 2. Hope this helps future bride.