I wanted to get this out of the way sooner than later b/c I knew I would put it off otherwise. I hope I got everything and didn't miss something. Overall our wedding was more than we could have ever hoped for. All of our guests had the best time and raved about the wedding and resort. What more can a person ask for??
Travel Agent
Karen Gill (TPI) – Z
(if it went that low but since it doesn't I guess a F will suffice)
I could write a novel on all the bad experiences that occurred b/w my travel agent and I but I won't bore anyone. All I can say is it was so bad that she actually has been 'suspended' and is pending termination from TPI. Never meant to get anyone fired but she was beyond horrible at her job and if I did even ¼ of the things she did, or used the excuses she did, I would have lost my job a long time ago. My piece of advice, steer clear of TPI.
Signature Vacations – C +
Signature is a charter and charters can basically do whatever they want, and that's exactly what they do. Three months before our departure date they straight up cancelled one of the flights that carried 11 of my family members on it. We ended up needing to find them all new flights and book them separately which was an absolute pain so close to the wedding date. Because we booked over a year in advance we were guaranteed a price match if the prices dropped from the prices we booked at. However when they dropped they only matched prices for a couple of our departure cities and then didn't match some other cities. It made no sense. They also never told us we could be upgraded to first class until one month before the wedding-and of course by then they were fully booked (or so they said). When we got to the airport we requested the option to get upgraded for free and they were rude to us in response, and then said it would cost us $1200. There was a nice agent there though who went and talked to the Air Transat manager and HE upgraded us for free. So Air transat gets an A+. Their service was great.
Resort – A
We were very very pleased with our choice of venue, especially since none of us had been there before. The hotel is very very clean and modern looking. We were there over Christmas and while they had some Christmas decorations up it was not cheap or gawdy looking at all. They also had a huge NYE celebration while we were there and it was done up in pink, silver and white and was so pretty. They did a HUGE fireworks show to at midnight that was awesome.
There are 5 pools, plus a kids pool- three of the pools are infinity pools. The hotel is shaped in a big U so it's not too big and makes it easy to find people.
The rooms were all gorgeous and again very modern. We were in a junior suite and had a big deck with hot tub that was perfect for all the late night after parties we hosted!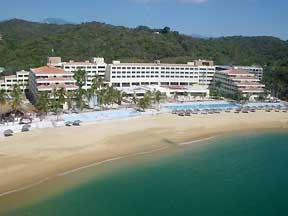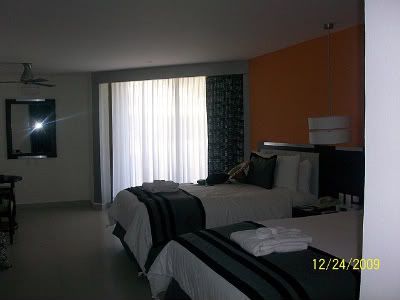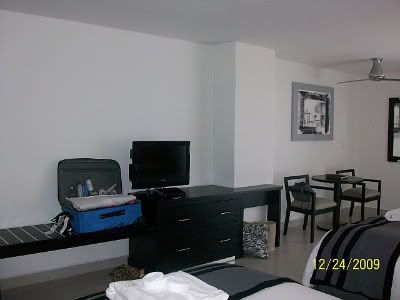 Since it was dry season even the Christmas trees were brown! Ha!