Delta Airlines from Boston
Delta was great! They upgraded my FI and I to business class and then my MOH and her husband. Since Business was essentially empty, I asked if our parents could be bumped up as well and they were. It was a really nice flight down especially since we got free booze and a decent meal. The flight attendants were really nice and took care of my dress. When we landed, they announced that there was a wedding party on board and congratulated us. Our flight attendant gave us 2 bottles of champagne to take. So nice!
However, we changed our flight on the way back to come home a day early since Hurricane Ida was rolling in. This was a debacle and Delta charged me a fortune! I was very irritated by this. I am a platinum member and fly on Delta frequently and felt that they should have been a bit more accommodating. I will be complaining.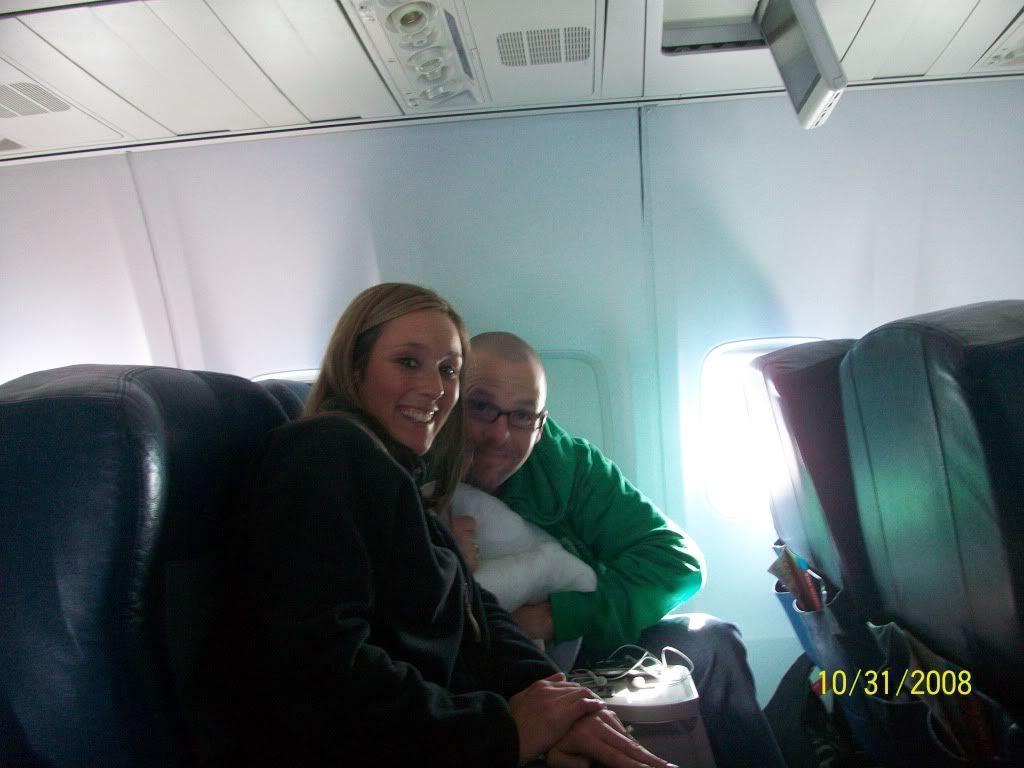 Arrival in Cancun
The day we arrived, customs was insane! We waited forever to get through because there were so many people coming in that day. I got out ahead of my FI and he ended up getting stopped. He had one of my bags because it was so big and heavy and they gave him a really hard time. The suitcase also had a lot of wedding stuff in it and I didn't have receipts. Luckily, they let us through with everything but it was a bit of a hassle, so if you have receipts, save them and bring them with you.
Since there were 30 of us travelling together on Saturday, I arranged for transportation for all our guests from the airport to the hotel. We used Cancun Limo and I cannot say enough wonderful things about this company. They were friendly, accommodating and some if the nicest people I have ever met. Plus, their prices are super reasonable. The owner, Pedro, gave us his cell phone number and ended up taking us everywhere the week we were there. I HIGHLY recommend them to everyone. We reserved 3 vans from the airport and 4 back since we had more guests join us mid week. I will definitely use them again if I am ever back in the area.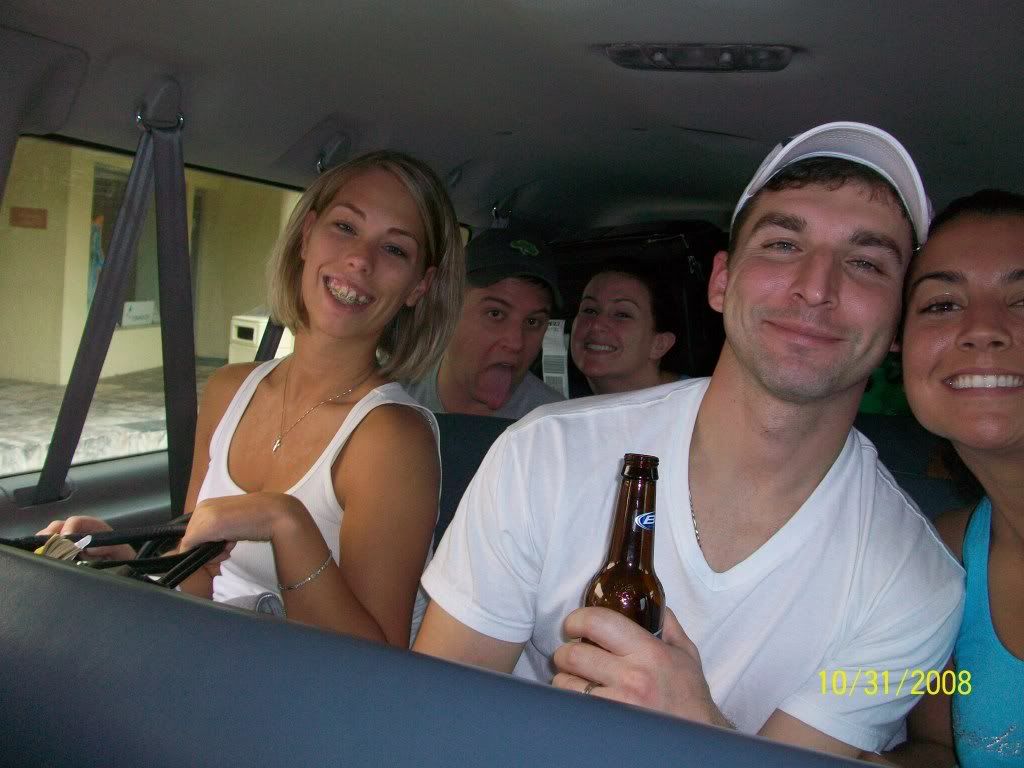 Arriving at Dreams
Check in ran pretty smoothly. Be prepared to pay up front. It wasn't a big deal, but I am just used to paying when you check out. I guess they do that since the resort is all inclusive. Most of us had to wait for our rooms, but not for long at all. We had a couple drinks in the lobby bar, Rendezvous, and my FI bought cigars for all the guys to enjoy outside. Before we knew it, we were in our rooms.
Our 1 bedroom master suite was great. When you walked in, there was a small table and chairs. Beyond that was a living room area with a couch and TV and sliding doors that led out to our balcony where we had a great view of the dolphins and the ocean. There was a large bedroom of that room and a bathroom. The room was spacious and very clean. We were both very happy with the accommodations.
I really can't say enough about the staff at Dreams. Anything you want, you get with a smile. The people who work there are beyond accommodating and aim to please and make your stay fun. Every day we found ourselves interacting with the entertainment team and they were just wonderful. I especially loved mini-me and Z. Z put a night out together for us for my bachelorette. She took us to Coco Bongo and got us a private seating area. I got in for free since I was the bride and the girls all paid $35 each which included open bar. Z made sure we were treated like celebrities. No one ever had an empty glass, the shots kept coming and the staff was extremely attentive. They took me up on stage to dance and later put the spot light on me, had me drink a shot off the top of a cake and lined up one by one to give me a hug and congratulate me. We had the time of our lives that night and Z stayed with us all night to make sure we were safe. We finally were out of there at 3:30am and she had to be back at Dreams at 8:00am where she welcomed our hangovers with a smile and a little dance. She is wonderful!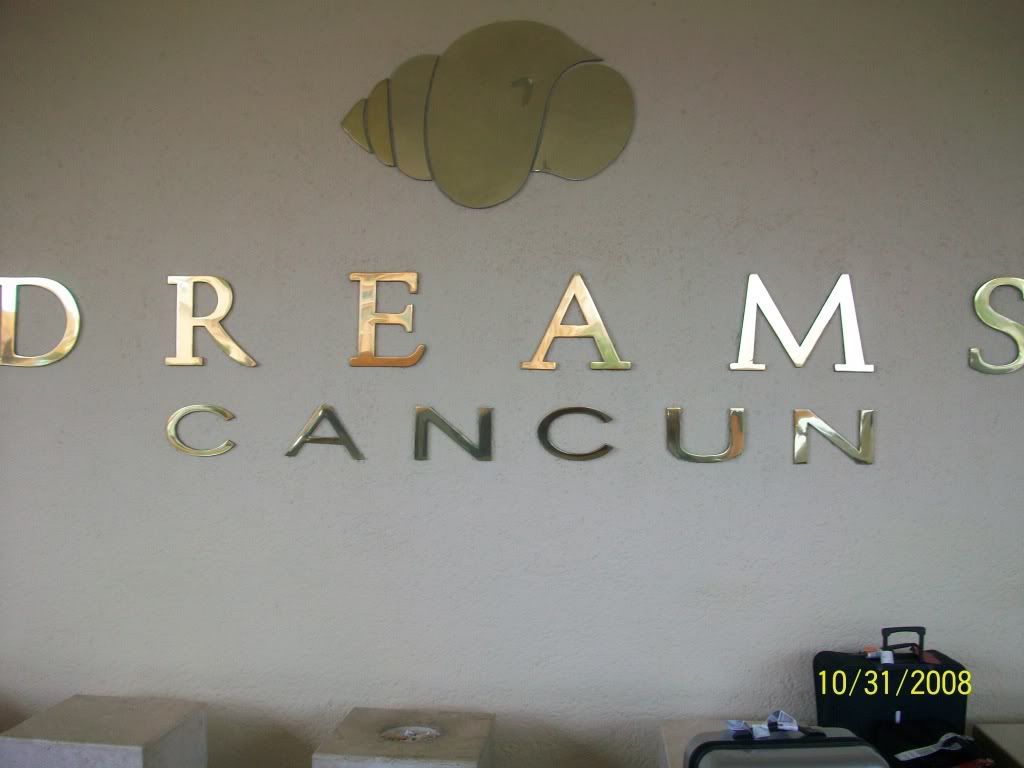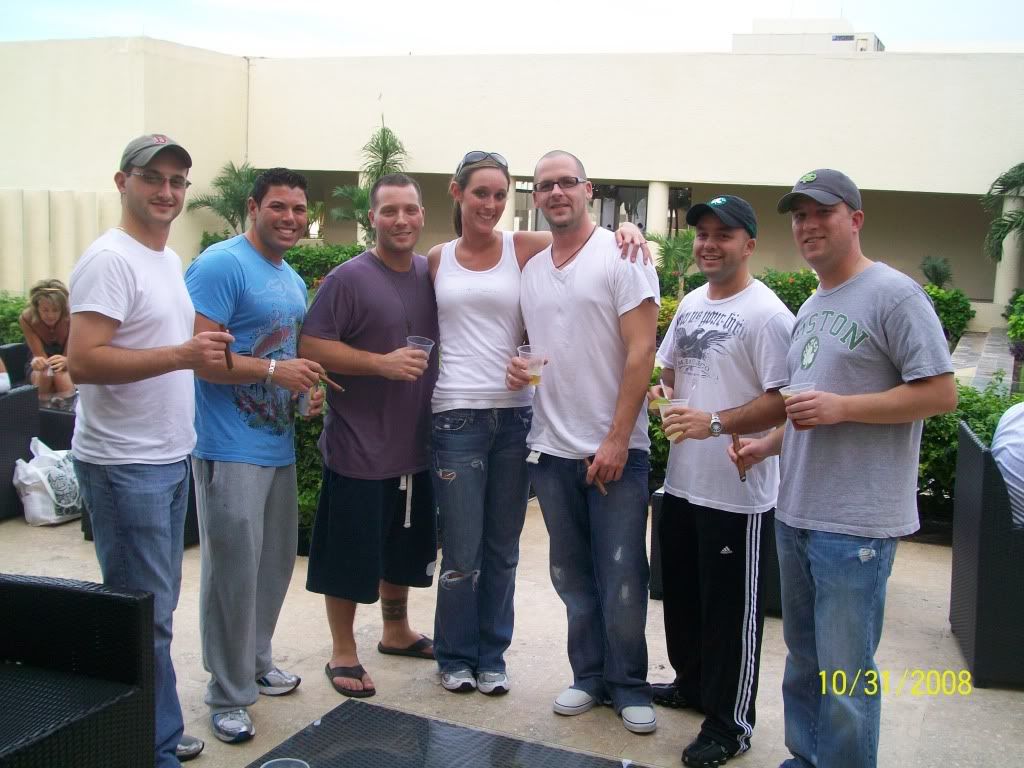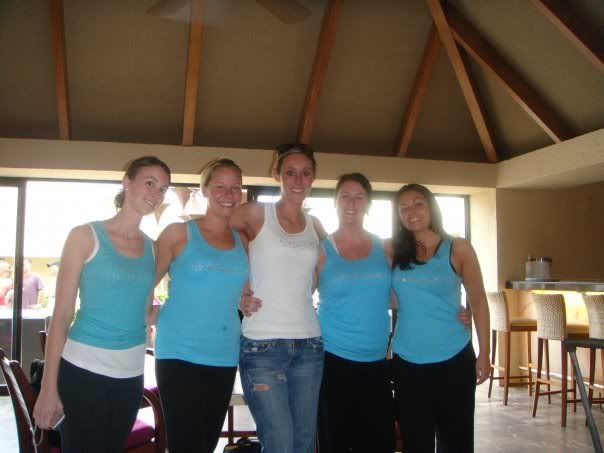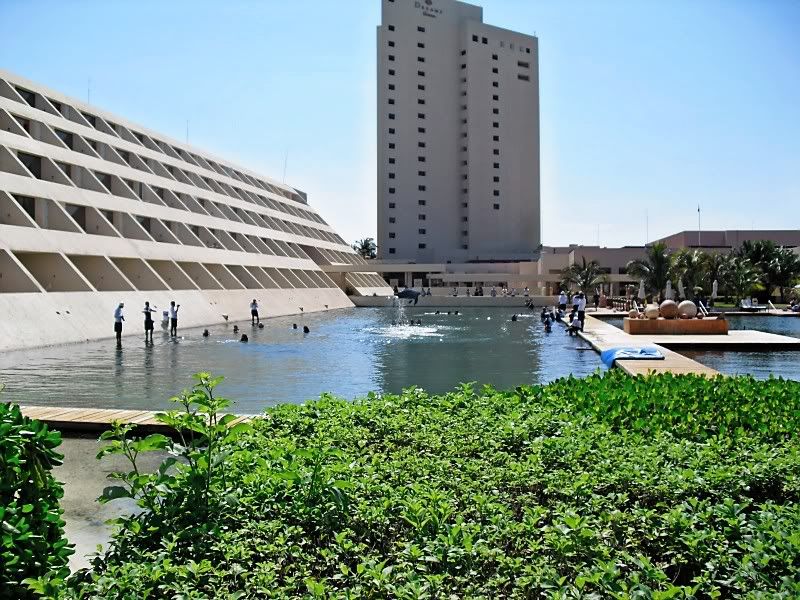 OOT Bags
My OOT bags were a huge hit. I found straw mid-sized bags online and everyone used them as their beach bag all week. Inside we put individual thank you cards with a little note, Imodium, Pepto, Advil, Luggage tags, Bath & Body hand sanitizer, bottles of water, gum, mints, on the go drink packs, chapstick with SPF, flip flop note pads, maracca pens and glow sticks. On the first night, we all met in the lobby bar for welcome drinks and I handed them out. I was really glad we did this since people came from so far just to celebrate with us.
Restaurants
The restaurants overall were pretty good.
World Caf©:
Buffest style restaurant with various theme nights. The food was always fresh and there was a great selection with something for everyone. We ate breakfast here most days and had dinner here a couple times as well.
Himitsu:
I loved this place! It is a completely open aired Japanese restaurant. The sushi was yummy but they also have alternatives for those who aren't sushi fans. Definitely give it a try. The ambiance is great and the waiters were awesome!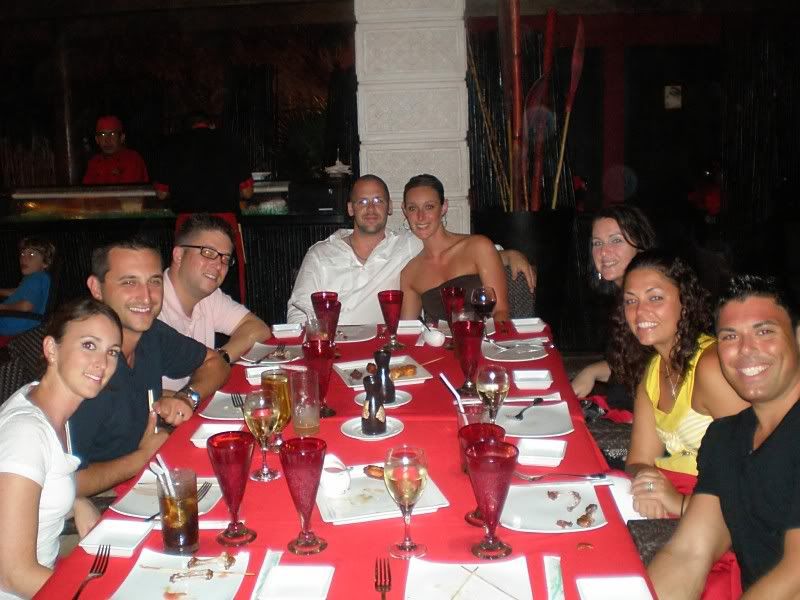 Seaside Grill:
My FI and I ate here on before we separated the night before our wedding. We both had filet and it was pretty good, but a little overcooked. The medium hardly had any pink and since I like my steak mooing, it was a bit dry for me. The wait staff was great though and it was nice to sit on the tower side facing the ocean for dinner.
Oceana: I ate here once for dinner and once for lunch and dinner was by far the better meal. I had a scallop and crab leg app with stuffed grouper for dinner and it was yummy. My FI had filet and he said that was good as well. During dinner there was a guy playing the clarinet and people were dancing off and on.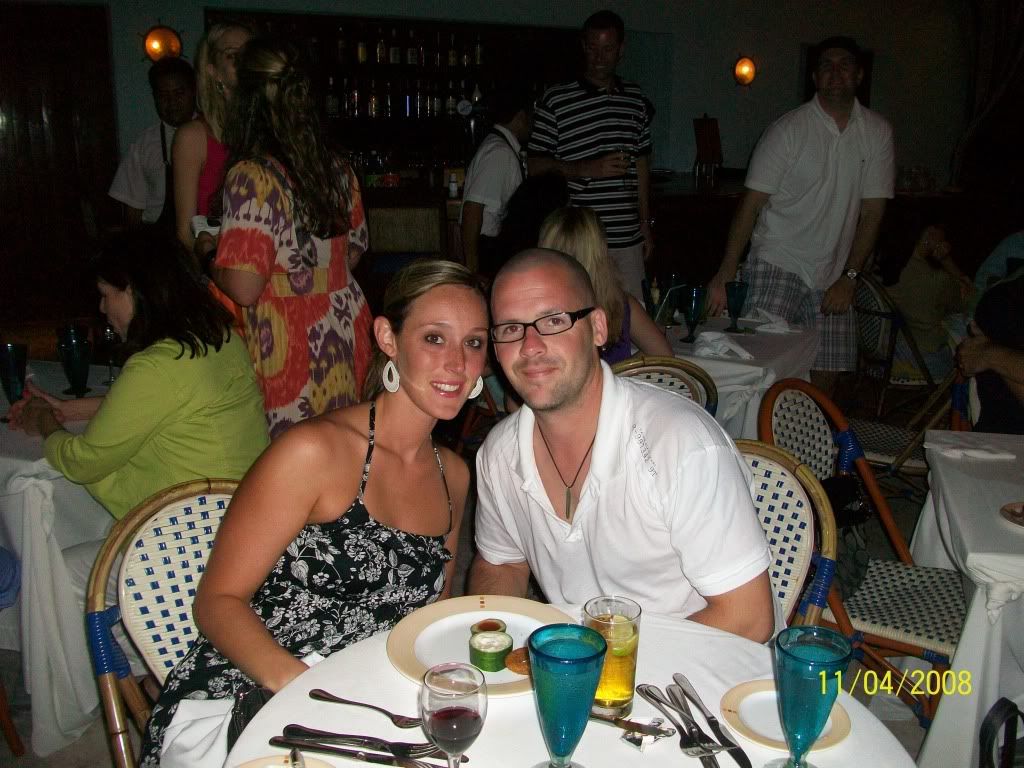 The Snack Shack:
loved this place! It's a little window by the pool and a great place to grab a quick lunch to eat poolside. The fries are delicious and I was also a big fan of the ham and cheese burrito. They also serve hamburgers, chicken sandwiched, grilled cheese, etc. It's a no frills, beach fare type of place.
Room Service:
Yes, room service is included and many of my guests took advantage at 3am when we got back from the bars. The food was pretty good. We ordered breakfast to our room one morning and it was really nice to sit out on the balcony, watch the dolphins and just relax together before the craziness of the day began. I would definitely recommend getting up early one morning and doing this. It's so peaceful.
Coco Cafe:
This place has really good coffee and offers all kinds of designer frozen coffee drinks which you can opt to add liquer too. They have a variety of muffins and cookies and also do paninis for those on the go. We frequented the Coco Cafe in the mornings.
Swimming with the Dolphins
Swimming with the dolphins was a little pricey but I had always wanted to do it and was determined to on this trip. The people at Delphinus were very knowledgeable and we all really enjoyed it. I am so glad I finally tried it.
Wedding Coordinator A+++++++
If there is one word to describe Cecilia, it's WOW! She is an amazing person and works her tail off. We arrived on Saturday and she called me on Sunday to introduce herself and confirm our meeting which I thought was very nice. We met Cecilia on Monday and within 35 minutes all the details of our wedding were planned. Her input was great and she was open to making whatever we wanted happen. Our rehearsal was Tuesday and she ran through everything with us. At that point I gave her all my favors, decorations, music, etc and told her how I wanted everything set up, which by the way, was perfectly done!
Cecilia came to the spa the morning of the wedding to check in again. We hit a spell of bad weather, which later turned into Hurricane Ida, but that's another story. She unfortunately came as the bearer of bad news and told me it didn't look good for our beach wedding. I had prepared myself for this since it rained the night before, but I had seen another wedding in the tower lobby and terrace and it turned out great. I asked her if she could set it up there and she informed me that a business had a reception on the terrace and I would need to use one of the ballrooms. I was heartbroken and just started to cry. I didn't come all the way to Cancun to have my wedding in 4 walls with no view of the ocean. She called the business and asked if they could move their reception and unfortunately they wouldn't and worked all day to make my wedding what I had dreamed of. She kept calling my FIs cell phone to give him updates so I wouldn't get stressed.
Around noon, she came back to the spa with my flowers and assured me she was still working fervently to make things happen for me. She came back a half hour later with flowers from my FI, which he later told me she helped him order. He wrote in the card "No matter what happens today, I just can't wait to marry you." I knew no matter what, it would be the wedding of my dreams at that point.
Usually Dreams makes a decision about the beach wedding by noon so they have plenty of time to set up, but Cecilia held off and waited it out longer for me. She came back up to my room with her boss, Claudia, around 1:30 and told me that they would set up the wedding on the beach and also set up a ballroom in case it started to rain so we could move inside. She made my day! I was so impressed with how out of the way she went to make my day special. We lucked out and the rain held out and our wedding was perfect thanks to her.
The beach looked amazing and Cecilia continuously came back to check on us and make sure everything was going according to plan. She even ran and found me booby pins to fix my hair after a windy ceremony and safety pinned my veil to my dress so it wouldn't blow away. She had all bases covered and was nothing short of AMAZING! Ladies, do not stress about anything. Cecilia makes dreams come true.