I've been fat all my life (including as a baby), and I will never be thin. I totally accepted that fact at the age of 30! I moved on with it and have been happy ever since. Helps to have found a man that loves me for my mind and my body, too!
I'll probably lose weight to be healthier, but I'll always be a fat girl.
I opted out of the traditional wedding dress and got an Ivory evening gown. Much cooler for a beach wedding! Got it at Nordstroms for a steal!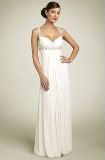 I saw on another thread that a girl is using this dress for TTD! Oh, well...