Here is a review from our wedding….on a side note, I didn't post much towards the end of my planning, but found this website so valuable—especially the reviews!! We had a sort of unique wedding—we rented out the Casa Contenta Bed and Breakfast in Cabo San Lucas for the whole week—most of our bridal party along with a few other friends stayed there the week of the wedding. We were married on the rooftop of the Casa, then went to a restaurant called Puerta Vieja (right up the road) for dinner, and then back to the Casa for drinks and dancing on the roof.

Wedding Coordinator-Mandy Clough (formally of Sunset Weddings). A+
We were recommended to Sunset Weddings by the owners of the Casa Contenta which is where we had our ceremony and reception. Mandy was worth every penny—and it didn't even end up being that much! I did a lot of the original planning but brought her in when I decided I didn't want myself or any of my family members to have to run around the day of the wedding to coordinate everything and pay vendors, etc. We communicated for 8 months via email and when we finally met her the week before the wedding, we knew we made the right decision—she handed ALL of the payments, set up chairs, dealt with clean-ups, and had great (and cheap) recommendations for vendors, places to eat, etc. She is no longer with Sunset Weddings but is still planning weddings in Cabo-I would recommend her in a heartbeat. She always listened to what I had to say, and her results were amazing.
Hair and Makeup—Senza Salon A+
Our coordinator put us in touch with Tatiana at Senza as a cheaper alternative for hair and make-up. Tatiana and I corresponded the weeks before the wedding and I emailed her pictures of how all of my bridesmaids and how I wanted my hair/make-up. We went to the salon that morning and her stylists had pictures of us and our ideas next to them and did a PHENOMINAL job. Wow. If you go to the salon, an up-do is $50 vs. $100 or more at the other Salons that specialize in weddings in Cabo. I think it's a little more if they come to your hotel to do it, but still really reasonable.
Sunset Cruise/Groom's Dinner—La Princessa through Cabo Tours and dinner at Misiones de Kino A++
Some of the best times were had this night. We treated our guests to a private sunset cruise aboard the La Princessa boat. The drinks were great, the staff was wonderful and the sunset was beautiful. Everyone had an awesome time. We had our groom's dinner at the restaurant Misiones de Kino—a family friend owns it. We had a giant palapa lined with twinkle lights all to ourselves and catered a buffet meal of fajitas—veggies, meat and fish along with fried ice cream for dessert and it was AMAZING. Again, we did this meal really inexpensively and it was very unique!
Ceremony and Reception—The Casa Contenta Bed and Breakfast. A-
We rented the Casa Contenta for an entire week—it's up the road from Costco and is this huge fortress—it's really an amazing property. There are gardens everywhere, and there are three decks to hang out on along with a swimming pool and a hot tub. We found it through family friends who own a house down there. I was really happy with having the whole villa to ourselves—especially for the ceremony. We were overlooking all of Cabo San Lucas with an amazing sunset when we were saying our vows. It was a beautiful and very private location. We had a dance after dinner with a bar set up for our guests. It was great—a little trying at times since it's in a residential neighborhood—we had our DJ there till 11:00 and planned on continuing the party inside, but the day before the weekend we were told we needed to clear all guests out by that time too. So that was a major bummer. But all in all, it was a perfect place for us to have our wedding.

Photographer—Gilda Badillo. A+
Gilda was wonderful to work with—we received our pictures back a few weeks ago and were so excited with how they turned out! We did her "A la Carte" option and hired her for 3 hours. She arrived a half hour ahead of time to look for spots for pictures—she had us take several posed pictures and a bunch of candid photos. She also drove us to the beach below the Sunset de Mona Lisa after the ceremony and took a bunch of photos on the beach with the sunset. The pictures arrived in a proof album and she gave us cd's of all the pictures she took with copyright privileges
Officiate—John Fagan, Baja Weddings. A
John came as a recommendation from the Best Destination site. He was a joy to work with. About a month before our wedding, he sent us a bunch of sample ceremonies—we went through and took bits and pieces of what tone we wanted our symbolic ceremony to have and all of the readings we wanted. It turned out to be the perfect ceremony for us. Make sure you let him know how to pronounce your names beforehand! He pronounced our last name a little wrong at the end but all in all—he was wonderful!!!
Wedding Dinner—Puerta Vieja Restaurant. A+++
Since we had such a small list of guests (31 people in all) we decided to do our dinner at the beautiful Puerta Vieja restaurant. We were seated with three long tables on their back upper terrace—we had a perfect view of Lands End as the sun set. It's a really unique restaurant with really reasonable and delicious food. We arranged for appetizers to be served before dinner along with drinks through the night. Dinner was 3 options: a Seafood Combo with lobster, shrimp and fish; a surf and turf combo with ribeye and lobster; and a vegetarian option with flan for dessert. It was all presented very well, all the food was hot and fresh, and the service was amazing.
DJ—Ron Weber (aka DJFunkle Ron)—A
Ron was a recommendation from the owners of the Casa Contenta—he did our music for the ceremony along with the dance. He has a really extensive music collection—we brought a few "must play" songs with us but otherwise he had all the music we wanted. He was awesome to work with!
We are thrilled with our choice to do a destination wedding. We had a small enough guest list that we were able to spend quality time with everyone and were able to provide each and every one of them with an experience of a life time!
Here are some pics from the Casa Contenta and Puerta Vieja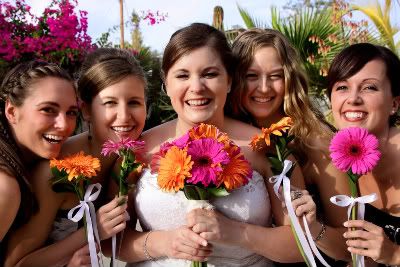 flowers from Cabo Flowers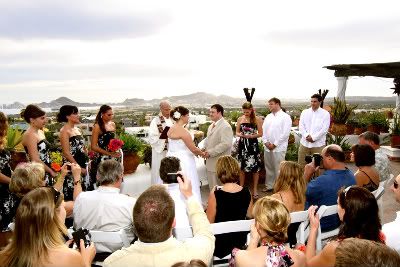 view from the 2nd deck at the Casa Contenta
view from the rooftop of the Casa Contenta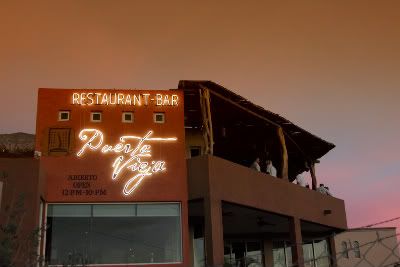 Puerta Vieja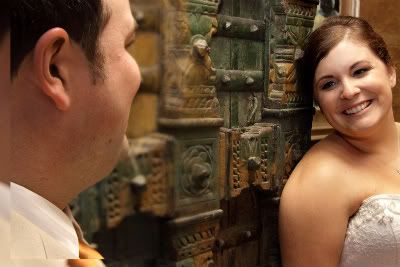 AWESOME front door at Puerta Vieja
Table Settings by Mandy Clough at Puerta Vieja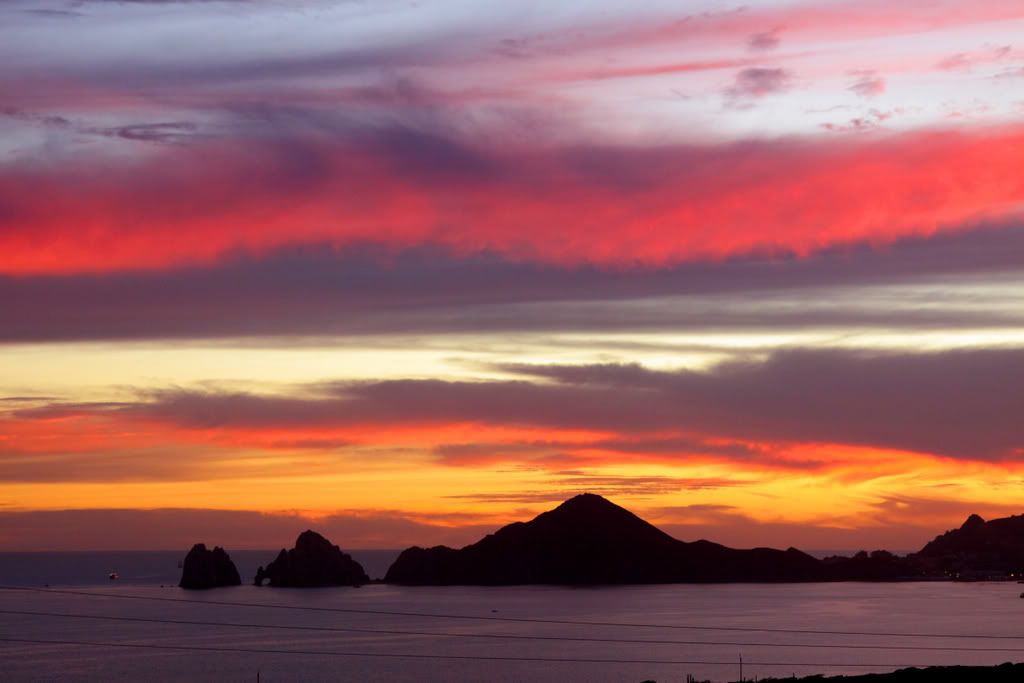 The View while we were eating dinner