I can't believe the year has flown by since we started planning the wedding! I want to say a HUGE thank you to the brides on this forum, as well as Tammy for starting it! I couldn't have done it without the help of this forum and all the invaluable advice and tips I got here. Here are a few pics to share...
The ring...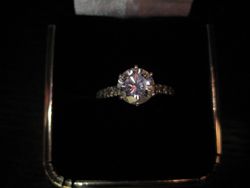 Our invitations - we made these ourselves. It took forever but in the end it was worth it. Our guests really loved them and it really helped set the tone for the wedding. We even made the boxes to send the invitations in, covering them in chocolate brown paper to match our colors. Materials are from Flax Art, Paper Source, and Office Depot.
Signs for our rooms that I made... some of the letters in "Groom" don't stand out, but eh... I'm too exhausted at this point to go back and fix it. Materials are from Scrapbook Alley in Berkeley, CA.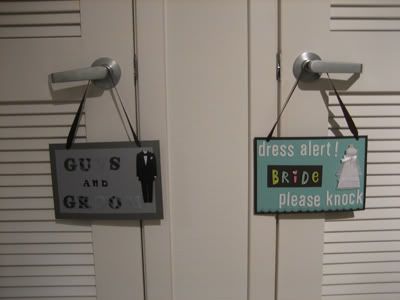 The dress - I don't have a picture of me in the dress because it's still being made. So here is Barbi wearing the inspiration dress by Vera Wang.
My hair accessory - two orchids with pearls and rhinestones in the center. Purchased from Hair Comes the Bride.
The Shoes (I bought some not-so-pretty wedges to use while walking down the aisle in the sand)
Garter. Purchased on Etsy.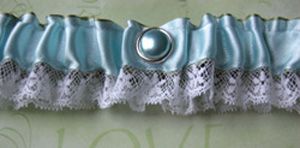 Hair Inspiration - Would LOVE if it my hair could hold this look, but since I have stick straight Asian hair, this may not work... sigh!
Makeup Inspiration: