I have been missing in action since our May wedding and really don't have a good excuse other than time really flies. It was pretty hard to recover from the excitement and stress of the wedding, traveling, and planning our At Home Reception which was in mid June. After that it's been a lot of trying to get caught up on organizing our home and just being newlyweds.
I knew my review would take a while but, man once I put it off it just kept getting pushed back even further.
Thanks to all you who asked about my review and reminded me that it's an important part of being a BDW bride. My wedding wouldn't have been the same with out all the great BDW brides who've posted about their experiences and the myriad of wonderful wedding planning tips and ideas. Thank you all!
And now here it finally is (in installments):

Babycow's Dreams Tulum Review
Tim and I decided on a Destination Wedding in order to have the wedding of our Dreams. We wanted something low key and unique that focused on our love for each other and our families. My family lives in California and Tim's here in Ohio so we were faced with deciding where to have our wedding. We knew we wanted both our immediate families with us and neither one of us wanted a big wedding so a destination wedding was right up our alley. Mexico was a natural choice for us since I am Mexican and my family would fit right in and it would add a little bit of my culture to our wedding.
We choose to stay at Dreams Tulum because of the ruins and its reputation for being low key, as opposed to Playa del Carmen or Cancun that are known for nightlife. It was a great choice for our group and everyone commented on how much they liked the resorts relaxed feel and the attentiveness of the staff.
TRAVEL and PLANNING
Early on in our planning we visited a local travel agent who gave us invaluable information on a variety of resorts at all price ranges. One of her daughters had actually had her wedding at Dreams Tulum, so the TA had some great things to say about the resort and the wedding experience there. I had already researched some of the different areas of the Riviera Maya and knew I was looking for something with some nature around it and not so much the Cancun Hotel Zone known for night life and spring breakers.
I had read that the Tulum Ruins and the beach were amazing so I wanted to be near that area.
The local travel agents was great and I'm glad we went there but we found her prices were higher than what we found online on Expedia so we did not book through her company.
We booked our hotel stay for us and our families through Tammy Wright (BDW host). She was great and both Tim and I felt we were in good hands since she runs this amazing site dedicated to Destination Weddings. She was able to get us great rates for our group and was so patient with all of my questions. When it came to booking I passed along the responsibility to Tim and I know he had some great things to say about working with Tammy.
Tim's Review of Tammy:
"Tammy was professional in how she helped us with our travel arrangements and we would definitely recommend her. Making arrangements for our destination wedding with the number of people involved (14), the FAA grounding planes out of the blue back in March '08, and several airlines having financial issues, made the whole thing a little nerve wracking. However, Tammy was always ready to help us with any questions we had and really put our minds at ease. She was upfront and honest with us. She said that if we were able to find cheaper airline flights than what she could provide, we should go with that, which we did for some of our family members.
The wedding went great and we really appreciate her help in making it happen."
Tim booked most of our flights through Expedia because we found lower rates.
My parents needed special flight arrangements since they went on to visit family in Guadalajara after our wedding. Tammy did a great job arranging this and was able to offer us better rates and flights than what we found online.
We felt so happy that we could share with our families a unique experience.
Here are some of the details of our trip and wedding:
OUR GROUP
Grooms Side:
Mom and Dad
Brother 1 and Wife (about 7 months pregnant)
Brother 2 and Wife and Child (about one and half years old)
Brother 3
Brother 4
Brides Side:
Mami and Papi
Sister and Husband
SisterFriend and Husband
Having such a small group of just the closest family was great and allowed us to stick to a simpler wedding plan while everyone enjoyed their vacation.
The bad and the ugly and how we survived and still had a great wedding/family vacation:
My initial post when we got back mentioned things not going as planned which is true but now that I re-read I feel I was bit harsh in my choice of words and lack of detail. Honestly, I would not have done our wedding any other way, but yes, there were things that did not go as planned. Here is a list of not so great moments in our destination wedding.
Losing my passport while doing some last minute packing the morning of departure.
I obviously ended up finding it and making the flight (sigh of relief!)
Pregnant sister in-law's luggage ending up in Jamaica instead of Cancun. They booked their own flights so had insurance which covered any purchases made at the resort (swimsuit, dress, ect). Her luggaged made it there in time for our wedding.
My parent's flight was cancelled.
They were able to get on the flight my sis and bil were on the next day and made it to our wedding.
Bride (me) feeling terribly ill, most likely from stess.
I had terrible belly pain that I've had before and I attribute it to a combo of my insulin resistance medication and stress overload. This occured the night my family was due in, my parents were the last ones to arrive after their flight cancellation and I guess it was too much stress. I survived the pain and the throwing up in time to see show my family around the resort when they finally arrived.
Pictures in the hot midday sun were no picnic.
Our pictures by Vanessa Vargas and our video by Juan Alfredo turned out pretty good despite the blistering heat.
Chichen Itza tour bus breaking down midway there.
Eventually we made it to Chichen Itza and lexperienced the wonder of the pyramids.
Front desk saying parents don't have a room guaranteed because of missed night due to flight cancellation.
This was kick in the head when I was already down(feeling ill) and it really upset me, because we had prepaid our stay at DT and we had let them know that my parents flight had been cancelled and that they would be in the next night to which they pretty much just said OK. No mention of "cancelling" their reservation so it was quite a shock. In the end they were able to find a room for them, but did not even act apologetic about the whole ordeal.
Wedding Coordinator not showing up on time for appointment.
This was slighly irritating but I somewhat expected it from reading other reviews. Overall Landy was great to work with and we had a a beautiful setup thanks to her.
Not getting every single "must have" picture.
This was due to the heat and the excitement of "OMG I just tied the knot!" It's hard to think of all the photos at the time. I recommend assigning someone in your party to keep a physical list with them and play director. Vanessa did a great job considering the mid-day heat.
Not having the Complementary Grooms Room in our package. This was the least of our worries but it would have been nice to have a clean room for pictures with out clutter in the background.
Pressing service:
The pressing of my dress and DH's suit was done a day ahead of schedule at my request. I wasn't going to risk not having my dress on the day off. They did this without too much hassle. I had packed (rolled it up) in one of those new x-large zip lock tote bags so I left that out on the bed for someone to come in and take it while we were out. It was brought back on time and they seemed to have done a good job on both our outfits.
The Ceremony:
One of the best parts of having a destination wedding was doing "our" way. We had a bilingual ceremony performed by DT's Pastor and translated in English by one of Tim's brothers. I "wrote" our ceremony from a myriad of borrowed sources and came up with something that was a bit more meaningful for us; then I translated it into Spanish. It fit our lives, our families and our love for each other.
I had stressed about this as I didn't want a stranger marrying us but also had to worry about breaking tradition by wanting a friend or family member to perform our symbolic ceremony. I had asked Landy to put me contact with the person who performed the ceremonies for Dreams a few times and finally about a month or two from our date she finally sent me a name and an email address for the pastor. I emailed him and asked what type of ceremony he performed and also how open it was to personalization and he replied fairly quickly. The ceremony he offered was what I imagine a typical pastor would do but was open to additions and changes to suit the couple. I put the finishing touches on the ceremony I was working on and sent it to him and he said it was fine and that he could accommodate our wishes of having him read it in Spanish and having Tim's brother read the translation in English. They both did a great job reading and everyone liked our ceremony.
SAND CEREMONY
We had a Sand Ceremony that included both our families (essentially all our guests). It symbolized the joining of our families and our lives as well as our future together. We used sand right off the beach and plastic white pearly clam shell shaped dishes as our containers. I found these at Wal-Mart of all places and a few people actually commented on how they looked so fragile, like they were glass or ceramic. We had two smaller ones in which our two separate families poured sand into. Each person picked up some sand from where they were sitting or standing with a small real clam shell and blessed it with wishes for our future and then poured it into the corresponding family's "shell." Then the two sets of parents were called up and they simultaneously poured the families' sand into the larger "shell" symbolizing the joining of our two families. Then during a reading Tim and I both picked up our own sand and added it to the large "shell."
We also had an exchange of vows and rings. But the sand ceremony and having two languages was really what made our ceremony special. To add the magic of having a DT personalized wedding ceremony we had some special visitors throughout our ceremony; butterflies! They were everywhere and looked lovely against our white tulle canopy.
Photo by Vanessa Vargas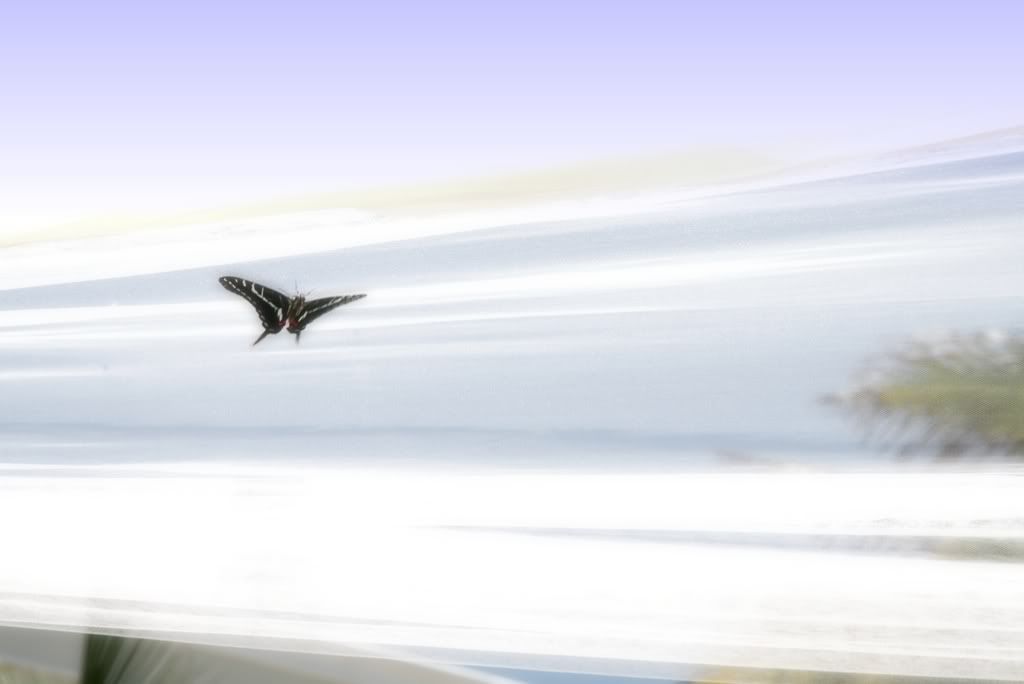 Ceremony Location
We chose the location to the south next to the Sea Side Grill restaurant.
Our setup was simple but not the typical DT set up. I asked for the ever so popular " SunBride" set up with the white and blue tulle canopy and the large white/pink stargazer lilies down the aisle and on the corners of the canopy. I did not bring any tulle with me for the blue portion and Landy said they did not have any on hand, but could possibly purchase some before our ceremony at an additional price. I declined the extra tulle and price and told her just white would be fine. It turned out beautifully simple. I had asked for the aisle to go through the palm trees but it was made more towards the restaurant, but it was okay.
CAKE AND TOAST
Our cake was set up for us right on the beach and we had a short toast and cut our cake. It was the basic cake that came with my complimentary package (the hexagonal one in the brochure) but I asked for two tiers and brought pictures of what I liked to show Landy. I ended up with a gorgeous small round two tier cake with pink flowers to match my bouquet. The top later was chocolate and the bottom was vanilla. It was delicious and only wish I would have remembered to ask for the rest of it to be saved and taken to our room. Someone in our party said they saw the Sea Side people take it inside so it wouldn't melt, but we never asked about it. There was plenty of yummy food at all the restaurants to keep us distracted. The basic cake in our package was meant for 10 people and then we added 10 more people to it for $3 a person for a total of $30
During cake we also had the one bottle of champagne that came with our package and then Landy suggested Shirley Temples for those who did not want alcohol, like my prego SIL. This they did surprisingly with out charge; very nice of them.
Flowers and Details:
I had emailed and brought with me a ton of pictures of bouquet I liked. Most were Calla lilies and roses mixed together. I also wanted shades of pink and whites with tropical foliage. It turned out prettier than I expected even with fern which probably is 'tropical' but not what I had in mind. I personalized it by adding a small blue hanky, a gift from my MIL. DH's bout was a matching calla lily. Both my bouquet and his bout were included in our "complimentary" package.
My sister made seashell boutonnieres for the rest of the male folk and some very cute seashell hair combs for the ladies.
More to come…
In the mean time feel free to ask questions and I will try to answer as best I can.