Bottom line, in case you don't want to read the novella: We had an amazing time, in a gorgeous magazine-worthy setting, surrounded by our favorite people on earth.
My hubby and I decided to forgo the AI route. We loved the idea of going down to Mexico, and really loved the Yucatan peninsula, but weren't as keen on doing the all-inclusive thing. It certainly would have been leagues easier, but we just couldn't find what we were looking for at the AIs -- they just didn't feel like "us", so we branched out a bit and are SO glad we did! So I'm going to do two separate reviews: everything at the wedding, and then our accommodations/welcome dinner elsewhere, since they really deserve separate treatment.
We looked at countless locations, but ultimately decided that Ana y Jose Beach Club in Tulum was our ideal spot. It's breathtakingly beautiful, and isolated enough that you don't feel there are hordes of strangers in Speedos watching as you say your vows. We had an incredible time and pretty much everyone who came couldn't stop telling us that they'd had an incredible time, too. (They all certainly had a more relaxing time than we did!) Below are reviews for vendors, location, even my dress.
Please forgive if it goes on too long...
...I just wanted to make sure that anyone who wanted/needed the info had it, as I know there aren't really many (any?) lengthy reviews of AyJ on here.
Location: Ana y Jose Beach Club
Grade: A++
Multiple guests told us that it felt as if they were inside the pages of Travel & Leisure or Conde Naste Traveler. The beach beds, the set-up, the vows under a leaning palm…it really is gorgeous. Granted, the venue has some wonky policies, such as requiring a minimum of 120 people or $4000 to reserve the space for yourselves (and not keep it open for beachcombers, sunbathers, and diners). We certainly couldn't afford this -- it would have almost doubled the amount we spent! We were worried about it not feeling private, but our worries were totally unnecessary. After about 5:00 there wasn't really anyone there… they don't get much in the way of evening visitors, so we really didn't find that to be an issue and we pretty much had the place to ourselves all night.
The space on the beach is gorgeous: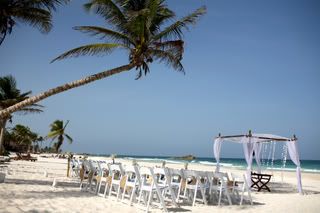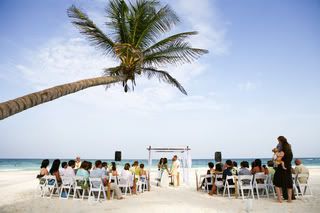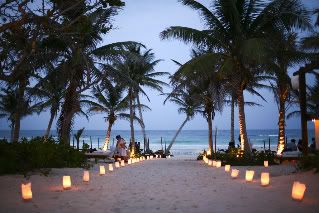 There are three spots available for dinner/cocktails: the palapa, the beach beds, and underneath the grape tree canopy. We choose to do cocktails among the beach beds, and then dinner under the grape trees (max 70 people here, although there's room for many more under the palapa). This worked out really well for us, felt quite intimate but we didn't feel like we were on top of one another. Only thing to remember: votives won't stay lit in this breeze. (doh! We brought our votives from the States so as to save money on rentals…fat lotta good it did us!)
Our cocktails set up (sorry, I thought I had some pics from a wider vantage point!!):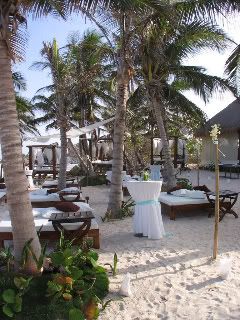 Our dinner set up:
We loved this. As someone told us later, it made it feel a little magical...in her words, kinda like "fairy lights."
(more to come.....)